At the Big White Kids' Centre we run many different group levels for young skiers and snowboarders every day - from complete beginner to little ripper!
Please note: these descriptions provide the minimum requirements for registration in each ability level in a group environment.
Age: 3 to 4 Years
Ready Teddys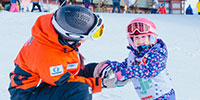 Beginner - This is my first time on skis. I will learn how to balance and walk on two skis. I will also learn how to straight run and stop without assistance on a gentle slope.
Eager Elephants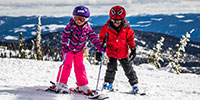 I can safely ride the magic carpet and stand up straight with my equipment on. I can stop in control, maybe with an edgie wedgie. I'm learning to turn to slow myself down. I am skiing on the big magic carpet.
Speedy Squirrels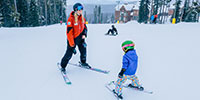 Intro to Plaza chairlift - I know chairlift safety rules and can ride a lift with some help. I am learning to stand up by myself, but sometimes need help. I am able to complete my turns by following my instructor. I can ski without an edgie wedgie. I'm almost an independent skier!
Jumping Joeys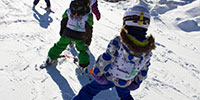 I am able to ski green runs safely from the top of the mountain, while following my instructor in a line. I enjoy games and adventures. I am able to listen and follow directions. I can stand up on my own, and I'm an independent skier!
Racing Racoons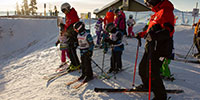 I can control my speed through turn shape. I can ski comfortably on all greens and most blues. I am starting to match my skis on easy terrain. I am starting to learn how to use my poles safely and correctly. I love new challenges, play games and take adventures through the trees.