REGISTER GROUP LESSONS ONLINE, OTHER PROGRAMS BY PHONE 250-491-6101 OR
EMAIL.
If you have contacted us, please be patient and a member of our team will get back to you as soon as possible.
At the Big White Kids' Centre we run many different group levels for young skiers and snowboarders every day - from complete beginner to little ripper!
Please note: these descriptions provide the minimum requirements for registration in each ability level in a group environment.
Age: 3 to 4 Years
Ready Teddies - Kids Carpet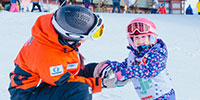 I know my instructors name and where to meet
I can balance and walk on 2 skis
I can straight run on my own
I can make a wedge and stop on my own with an Edgie Wedgie
I can ride the Kids Carpet safely
Eager Elephants - Magic Carpet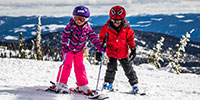 I know all the equipment I need to go skiing
I am a good listener and can follow instructions
I can control my speed and stop using a snow plow
I am learning to follow my instructors turns
I watch where I am going and look out for others
Speedy Squirrels - Plaza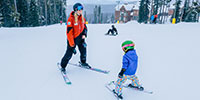 I can put on my equipment without assistance
I am learning to stand up by myself
I can ride a chairlift when supervised
I can confidently ski without an Edgie Wedgie
I can follow my instructors turns wherever they go
Jumping Joeys - Green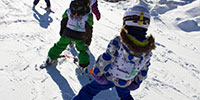 I can stand up on my own
I can follow more challenging directions
I can ski in a class line on all green runs
I am starting to match my skis on gentle terrain
I know the rules for staying safe on the mountain
Racing Racoons - Blue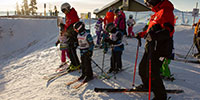 I ski intermediate terrain confidently
I use a pole plant to start my turns
I am improving my turns on bumps
I am continuously improving on blue runs and some black runs
I am improving my safety and learning the mountain