Last Updated: March 9th, 2018 12:15 PM PST
Open (5)
Closed (1)
Telus Park:
TELUS Park Update
TELUS Park is OPEN for the 2017/2018 season!
Big White Ski Resort's TELUS Park offers four full lanes spread over 50 acres of private, lift-accessed terrain. Don't miss out on some of the best riding of the year happening right now in TELUS Park.
Night Park Holiday Hours: March 21 - 31 (Open Wednesday thru Saturday)
Small & Medium Terrain Park Lane
Our Small & Medium Terrain Park Lane consists of features for all ages. Progressive ride-on to jump-on take offs, as well as mellow inclines and landings, allow you to excel at your own pace.
With a snow base bigger than 300cm these days, this lane is in prime condition to practice your tricks! Follow TELUS Park on Facebook or watch this page for more park conditions updates!
These are the features we've got open in this lane right now:
1 x Flat T-Box
2 x Flat Down T-boxes
2 x Small Ride on baby boxes
2 x Small ride on tubby tubes
1 x 10x2 Ride on box
1 x shotgun rail
1 x Small flat down ride on baby box
2 x 5ft jumps
2 x 10 ft jumps
2 x 15ft jumps
Medium & Large Terrain Park Lane
The Medium & Large Terrain Park Lane consists of features for the intermediate rider. With rail and tube features as well as new and safer jump transitions, this is the best place to learn some new tricks and get back some old ones. You can ensure this lane is full of diversity with creative features designed to flow you through our expansive lane.
The following features are open right now:
1 x 20ft jump
The Rainbow rail
1 x down rail
1 x street style down rail
2 x large black tubes
1 x large street style tubby tube
Large & Extra Large Terrain Park Lane
The Large & Extra Large Terrain Park Lane consists of an ever-changing array of rails, jumps, tubes and taps that are guaranteed to keep you guessing on which feature you're gonna attack next. Our L/XL line are designed to keep you progressing and to always keep you entertained as you work to film your next video part, or just to get out with your salty sun dawgs on a casual Friday away from the man.
Recently, the boys were working on our XL lane - adjusting some minor tweaks. Now it's bigger and better than ever and ready for you to rip! Watch this page or follow TELUS Park on Facebook for the latest updates!
XL Pro Jump Line 20ft, 25ft, 30ft
1x Down up XL donkey kick
Neff Bar to Neff Wall Ride
1x down flat Blue Donkey kick
1x large A-frame
1x XL Down flat down Rail
1x street style down 40bar
1x tubby tube waterfall
1x offset flat rail to down Oakley bar
1x street style flat bar
1x Flat down rail
1x down skinny bar
1x new tank combination feature
1x flat up flat rail
1x stepchild rail
1 x flat up rail
1x C-Box feature
1x Oakley close out
Our XL lane is now OPEN for the 2017/2018 season!
Standard Halfpipe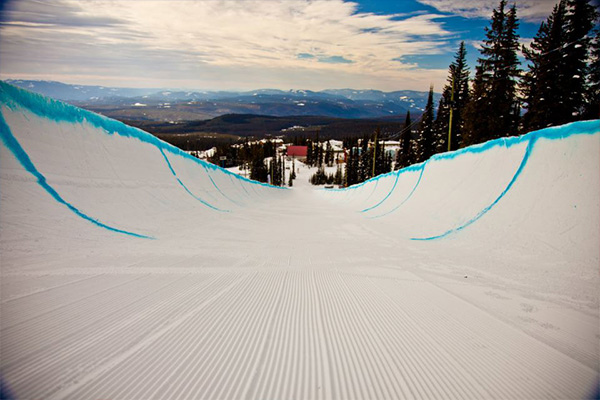 Like riding pipe? Come ride ours! TELUS Park's renowned mini pipe is cut to perfection and just the right size to give even the most experienced riders a great time.
Come check it out and catch some transition, our pipe is cut once a week and is suitable for riders of all ages. Make sure to scope the feature before use and don't forget to call your drop in's.
The halfpipe is currently CLOSED until further notice - watch this space for updates!
Snowcross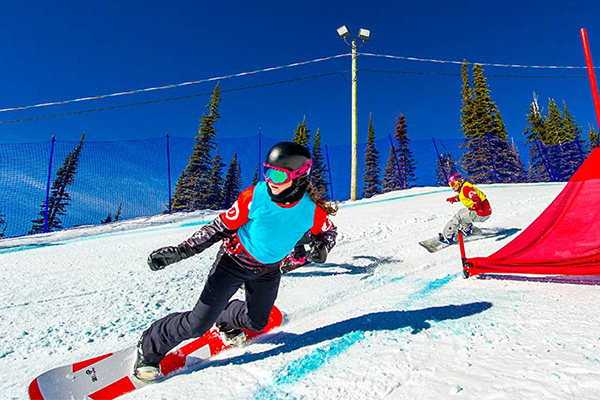 Three...two...one...go! Let the excitement build for our renowned snowcross course. Our world-class course is full of corners, berms, rollers and bumps suitable for the most die-hard racers AND the family looking to have a bit of fun. Give it a rip on skis to see what it feels like to race like 2018 Olympic Gold Medalist Kelsey Serwa, or try it on your snowboard to shred like Big White's #homegrownhero Tess Critchlow.
Come race your friends or see if your son and daughter really are as fast as they say, as everyone can enjoy the rollers and berms throughout this snake course that runs through TELUS Park.
The snowcross course is now OPEN, however, may be closed certain days due to prep upcoming events and race days. Watch this space for updates!