Bike Park Safety Information
Mountain biking on the trails of the bike park is demanding on both the bike and body. Please follow the safety information on this page to help you get the most out of your day.
Notice
---
ALL RIDERS, PARENTS AND GUARDIANS
Injuries are a common and expected part of mountain-biking. We strongly suggest that full face helmets, full length gloves, biking armor and a full suspension bike be used in the Bike Park. If you are new to mountain-biking at Big White, or the Parent or Guardian of a younger rider, please familiarize yourself with the bike park and the mountain-biking activities we offer. Introductory mountain-biking lessons and beginner mountain-biking terrain are available and recommended. More challenging terrain and features should not be attempted unless the rider has the appropriate skills, experience and equipment to effectively negotiate such trail sections.
CARRY A MOBILE PHONE
DON'T RIDE ALONE
---
BIKE PATROL 250.491.6160
Bike Park Policies
---
AGE POLICY
Children under 5 yrs are not permitted in the bike park.
Children 6-12 are required to be accompanied by a parent/legal guardian (19yrs or older) when riding in the bike park.
Children 13-15 are strongly recommended to be accompanied by a parent/legal guardian (19yrs or older) when riding in the bike park.
The parent or guardian must sign the bike park waiver for the child at the time of purchase at the ticket desk on mountain.
BRAKE RECOMMENDATION
All bikes should have one functioning brake per wheel. Disc brakes are recommended. Steep grades necessitate disc brakes for adequate stopping power. Cantilever brakes will increase the fatigue factor as more effort will be required to maintain control.
SHOCK RECOMMENDATION
Full suspension bikes are recommended to navigate the terrain you will expect to find on the trails. Ensure that your suspension is tuned properly and is set up for your body weight and riding ability.
Ride Smart
---
SLOW DOWN BEFORE YOU SPEED UP
Crashes can happen on your first lap. Ride the trail multiple times to get familiar with the features and equipment you're on so you can confidently push your limits without pushing your threshold.
PRE-Ride: Warm up the brain and body and inspect the trail at low speed.
RE-Ride: Lap the trail a few times and get to know the flow of the features.
FREE-Ride: Start small and work your way up to faster speeds and larger features.
Information for Parents
---
The Big White Resort bike park is a significantly different experience from cross country riding. The trails require constant physical and mental effort in order for all riders to maintain control.
LIFTS
---
Boarding the lift requires significant strength when loading a bike and children may require assistance. If you are unfamiliar with the bike loading process, please let our staff know and they can walk you through a demonstration in the village before proceeding to the lift.
CLOTHING
---
Protective clothing and equipment is mandatory for young riders. The best protection from abrasion requires a properly fitted full-faced helmet, gloves, long pants, long sleeves, leg armour, arm armour and solid running shoes.
EQUIPMENT
---
The bike park trails are specifically designed for full suspension mountain bikes. The trails are rocky, bumpy and become much more difficult without high quality suspension. Without full suspension, fatigue becomes a factor much sooner. The steep grades necessitate disc brakes for adequate stopping power. Cantilever brakes will increase the fatigue factor as more effort will be required to maintain control. All bike park participants should ride a properly sized bike and should be able to stand over the seat with their feet flat on the ground. A bike that is too large or with a high seat post increases the risk of injury. Jr DH rentals are available at the Rental Shop and our rental tech will help ensure your child is fitted with the right size bike.
TRAILS
---
The level of risk increases with the level of difficulty. Black trails often have significant drops and jumps that require skill and experience to navigate. Many difficult trails have a "gate-keeper" feature at the top designed to keep riders with insufficient skills off trails that will be beyond their ability, do not ride around these features. Young riders become a hazard to other riders if they are unable to ride a trail or move out of the way. Children should be accompanied by an adult at all times and should be monitored for fatigue regularly.
Mountain Bikers Responsibility Code
---
BIKE RESPONSIBILITY CODE
Mountain biking involves elements of risk that common sense and personal awareness can help reduce.
Please adhere to the responsibility code, and share a safe experience with others.
Ride in control and within your ability level.
Protect Yourself. Helmets are mandatory. Other protective equipment is strongly recommended.
Do not ride if your ability is impaired by drugs, alcohol, or fatigue.
Inspect your bike or have it checked by a qualified bike mechanic before you ride.
Stay on marked trails. Obey all signs and warnings. Do not cut switchbacks. Keep off closed areas.
Inspect Trails and Features. Be aware of changing conditions on trails and features. Inspect features before use and throughout the day.
be Lift Smart. Make sure you have the physical dexterity, ability and knowledge to safely load, ride and unload lifts when riding at lift access resorts.
Look out for others. Avoid riders ahead of you. They have the right of way.
Be visible. Don not stop where you obstruct a trail or are not visible from above.
Cooperate. If you are involved in or witness a collision or accident, you must identify yourself to the Bike Patrol, staff member or local authority.
General Information and Safety
---
NO SMOKING ON ANY TRAILS OR WHILE RIDING THE LIFT DUE TO FOREST FIRE DANGER
Please smoke in designated smoking locations only.
No smoking is permitted anywhere in the Alpine.
Bear Aware
---
An encounter with a bear is something that visitors may experience when hiking in the Alpine.  Please remember that you are a guest in their home territory! Bears are beautiful creature and deserve our respect.
Do not throw food or food waste into the forest, it can attract bears and then the bear gets into trouble.
Do not feed wildlife.
Bike in groups and make lots of noise.
Remain calm.  Think ahead.
Your actions are the best defense against a bear attack.
Taken from: www.bearsmartbc.com/bear-safety1/wilderness-tips/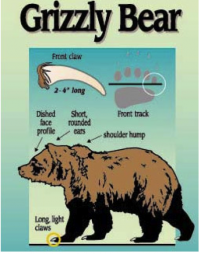 Do not run: Bears can easily outrun humans.  By running you may trigger an attack.  Pick up small children and when possible stay in a group.  Back away slowly and speak softly.
Give the bear space:  Back away slowly and talk in a soft voice.  Do not approach the bear or make eye contact.
Leave the area or make a wide detour:  If you cannot leave, wait until the bear moves out of the way and ensure that the bear has an escape route.
If the bear rears up on its hind legs:  It is curious and trying to see you or catch your scent better.  It is not a sign of aggression.  Back away slowly and talk softly.
Watch for aggressive behaviors:  A bear may display aggression by swinging its head from side to side; making vocalizations such as huffs, snorts, whoops, or moans; displaying teeth or claws; jaw popping; swatting at the ground; staring with eye contact; panting; or laying its.ears back. These behaviours usually indicate that the bear is stressed, acting defensively, and asking for more space.  Attacks rarely follow, but this is a warning to leave the area.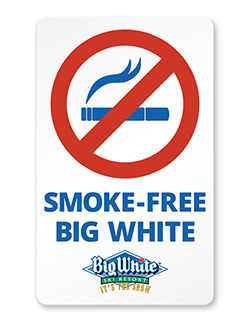 Smoking of any kind (including tobacco, marijuana, e-cigarettes and vaporizers) is strictly prohibited anywhere on Big White Ski Resort property outside of designated smoking areas. Applies to summer and winter seasons. Mountain Safety Info >>