Buy your pass with confidence, knowing you can receive a total refund by returning your pass before opening day.
How We're Keeping You Safe…
An Update on Big White Ski Resort's Winter 2020/2021 COVID-19 Protocols
To Our Valued Big White Guests, Staff & Residents:
As we prepare for another epic season of Okanagan Champagne Powder at Big White Ski Resort, myself, and the rest of the Big White family, are also preparing for a ski season that will look quite different from previous years. Over the past few months, we've been developing and putting into place a plan to keep our guests, staff and on-mountain residents safe and healthy during this COVID-19 era – and in the process, evolving and changing that plan as the directives from Interior Health and the British Columbia Provincial Government evolve and change.

While we have implemented new safety protocols from top to bottom – we ask for something in return from you: Please stay home if you're not feeling well or experiencing any symptoms related to COVID-19, and please be respectful of other guests and of staff. We all need to work as a team to slow the spread of this virus and have as normal of a ski season as we possibly can.

We've put together a comprehensive list of all of the changes you can expect to see this upcoming winter season – from how we handle parking, to sanitization procedures, reduced indoor seating capacity, automatic doors, touchless faucets, touchless ticketing systems, zero deposit policies on booking accommodation, physical distancing measures in lift lines, smaller lesson sizes and so much more. You can find a full list of our Winter 2020/2021 COVID-19 Protocols, here.
https://www.bigwhite.com/your-covid-19-winter-protocols

Of course, some of these protocols may change as we near Opening Day, but we are committed to following the guidelines set out by our Federal and Provincial Health Authorities, and will continue to do everything we can to ensure you, your family, and friends will have a safe, outstanding and memorable experience the next time you arrive at Big White Ski Resort.

We all look forward to seeing you at Big White!

Peter Plimmer
President & CEO
Big White Ski Resort Ltd.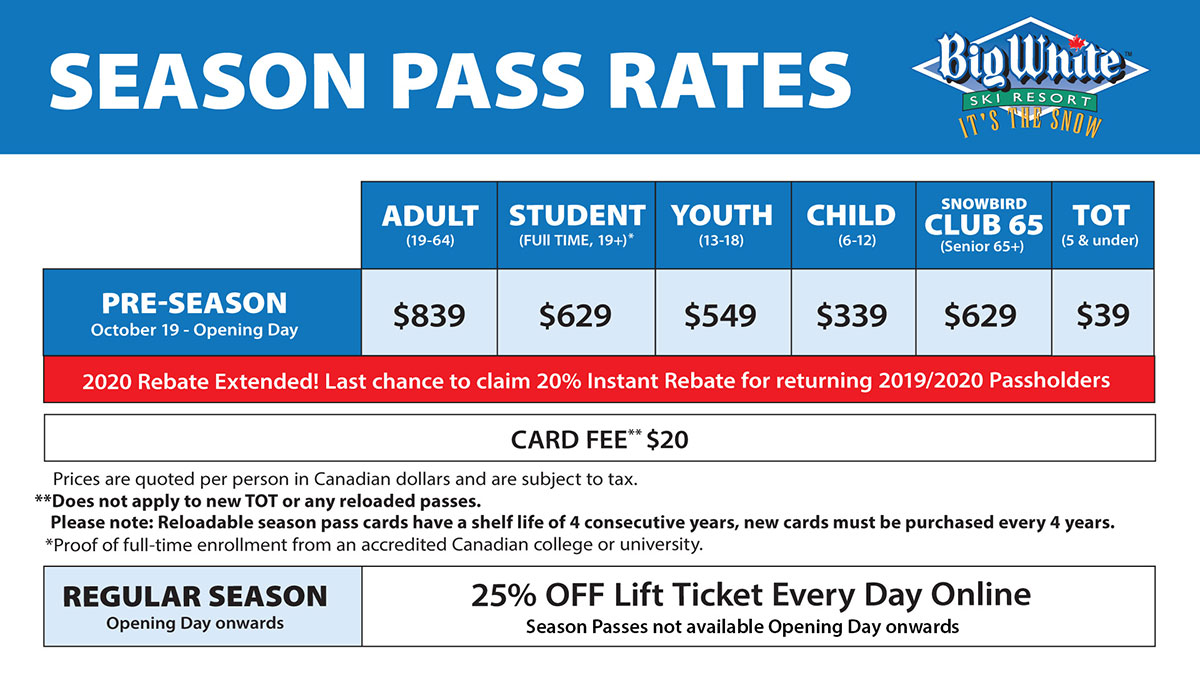 Extended – last year's season pass holders will receive a 20% instant rebate when you reload your pass online before November 25. Season Passes will NOT be sold after opening day.
We will NOT be selling season passes in Orchard Park Mall this year.
If you need to purchase your pass in person this year, we highly encourage you to do so as early as possible at 1894 Ambrosi Road, Kelowna. Masks are mandatory, hand sanitizer provided, respect physical distancing guidelines. The Ambrosi Ticket Office is open Monday - Saturday 8:00am - 6:00pm.
2020/2021 Single Adult Season Price Comparison
Big White Ski Resort, Kelowna BC
$839
SilverStar Mountain Resort, Vernon BC
$899 Limited Season Pass
Blackout Dates including:
December: Sat 19th, Thurs 24th – Thurs 31st (Christmas holidays)
January: Fri 1st, Saturdays: 2nd, 9th, 16th, 23rd, 30th
February: Fri 12th - Mon 15th (Family Day weekend), Sat 20th, Sat 27th
March: Saturdays: 6th, 13th, 20th, 27th

---

Full Access Season Pass - SOLD OUT
Revelstoke Mountain Resort, Revelstoke BC
$1,254
Sun Peaks Resort, Sun Peaks BC
$979 - SOLD OUT
Prices listed according to resort websites as of October 19, 2020.
New this year we are providing a 100 day access guarantee! If we are unable to provide lift access to our season pass holders for 100 days during the 2020/2021 season, we will offer you a rebate for the number of days remaining on your pass following the formula of the refundable pass option table presented HERE. We want you to buy your pass with peace of mind, so we are offering you a full refund if you choose to return your pass before opening day 2020. Upon purchase of your 2020/2021 season pass, we are offering a free payment plan when you purchase your pass before October 13, 2020.
Due to our COVID19 protocols we will not be accepting cash at the Ambrosi ticket office for season passes. We appreciate that this makes it harder for some people but our priority has to be the health and safety of our staff and other customers. Thanks for your cooperation and understanding.
For more details, please see our payment plan tab below.