Big White, in partnership with the Big White Mountain Chamber of Commerce and the Big White Mountain Community Development Association are excited to be offering our 9-hole Disc Golf Course. The best part is, it is completely free to use; access anytime in our Summer Season.
Located below the main Village Centre, access on foot by following under the tunnel towards Happy Valley. The course traverses a beginner ski area with varied terrain across the nine holes. Please ensure you observe and obey all rules and warnings; use the course at your own risk as this area is not patrolled.
Rental Discs available in the Village Centre Mall
Individual Disc
$5 per
3 Disc Set
(includes driver, mid-range and putter)
$10 per
Rates are in $CDN and do not include applicable taxes. Rates are subject to change without notice.
Disc Descriptions
We offer a variety of fairway drivers, mid-range discs and putters from Innova and Daredevil. We have different weight discs available depending on your age and ability level.
Fairway Driver - Fairway drivers are generally a good choice for experienced and inexperienced players alike. They are a great choice for tighter lines, shots with less skip at the end, straighter flights and short drives. Fairway drivers deliver confidence in both driving and approach situations with and dependable distance control for consistent fairway driving.
Mid-Range – Mid-ranges have smaller rims that feel comfortable in most people's hands and often have slightly deeper inner rims than drivers do. Midranges are versatile discs that can perform a wide variety of shots and are dependable from the fairway to the basket. If you are renting a single disc this will be your weapon of choice.
Putter - Putters are the deepest, slowest, disc golf discs and have the thinnest rims. They are intended to fly shorter distances and on straighter lines. While putters are made to go in the basket, they're also the slowest spinning disc and therefore less likely to deviate off line and fly too far beyond the basket.
Rental Conditions
Credit Card Security Swipe required for all rentals
Debit or cash deposit of $20/per disc or $50/3 disc set applicable if Credit Card not available
All discs must be returned by end of day, please see our Hours of Operation for closing times of the Rental Shop
Discs cannot be reserved, all rentals are subject to availability and are on a first come, first served basis
---
Course Rules
Objective
Disc Golf is played like traditional golf, but with disc golf discs instead of balls and clubs.
One throw (stroke) is counted each time the disc is thrown and when a penalty is incurred.
The goal is to play each hole in the fewest strokes possible.
The player with the lowest total strokes for the entire course wins.
The hole is completed when the disc comes to rest in the disc golf basket. 
Safety First
Never throw when players or other park users are within range.
Always give park users the right of way.
Be aware of your surroundings and environment at all times.
Tee Throws
Each hole begins with a tee throw.
Tee throws must be completed within or behind the designated tee area. 
Lie
The lie is the spot where the player's previous throw has landed.
The players' next throw is made from directly behind where the disc lies.
Throwing Order
The player with the least amount of strokes on the previous hole is the first to tee off on the next hole.
After all players have teed off, the player whose disc is farthest from the hole always throws first.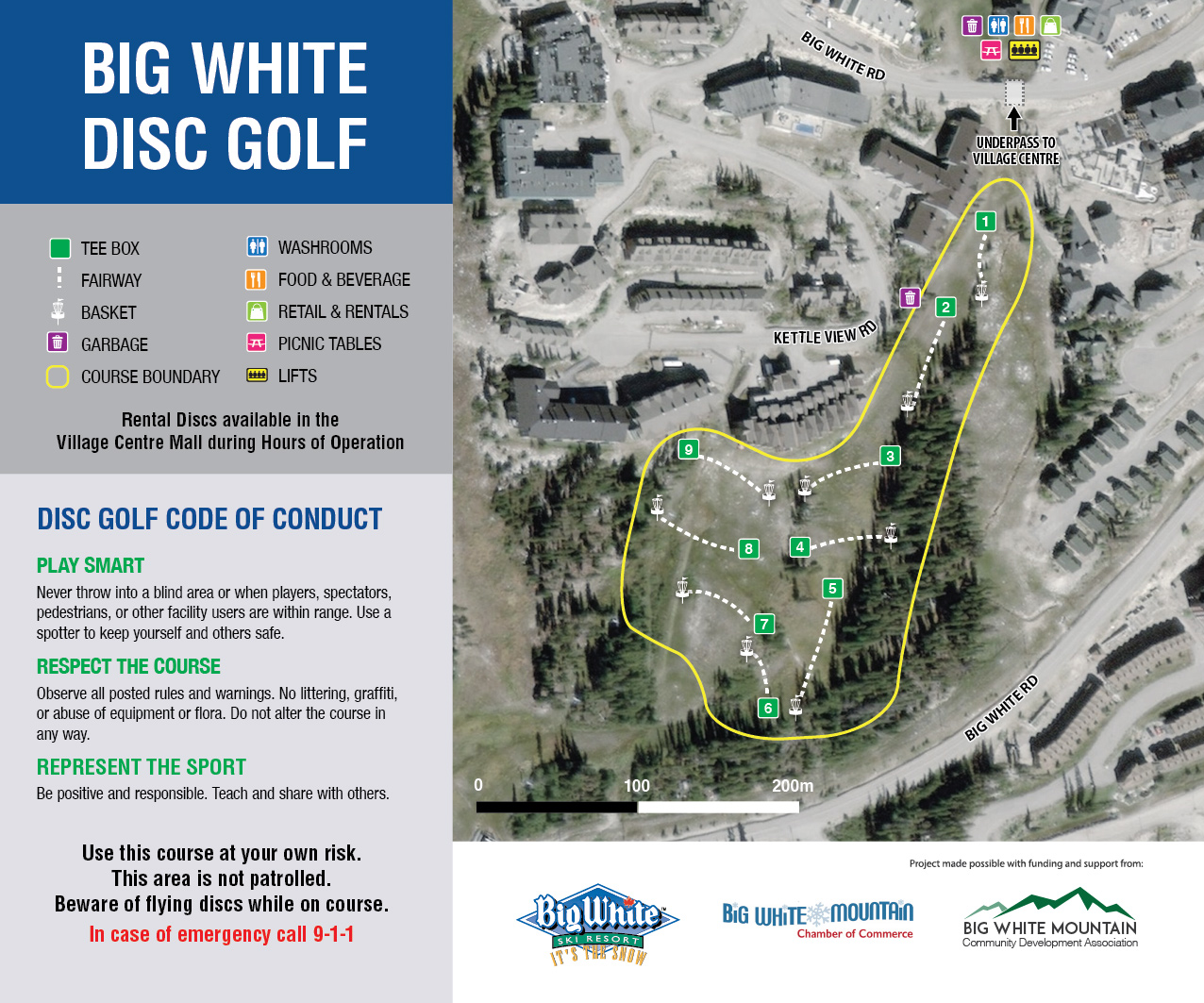 Discover our history, explore our trails, camp, swim in our rivers & lakes.
Visit boundarybc.com to start planning your adventure.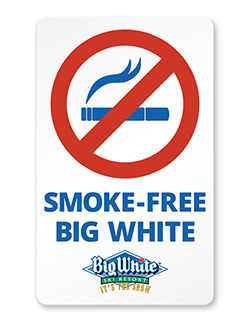 Smoking of any kind (including tobacco, marijuana, e-cigarettes and vaporizers) is strictly prohibited anywhere on Big White Ski Resort property outside of designated smoking areas. Applies to summer and winter seasons. Mountain Safety Info >>