Nordic & Snowshoe Rentals
We have suspended our Rental e-store until our new version is ready to go online.
Please sign up for your rentals at the Rental Shop when you arrive at the mountain. A reminder that all renters must provide a credit card and photo id at the time of purchase. Minors must be accompanied by a guardian who will need to sign the rental contract on behalf of the minor.
You can find Nordic Skis and Snowshoe rentals now available at the Village Centre Mall
With over 25 km of nordic trails to explore, we have the gear to get you off the beaten track. We have an extensive selection of classic skis and skate skis, as well as snowshoes of every size.
If you have a current ski or snowboard rental, bring your equipment down to the Village Centre Mall with you and our friendly staff will swap you over to nordic skiing at no extra charge.
Access to Nordic Trails is complimentary this 2020/2021 season. 
The beautiful weather at Big White means you can take your time to explore the 25kms (15.5 miles) of Nordic trails.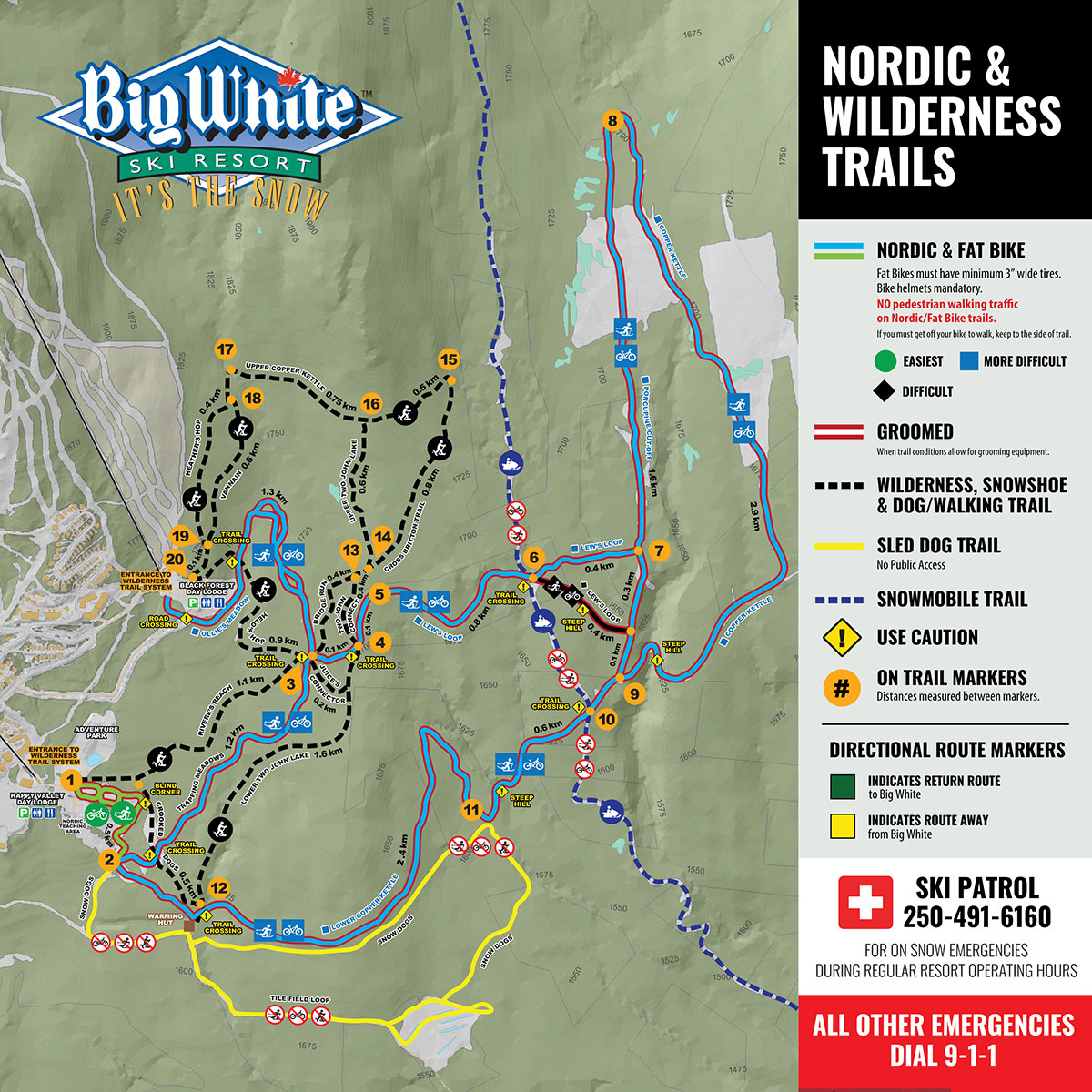 Click to enlarge
Contact Us
Nordic

2020-21 Nordic Rental Rates

Adult (13 years +)
1 Day
$34
2 Day
$63
3 Day
$92
Additional Day
$29
Children & Tots (3 - 12 years)
1 Day
$24
2 Day
$43
3 Day
$62
Additional Day
$19

Prices do not include tax and are subject to change without notice.

Snowshoe

2020-21 Snowshoe Rental Rates

Snowshoes, Boots & Poles
1 Day
$37
Additional Day
$31
Snowshoes Only
1 Day
$32
Additional Day
$26

Prices do not include tax and are subject to change without notice.