Resort Developments

Night skiing just got better with the installation of new lights over the magic carpet in Happy Valley. Our Big White Ski School After School programs will now be well-lit, and beginner lessons will also be offered in the evenings for anyone who is looking to come and learn how to ski or snowboard.

Executive Chef, Rob Walker
Rob Walker, one of the Okanagan's most accomplished chefs, has joined Big White Ski Resort as Executive Chef. With 15 years of culinary experience across British Columbia, Rob is well experienced in utilising the plentiful products of the region to produce incredible food.
Rob is also an active competitor in the culinary world, currently preparing for the upcoming BC regional finals in advance of the Canadian Culinary Championship – Gold Medal Plates in Victoria this November.
As the Executive Chef at Big White, Rob will be responsible for the culinary direction across Big White-operated food and beverage outlets, including Kettle Valley Steakhouse, Happy Valley Day Lodge, Black Forest Day Lodge and the new Clocktower Coffee Co.

World Para Snowboard Championships
Big White Ski Resort is set to be the official host mountain for the 2017 World Para Snowboard Championships, which will run February 1-8 2017, in conjuction with co-hosts Canada Snowboard and the Canadian Paralympic Committee. Approximately 100 Para athletes from over 25 countries will travel to Big White Ski Resort to take part in both Snowboardcross and Banked Slalom events in three different categories.

 Big White IPA Ale
Big White now has its very own beer! We're very excited to announce the Big White White IPA - a collaboration between The Okanagan Spring Brand Team and Big White Ski Resort. The beer is a refreshing combination of a German-style Hefeweizen and an American IPA. Look out for it at bars on the mountain this season!

Pride Weekend
Big White is thrilled to be in the planning stages of our first Pride Weekend. Set for Spring 2017, this event will celebrate the LGBT community and feature a range of inclusive festivities, with activities happening both on and off the snow. The weekend will also showcase local culinary delights and wine varieties.

 Summer 2017
Big White Resort has officially started constructing a world-class, lift-serviced mountain bike trail network. The resort's goal is to create a unique riding destination in the Okanagan that speaks to the soul of mountain biking, with trails and services that are built, staffed, and provided by riders for other riders. The authentic, grassroots biking experience will fulfill the goals of enduro, downhill, freeride, and youth mountain bikers.

Plans are underway to expand our award-winning Kids' Centre into the area that was formally the Loose Moose Emporium. This addition will provide our youngest skiers aged 3-4 with much-needed room to play and prepare for the start of lessons. Children 5-7 years of age will also now have their own area in the Kids' Centre.

Traffic flow will be greatly enhanced, allowing for new exits onto the snow for children in lessons and less congestion for parents when registering their children.  Registration itself will be more efficient with three more sign-in sites, so dropping off children will be faster and easier even on the busiest days.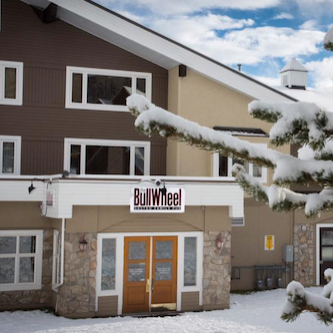 This season we're excited to announce the return of The BullWheel. This family friendly gastropub is located in the heart of the Village which makes it the perfect spot for breakfast, lunch or dinner. Skiers and snowboarders will enjoy the convenience of skiing to the front door for some après-ski fun. Expect a variety of uniquely Canadian dishes and of course the infamous BullWheel burger featuring AAA Alberta beef.

The Clocktower Coffee Co. offers the best in expertly roasted, organic fair trade espresso and coffee drinks, fresh smoothies and comfort food prepared from scratch daily. Come and see us for gourmet sandwiches, fresh pastries and our own house-made ice cream sandwiches.

We know how much you love Masters Week so for the 2016-2017 season we have added a second week to join in on the fun. Join us January 30th – February 3rd or February 27th – March 3rd; Masters of ALL skiing and snowboarding abilities can enjoy seminars, wine tasting, après high tea, sleigh rides and more.

Season Passholders can now renew their passes online, even sign your liability waiver online, allowing you to head straight to the lifts this Winter.  Need help? Ask us for full details.
March 4th at 7pm in the Village Centre Mall. Tickets are $60 per person and are available through concierge@bigwhite.com.  Enjoy a fun filled weekend that includes the TELUS Kelowna Cup with an evening tasting that celebrates the best of the BC wine industry. TELUS Kelowna Cup 'Psychic Slalom' ski race goes on Saturday, March 4th with participant sign in at 8am in Happy Valley.

For a culinary experience unlike any other, climb aboard an old fashioned horse drawn sleigh for an experience guests won't forget.  Admire Big White's pristine beauty as the majestic Clydesdale horses guide the sleigh through snow covered forest to the cozy cabin in the woods.
More Info
Local Developments

 Air Canada 787 Brisbane to Vancouver
For Winter 2017, Air Canada will be operating daily non-stop service from Brisbane to Vancouver on the 787 Dreamliner. From Vancouver, it is a short 45 minute connection to Kelowna on an Air Canada Airbus 320.

 Air North from Whitehorse to Kelowna
Air North now has non-stop flights to Kelowna! Air North, Yukon's Airline offers two flights a week from Whitehorse and Vancouver to Kelowna. View Air North flight schedules >>