A non-skiers guide to Big White
Posted On: February 15, 2018 |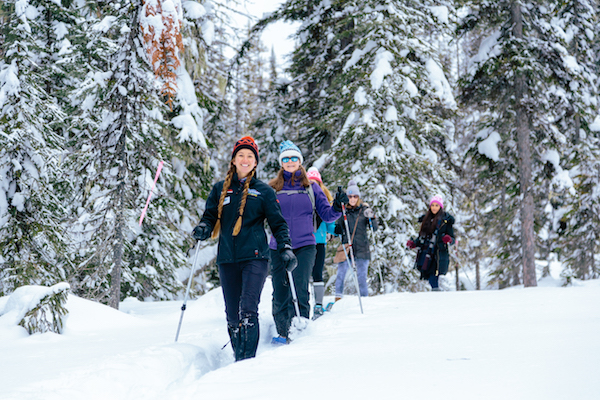 Big White's wonderland isn't just for the pros on the snow. Our mountainside village will charm even the most winter adverse. If you've been listening to your friends brag about the Champagne Powder or the sun above the clouds this season, and you're unsure of what's up here for you, we're pleased to share with you a guide to Big White for the non-skier/snowboarder.
Explore the village full of character
Much like what you'd imagine a fairytale, mountaintop village to look like, Big White Village is much the same - with a grand clock tower that peaks out of the trees in the middle of a picturesque forest landscape. With thick pillows of snow covering the rooftops and cabin-style architecture all around, visiting Big White Village is like escaping to a whole new world right here in the Okanagan.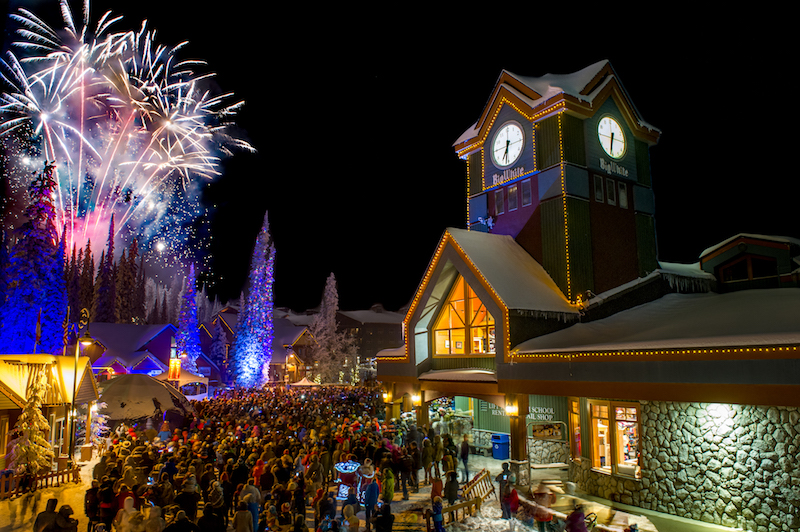 When the weather is just right (something we often get to brag about up here), you can bask in the sunshine while overlooking a sea of clouds covering the valley; a weather phenomenon called an 'inversion'.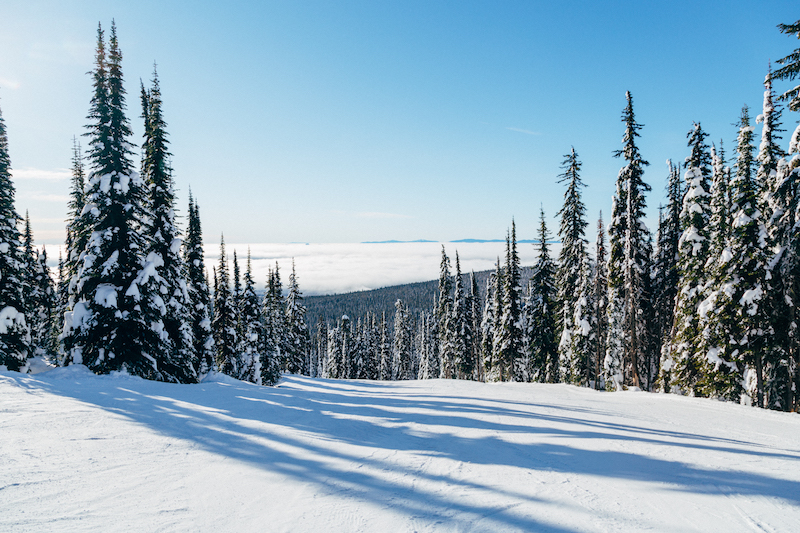 Take a snowshoeing tour 
Get your heart rate pumping on the snow with snowshoeing! This fun activity is perfect for anyone who wants to get active in the great outdoors during winter. If snow snowshoeing is new to you, we suggest signing up for our Interpretive Tour or Family Adventure Tour. In both tours, our expert snowshoe guides will lead the way and teach you about the local flora and fauna. If you prefer to plan your own adventure, you can rent snowshoes from the rentals department, located in the Village Centre Mall, and hop on Lara's Gondola to start your adventure in Happy Valley on our 14km of wilderness trails. These snow-covered, secluded trails are a beautiful and peaceful escape.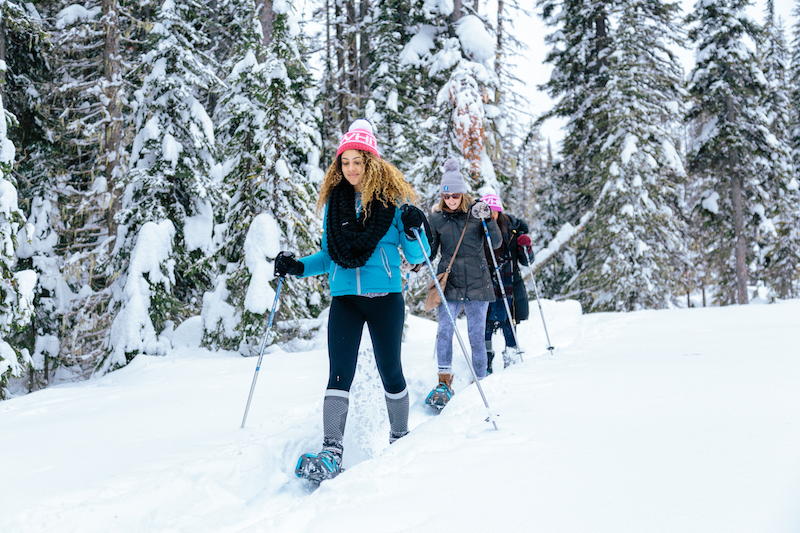 Head out on a BIG adventure
How often do you get to hop in the driver's seat of a snowmobile and blast through the powder? With Outback Snowmobile Tours, you can do just that! Their expert snowmobile guides cater tours to any level, from beginner cruising to advanced powder riding. Snowmobile tours are an exciting way to explore B.C.'s backcountry terrain!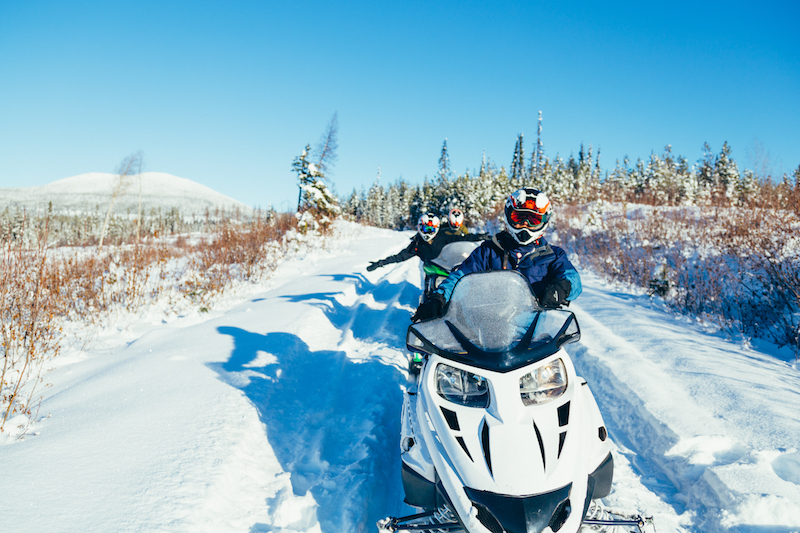 Another fun way to explore the backcountry is on a dog-sledding tour! The tours are run by experienced dog-sled mushers Candle Creek Kennels and can be booked by contacting our concierge team at (250) 491 6111 or concierge@bigwhite.com. Dog-sledding tours are a unique way to learn more about Canadian heritage, plus, the dogs are so friendly!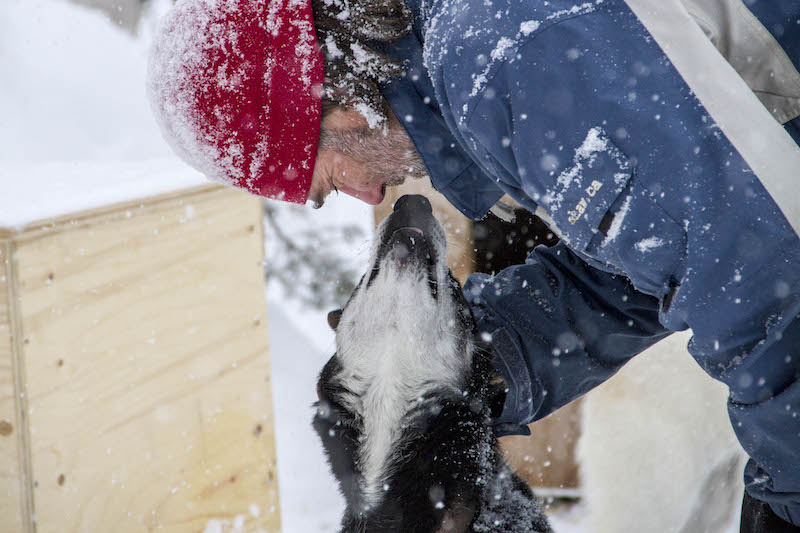 Conquer the ice-climbing tower 
Not for the faint of heart, our gigantic, 60ft ice tower, located in the Happy Valley Adventure Park, is a wonder of nature and man-made architecture. All climbing gear is provided, and our passionate ice-climbing tower staff will cheer you on the whole way to the top. You'll challenge both your body and mind with this adventure and make a memory (with photos) you'll never forget!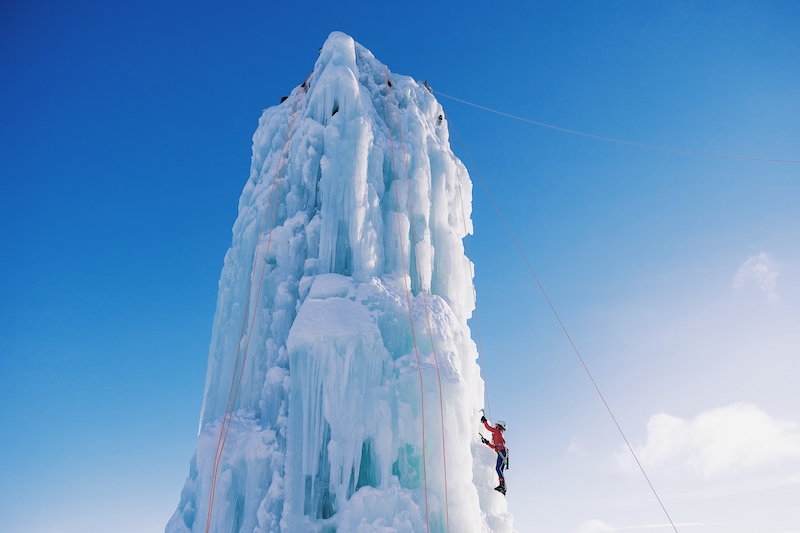 Get playful at Family Channel Carnival Night
At Big White, there are family-friendly events every night of the week - like Big White's famous Family Channel Carnival Night on Thursdays and Saturdays. Bring the little ones - the kiddies will love running around the Village Centre Mall after it's been transformed into a magical carnival. While they bounce on the inflatable castle, eat cotton candy and win all kinds of prizes, you can sip on a gourmet hot chocolate from Clocktower Coffee Co.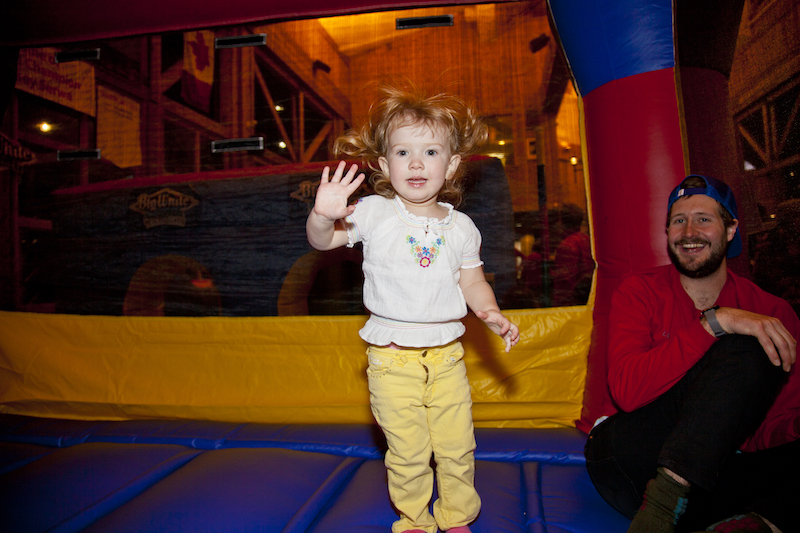 Rock out to live music 
Happy Valley Day Lodge offers live entertainment every afternoon from 4pm-6pm to compliment it's Family Apres ski vibes and $10 Feature Menu at The Moose Lounge. Up in the Village, catch local legend Josh Drinkwater at Globe Cafe & Tapas Bar on a Thursday night while enjoying a variety of tapas-style eats. At Sessions Taphouse, you can watch live DJ's on Saturday nights and enjoy local talent at open mic night on Sunday night!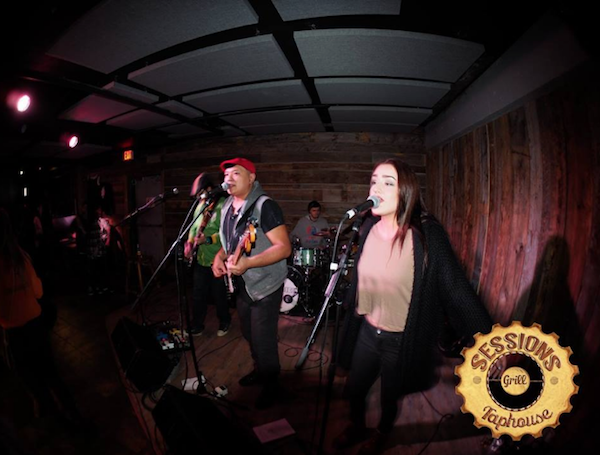 Challenge your friends to 'Trapped at Sessions'
New to Big White, 'Trapped at Sessions' is an escape room challenge that will trap you and your team in a room and feed you skill testing riddles, puzzles and clues to help you escape! It's a thrilling way to spend a few hours off the snow and all ages are invited to play!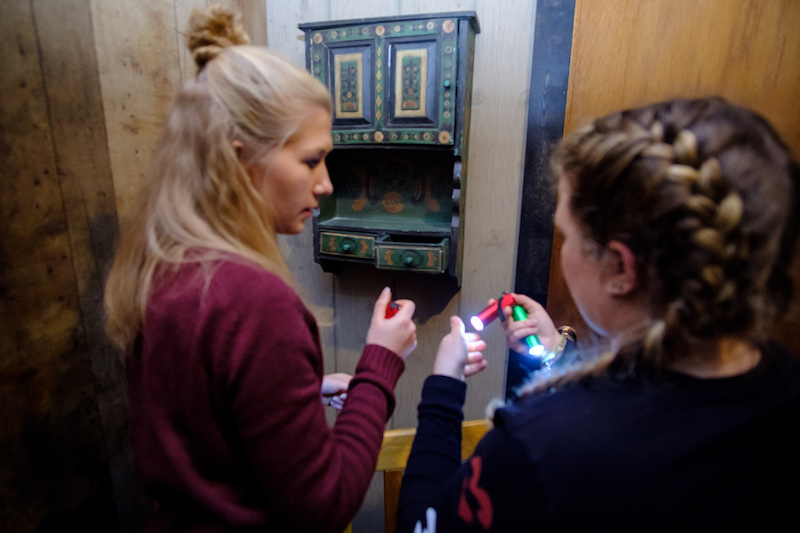 Soak up patio vibes
No one will question your riding status if you come home with a wicked goggle tan from patio drinks and appetizers. Gather your friends, snow pros or not, and sip sunny spring days away on the snow. Our favourite patios include The Blarney Stone Irish Tavern, Sessions Taphouse, and The Woods!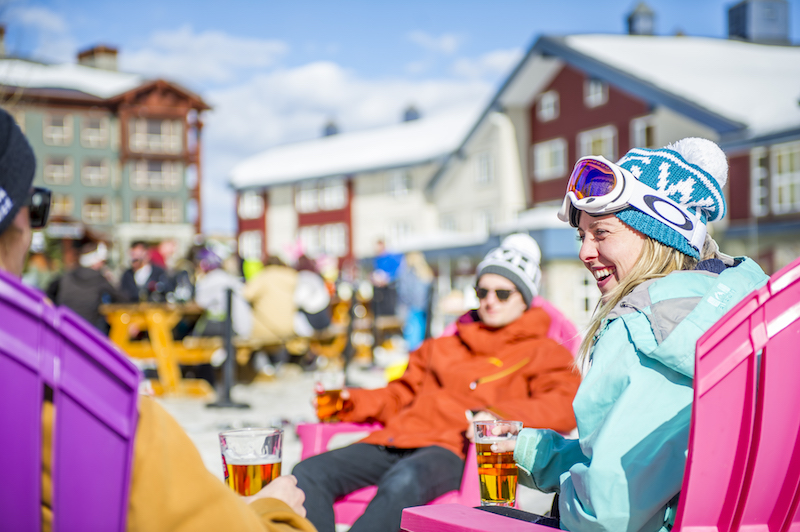 Take a spin on Canada's highest outdoor skating rink
Challenge the locals to a friendly game of pickup hockey or go for a leisurely skate around the rink with your someone special. Big White's ice-skating rink is all a great place to teach kids how to manoeuvre on skates. Afterwards, Sk8ters Bistro is the go-to spot to grab a slice of pizza or an epic Belgian waffle.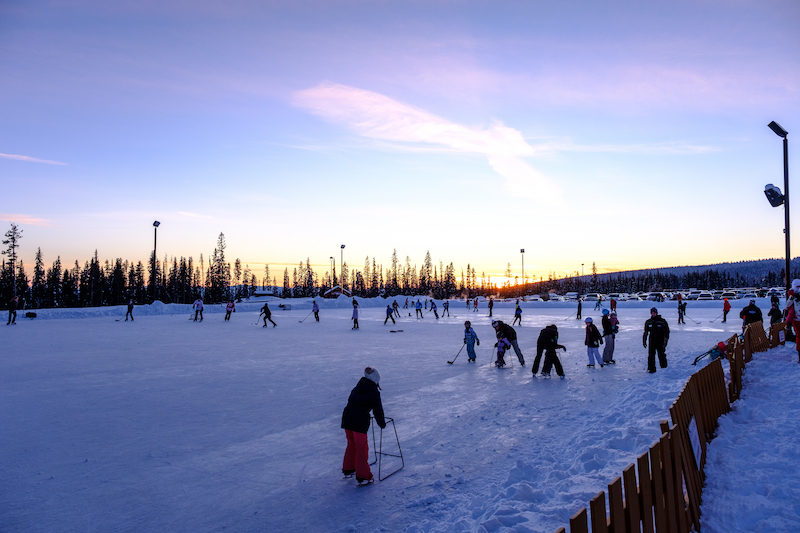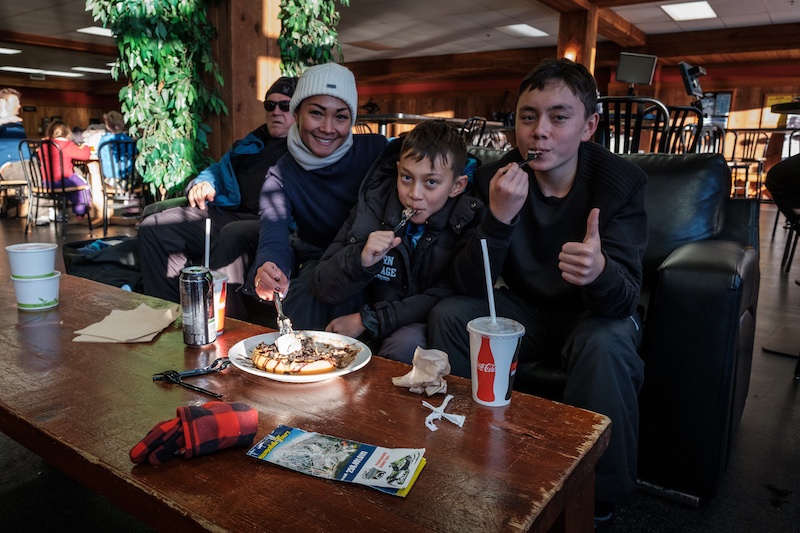 Try fat biking
This is a new adventure activity now available at Big White Ski Resort! Bring your wide tire fat bike up to the mountain and explore the wilderness trails now designated to this sport. Fat biking offers yet another way for skiers and non-skiers alike to explore the breathtaking backcountry and adventure enthusiasts are sure to enjoy the new trails!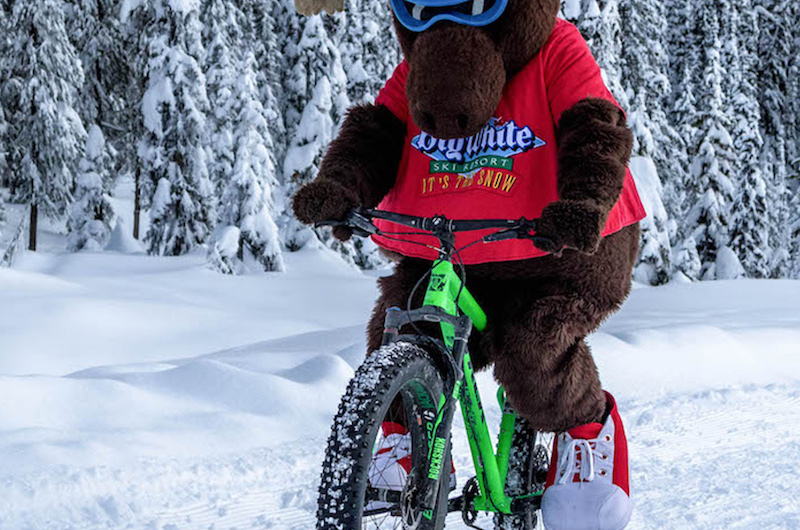 Zoom down the Tube Park
Just over the bridge from the skating rink, in the Happy Valley Adventure Park, you'll see the brightly lit lanes of Big White's Tube Park! A high-speed whiz down the slick, groomed lanes is the perfect taste of the snow without strapping on ski or board boots.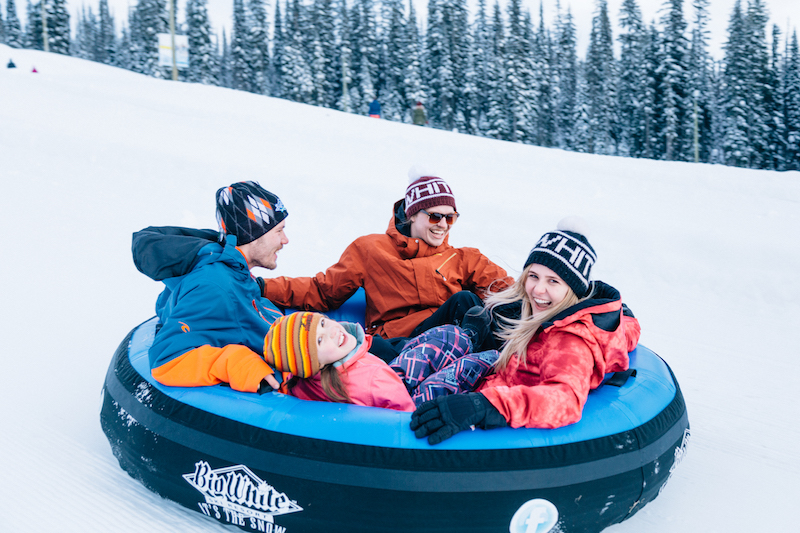 Experience a horse-drawn sleigh ride
Book a horse-drawn sleigh ride to impress your friends (or date) with your new extensive knowledge of Big White's non-skiing adventures!  Cozy up under a blanket and enjoy hot chocolate while gliding through snow-covered forest trails to a warming cabin in the woods. It's a fantastic experience to meet the horses as well if you're an animal lover!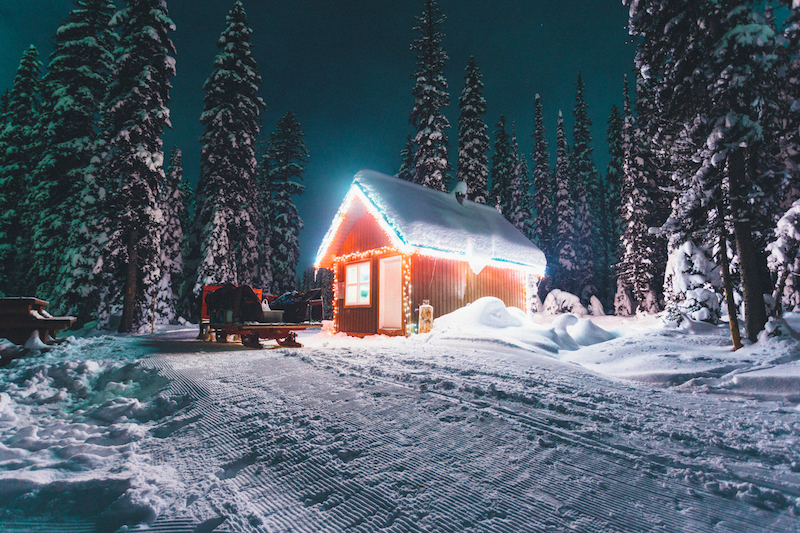 That's all we have time for today - we'll have to leave the world-renowned food and retail experiences up to you to explore. That is, if you have time between all of these adventures!