Gold, Silver & Bronze Knives for Slopestyle Champs at Big White
Posted On: July 08, 2019 |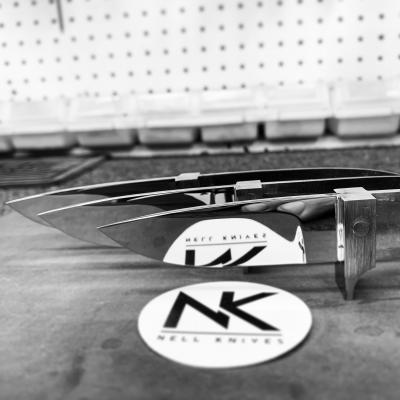 Chad Nell has a two-year waitlist for his hand-made knives – but, make the podium at Big White's 2nd Annual Invitational Slopestyle Gold Event this summer, and you can bypass that wait. Bike Big White is replacing traditional trophies at this year's event with one-of-a-kind gold, silver and bronze-handled knives crafted by the Utah-based knife maker.
"This is a brand new pattern, so there are no other knives like these three," Nell says. "I had the handle material specifically made for them, so you also won't see any other knives out there with this handle material." Meaning this prize isn't only a functional keepsake, it's truly unique.
"We have something that is cool and unique for the athletes that take the podium in the Gold Event," says Peter Plimmer, President and CEO of Big White Ski Resort Ltd. "Each of these knives will be a unique handmade piece and made by someone who has some strong ties to the mountain bike industry."
Nell's son Ethan is a competitive freeride mountain biker, and Nell says he's hosted world-renowned athletes at his home many times, including his son's close friend and host of the slopestyle event, Tom van Steenbergen, and slopestyle-event competitor DJ Brandt.
"DJ is staying with us right now and asked what I was working on," Nell says. "And I said I'm doing the knives for Tom's slopestyle event, and he goes, 'I'm going to have to really throw down to get one.'"
In fact, Nell says, the world of custom-made knives is similar to mountain biking, in that "if you're in it, there's a lot of people." Meaning he had to work hard honing his craft to stand out – something he shares with his mountain biking son.
Like many professional mountain bike athletes, Nell's career had a humble start. Growing up in Manti, Utah – a town of just over 3,000 people – Nell would sweep up the shop where his uncle made knives from scratch. Eventually, he fell in love with it, and his uncle mentored him in the process. Once he could afford the equipment, Nell set off on his own, and for the past eight years, has been hand crafting knives in St. George, Utah. In 2011, he was given the "Best New Maker Award" at a knife show in Oregon.
Nell starts the process by ordering in a piece of steel engineered specifically for knives. He then spray paints it, scripts an outline of the knife he plans to make, cuts it out with a bandsaw, drills the holes, grinds it to create the bevel for the blade portion, then heats the whole blade to harden the steel. It was at that final step Nell experienced a small hiccup in crafting the knives for Big White. Unsatisfied with the steel's strength, Nell started from scratch, and is set to have the knives ready for the beginning of May.
Because his knives are so sought after, Nell has to do lottery draws at the trade shows he attends. Customers interested in purchasing one of his knives put their name and number in a draw that Nell will pull from throughout the day – winners can then choose which knife they would like to purchase. He regularly does draws on Instagram, as well.
The Big White Invitational Slopestyle, presented by Five Ten, runs July 12 and 13, and is part of Bike Big White's inaugural Freeride Days from July 11 to 14.
Check out Nell's knives, here.