Your Guide to Big White Brew
Posted On: March 15, 2019 |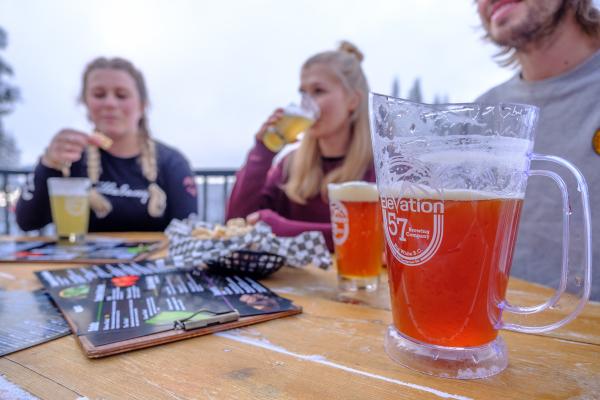 It's the time of year when nothing tastes better than a cold, frothy pint on a sun-soaked patio. The craft beer movement has taken hold of North America, and Big White Ski Resort is no exception. Use this guide to help you navigate Big White's craft beer scene – from our very own on-mountain brewery to beer-centric festivals to slope-side patios. 


Elevation 57 Brewing Co.
As if you needed another reason to holiday at Big White – enjoy beer brewed right on the mountain, and tour through the brewery to see how it's crafted! Situated at 5,757 feet above sea level, Elevation 57 Brewing Co. is Canada's highest brewery.
Since opening in 2017, the brewery has crafted and perfected 14 different brews, including the appropriately named Patroller Passion Fruit Ale and Half Pipe Pilsner! Owner of Elevation 57 and Sessions Taphouse & Grill, where the brewery is located, Brad Powell says the brewery has been "very well received locally and internationally for the beers we have brewed so far."
"Elevation 57 is unique because of where we are located," Powell adds. "We expend no unnecessary energy purifying our water to make beer, therefore lowering our carbon footprint." Elevation 57 uses water from the pristine Rhonda Lake at the base of The Cliff, which has been confirmed as some of the best water in the world.
Powell says Elevation 57 plans to eventually open a second location in Kelowna.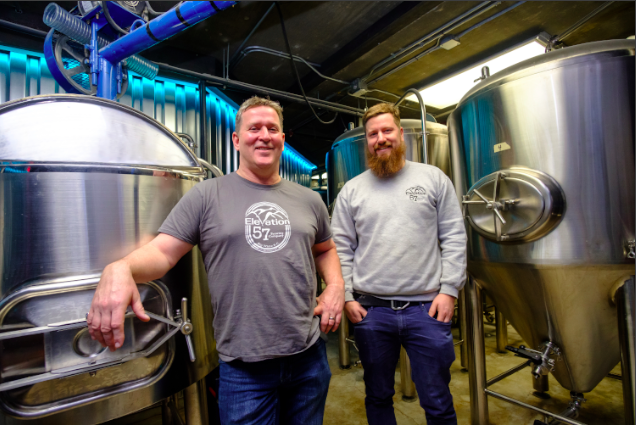 Craft Community Beer/PAFN Charity
Enjoy delicious beer all while supporting an amazing charity! Elevation 57 has teamed up with Craft Beer Market in Downtown Kelowna to develop a Craft Community Beer raise money for the Pacific Autism Family Network. From March 6 until June 4, for every pint of Melon Honey Ale purchased a dollar is donated to the PAFN. I think we can all raise a glass to that! 
2nd Annual Barrels and Brews, March 23
Barrels and Brews – Big White's international celebration of craft beer, whiskey and spirits – is a one-day event, focusing on only the best craft bevvies from BC and beyond. And to make this event even more delicious, we've teamed up with Big White restaurants to pair tasters with the alcohol!
3rd Annual Ales & Après, April 4-6
If you're a beer lover and can't make it to Barrels and Brews, no worries! Join us for Ales & Après at the beginning of April, and test out 50-plus refreshing brews from 25-plus breweries and cideries across BC.
Wander from venue to venue in our winter wonderland, enjoy the Village, and pair the brews with great live entertainment in many of the bars and on the patios! Enjoy fun games and activities, door prizes to win and several great add-on after party options at various bars, including a show by The Hip Replacements at Globe Cafe to end the evening.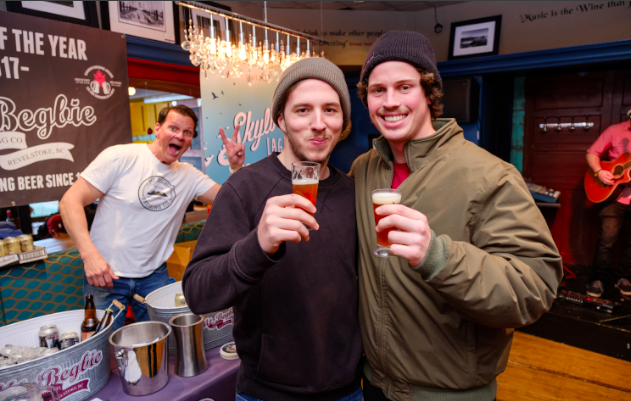 5th Annual Craft Country, Beer and Music Mountain Festival, July 6
Craft beer, live music and a craft market?! Yes, please! Big White's annual Craft Country, Beer and Music Mountain Festival is back again this summer. Wander through the Village and taste some of the best beer from across the Okanagan, all while getting your groove on to music from live performers.Last year, guests got to sample beer from Backroads Brewing, Lighthouse Brewery, Stanley Park Brewing, Two Wolves Brewing, Boundary Brewing Company, Moody Ales, Mt. Begbie Brewing Co. and so many more! Stay tuned for this year's list.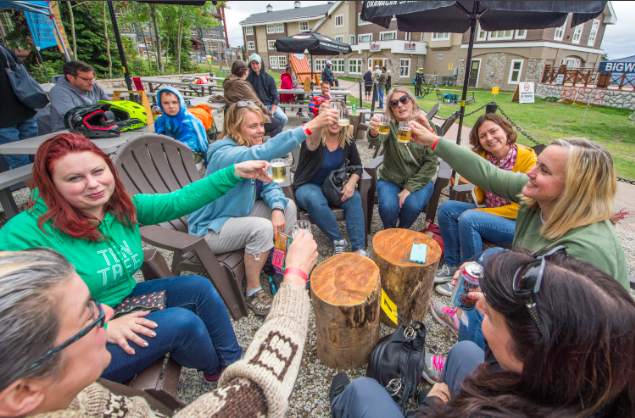 The Big White Beer & Wine Store
Nestled in the lower level of the Village Centre Mall, the Big White Beer & Wine Store is your one-stop shop for all the craft brew you'll need during your visit. Choose from a wide selection of locally made beers, ciders, wines and spirits – be sure to ask the knowledgeable staff their favourites! Staff member Joe Rees recommends Meadow Vista's Pictish Beast – which he describes as a sipping beverage that tastes like a mix between mead and cider, and is for people who "like to experiment."
Big White Sales Manager Katie Balkwill is a fan of Yellow Dog Brewing's Play Dead IPA. "It has a juicy taste packed with tropical and citrus fruit flavours finely balanced and the perfect way to cap off a powder day!"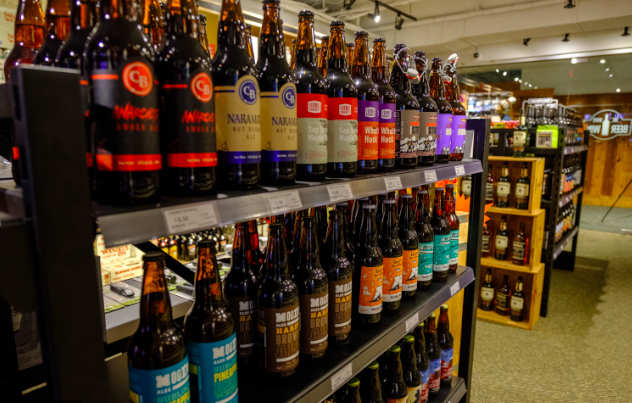 Outdoor Patios
Is spring skiing complete without a pit stop at an outdoor patio? The Woods' outdoor beer garden, complete with Adirondack chairs and fire pits, is located in the heart of the Village. Choose from a wide selection of craft beer, and, of course, a tasty lunch and supper menu!
Sessions Taphouse & Grill's vibrant ski-in, ski-out patio sits right next to Lower Perfection, meaning you can sit back and watch the days' skiers and boarders rip down while enjoying a pint of on-site brewed Elevation 57 brew! Sessions' third annual Season-Ender Slush Cup is on April 21 – cheer on the daredevils braving the ice-cold pit from the comfort of the patio deck!
Conveniently located next to the top of the Gondola, The BullWheel patio gives you the best view of the sun setting over the mountains. Big White's best sports bar has not one, but three happy hours, and an extensive list of apres ski beverages! Plus, delicious daily food specials!