Your Guide to Visiting Big White for AltiTunes Music Festival
Posted On: March 27, 2023 |
You've rounded up your friends, you've bought your tickets, you've booked your accommodation… now what?

On March 31 and April 1, Big White Ski Resort will play host to a variety of musicians, bands and DJs for Canada's Largest Mountain Music Festival - AltiTunes. This two-day outdoor concert will see thousands of music lovers coming up the mountain to dance, enjoy balmy weather, and maybe get in a lap or two on the snow.
If you haven't been to the resort before, we're here to help you navigate what will likely be the wildest weekend of the season. Here are a few things you should know (you can also check out the festival FAQ here):
1. Parking
We know parking might be a little tight over the weekend, as it's the second to last weekend of skiing for the 22/23 season. If you're attending AltiTunes with friends, we recommend carpooling! There's free day parking all over the resort including in Happy Valley, Gem Lake and Black Forest. Please don't park on the roads. 
If you've booked accommodation with Big White Central Reservations, parking passes will be provided and confirmed at check-in.
If you're in need of an overnight parking permit, those can be obtained through the Central Mountain Check In in the Village Centre – overnight parking is only available in the Happy Valley overflow parking lot, and vehicles without a permit will be towed at the owner's expense. 
Our tips? Carpool and arrive early. Find more parking information, here.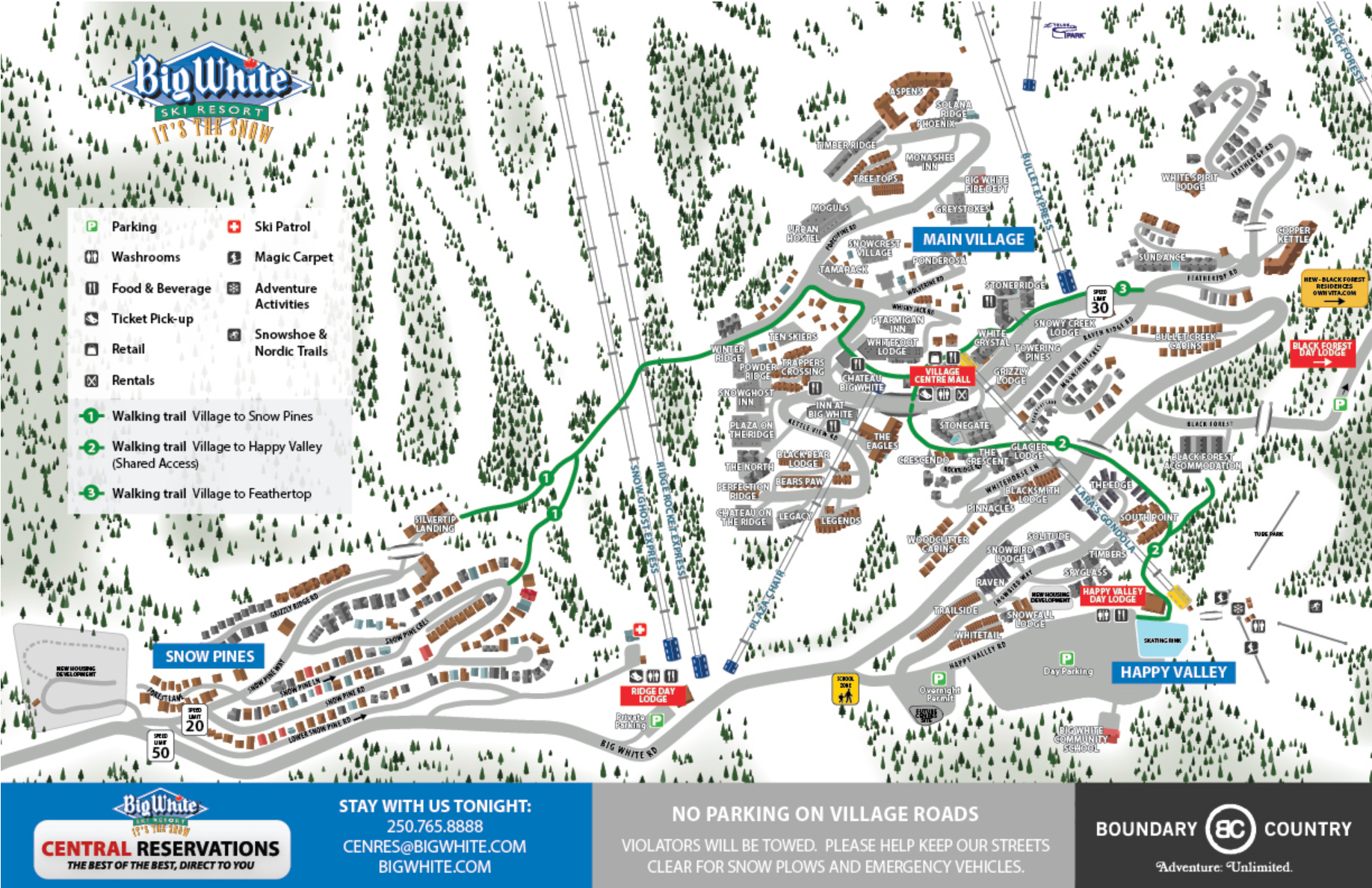 Click here for more mountain maps. 
2. Dress Appropriately!
With the sun shining later and later, temperatures will vary significantly throughout the day. Pro tip? Layer, layer, layer. And don't forget to bring sunscreen! Our retail team has curated a selection of retro-themed aprés party wear, available on the concert grounds at our merch tent from 3pm to the start of the last set on Friday and 12pm to the start of the last set on Saturday. We'll also have hand and toe warmers for purchase, as well as a selection of Big White merch including the famous Big White pom-pom snowball toque!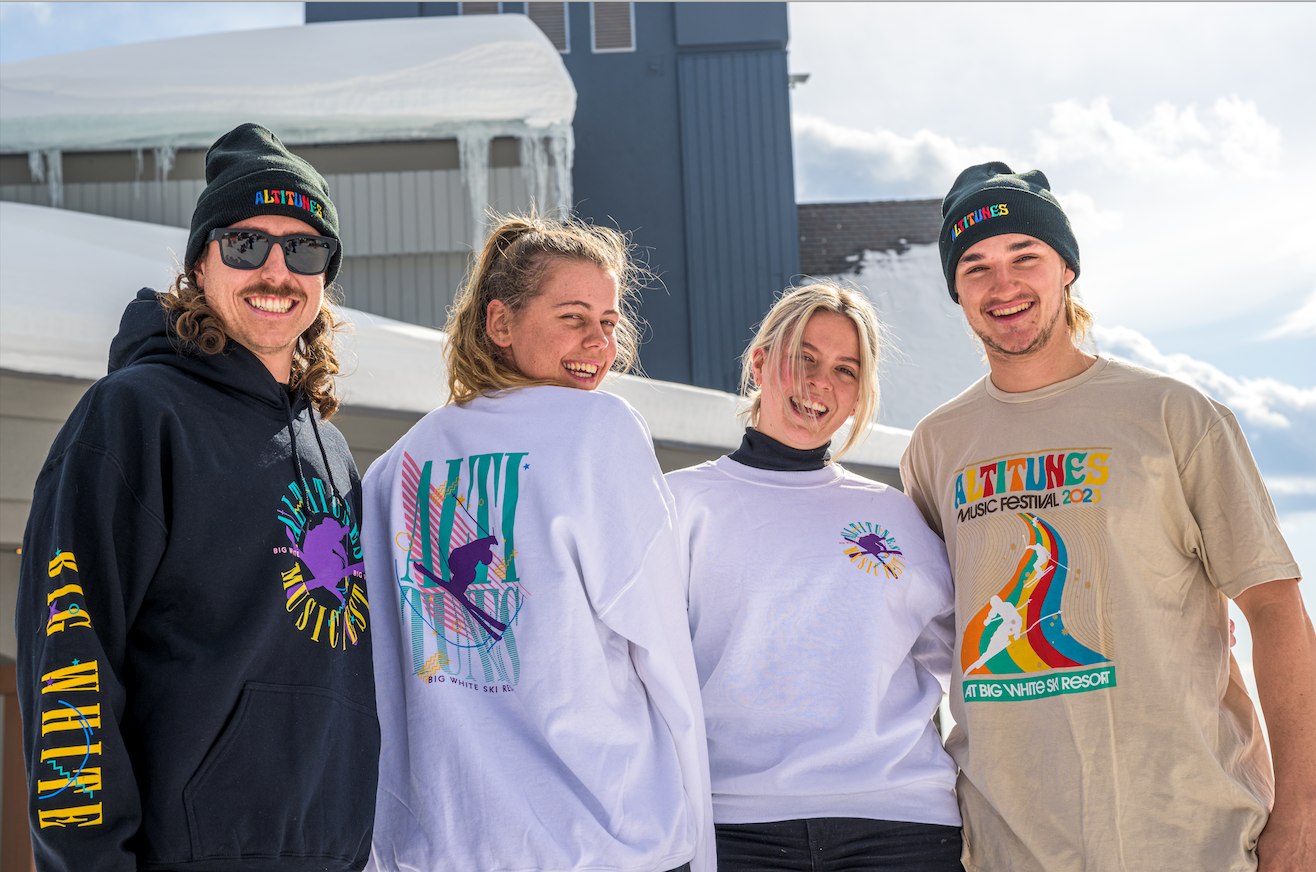 With the theme of "retro glam," you'll see plenty of neon-coloured onesies, pit vipers, and head bands, so if you have something hanging in your closet that you've been waiting for the perfect opportunity to show it off, now's your chance! 
3. Getting to the Village
Once you've secured a parking spot, you're ready to get exploring!
Gates open in Happy Valley at 3pm on Friday, March 31. Peach Pit headlines the Friday event, coming on stage at 8:15pm. On Saturday, April 1, the gates will open at noon and headliners Felix Cartel taking the stage at 8:45pm. Musical performances all day leading up to the headliners.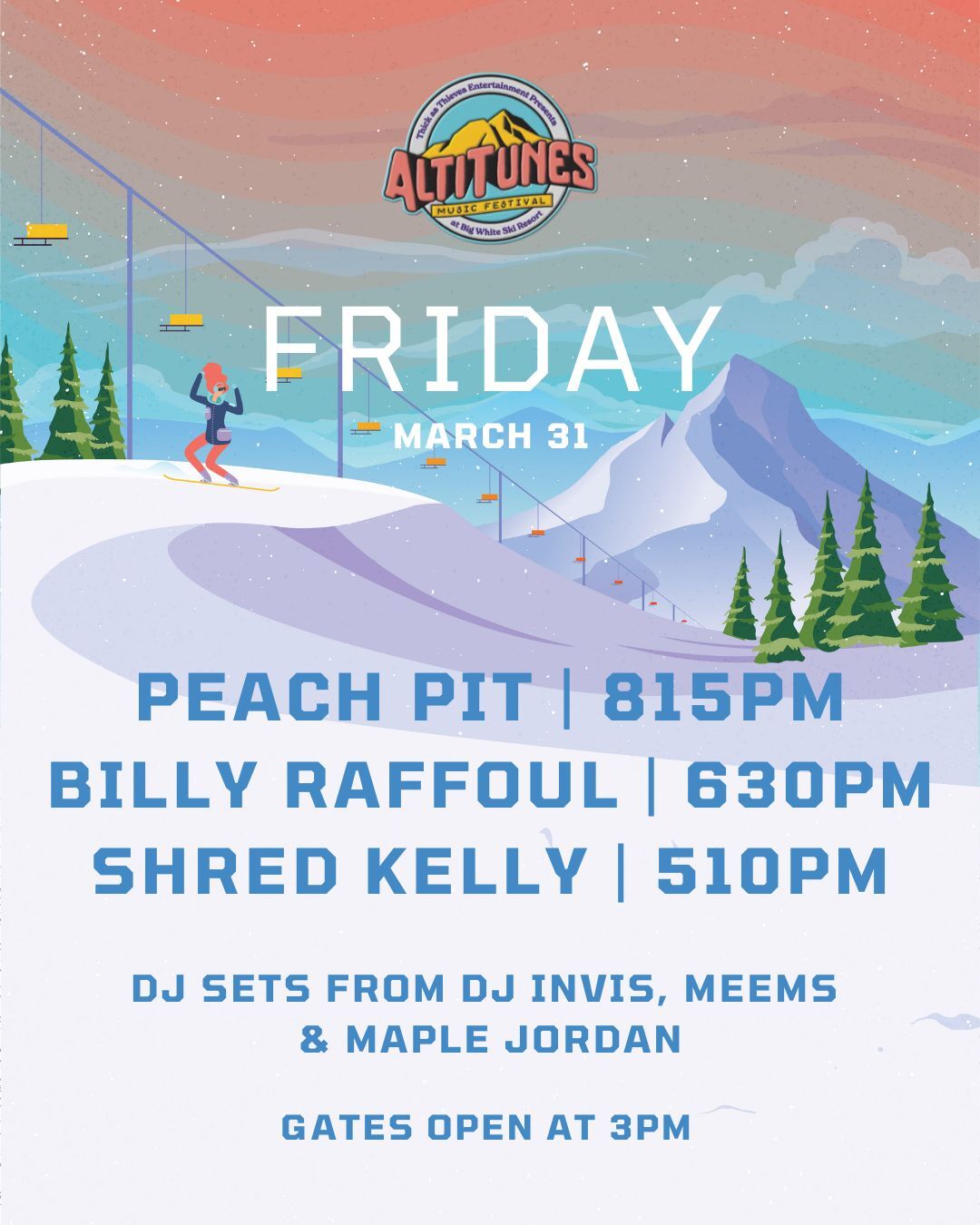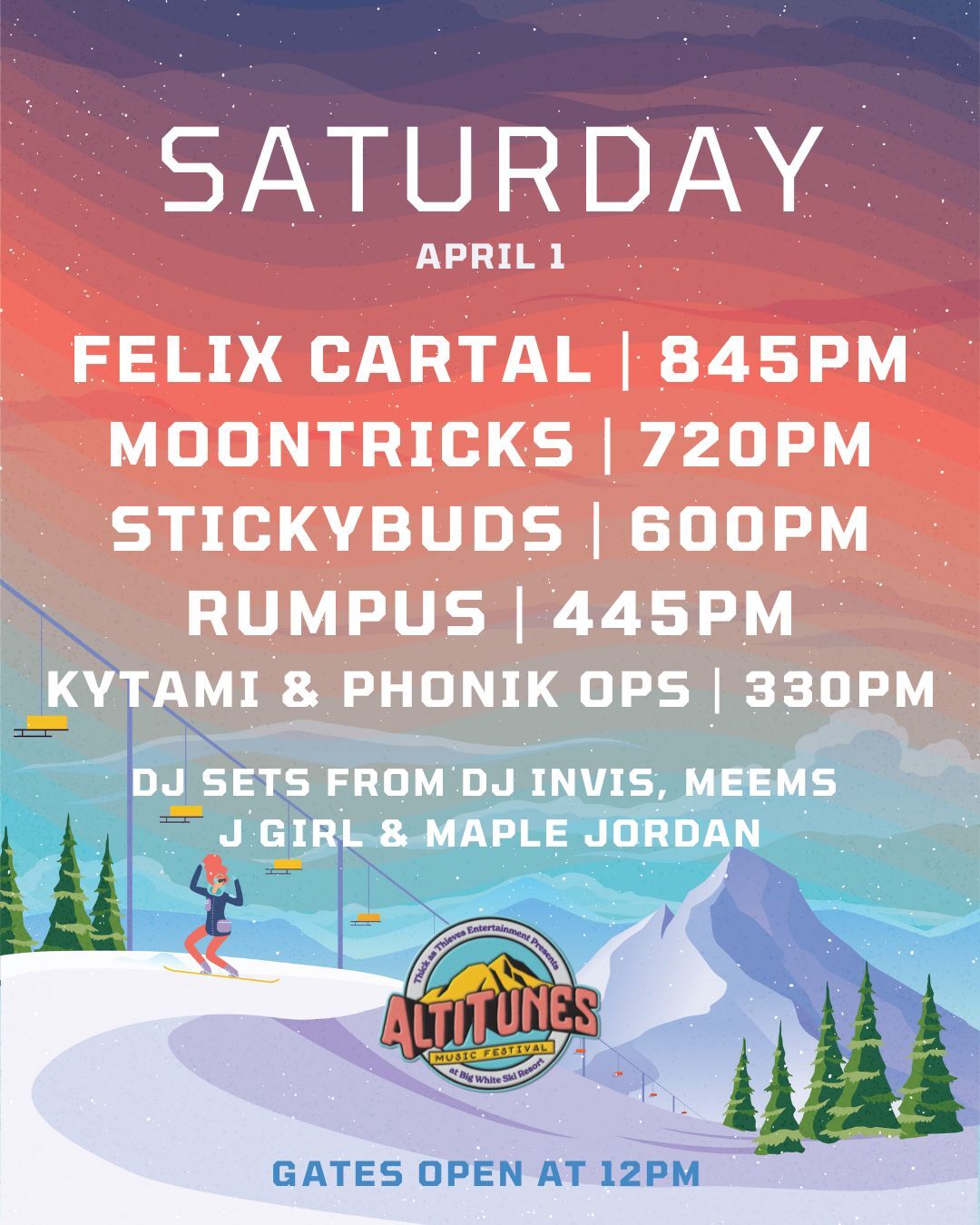 If you're looking for something to do until then (but aren't in the mood to strap on a pair of skis), jump on the gondola (it's FREE!), and take a ride up to the main resort Village. There, you can find a plethora of food and beverage options (why not try out The Bullwheel's famous pink doughnuts or grab a coffee from Clocktower Coffee Co?), epic mountain views, and shopping options in the Village Centre Mall.
The Happy Valley Day Lodge will be open both days during the day for food service until 6pm and the seating area will close at 7pm. Please no outside food and beverage in the concert grounds. 
Find all of our food and beverage outlets, here.
Find shopping information, here.
4. Other Fun
The Mega Snow Coaster in the Adventure Park will be open from 2pm until 6pm on Friday and Saturday, and regular hours on Sunday. 
Our weekly fireworks show on Saturday night will take place at 9pm. Watch from the concert grounds, on Happy Valley Way, Woodcutter, or from your accommodation. 
If you are planning on strapping on a plank or two over the weekend, be sure to purchase your lift tickets at least two days in advance to save 25%! 
5. The After Party
Staying the night? Keep the party going on the dance floor at Snowshoe Sam's! Voted '#1 Ski Bar' by Ski Canada Magazine and 'Best Après Ski Venue in North America' by the Good Skiing and Snowboarding Guide, Sam's is also a 'Best of Kelowna Gold Award' Recipient. With over 20 beers on draft, a large food menu, pool tables, video games, and entertainment, this is the perfect place to meet friends, make new ones, and share in an epic night together at the resort. 
We've extended the hours of Lara's Gondola to run until 11pm on both evenings to make your trip back up to the Village easier!
If you are heading back to your accommodation, please be respectful of the other guests staying on the mountain. Most Central Reservation accommodation require quiet time between 11pm and 7am.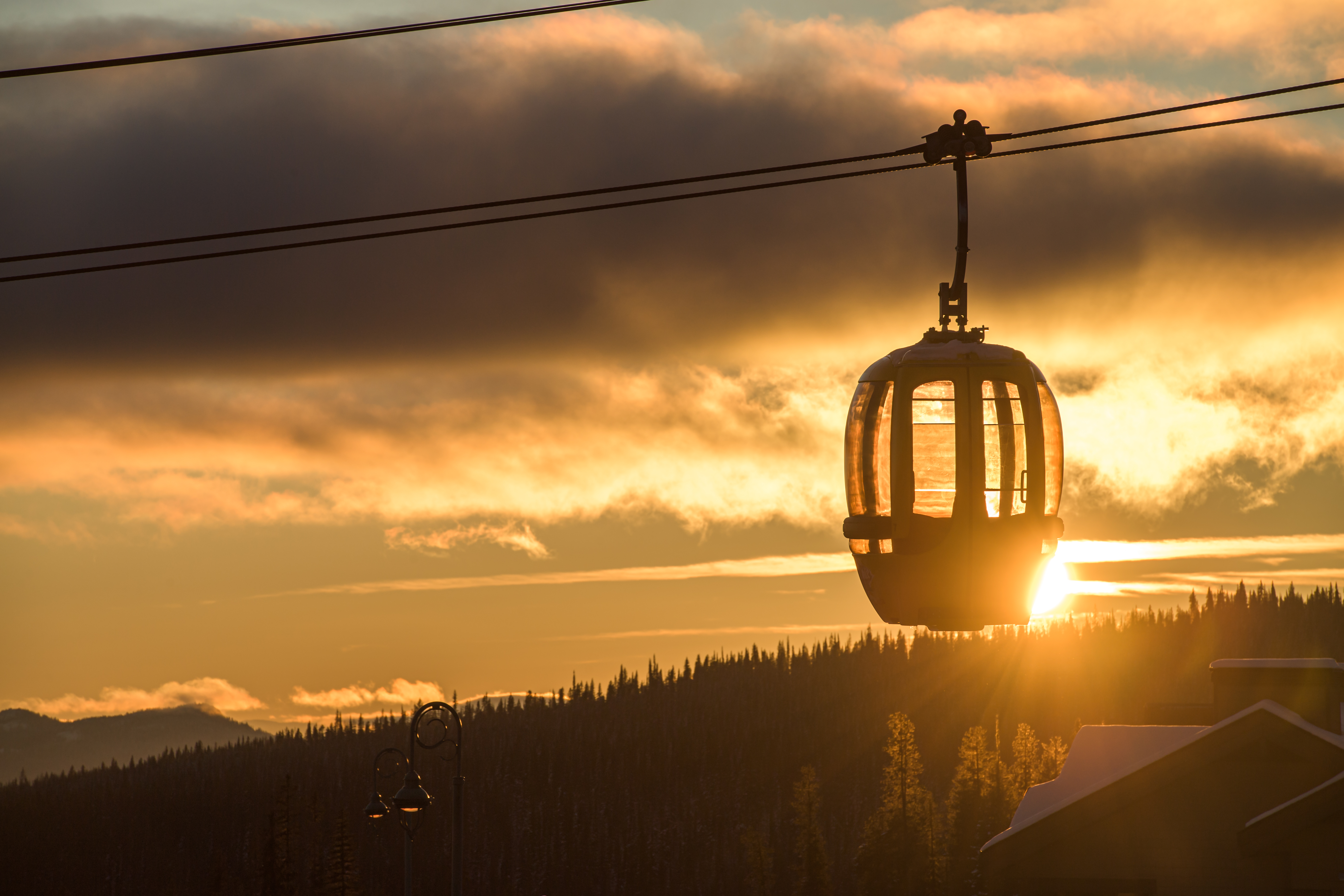 6. Staying Safe
Big White Ski Resort wants everyone to arrive safely home, whether that's to their accommodation on the mountain or back in Kelowna. Please don't drink or use any altering substances and drive – there will be a police check-stop on Big White Road the night of the concerts. 
AltiTunes has enlisted the Harm Reduction Team from the University of British Columbia - Okanagan Campus to check any substances, for free. This service is legal, and fully confidential! HaRT analyzes your sample within minutes, and they can tell you the top 4 ingredients plus the concentrations - and you get your sample back! 
If you are planning on using any substances we always recommend using with someone else whenever possible. If you have any questions, comments, or concerns please send the team a message or an email at harm.reduction@ubc.ca. 
7. Donate to a Good Cause!
Big White Ski Resort and the organizers of AltiTunes are proud to partner with the Powderhounds Adaptive Ski program! Look for their "Water by Donation Station" at the festival grounds and know your donation is going to an amazing cause. 
The Powderhounds program offers unique skiing, snowboarding and snowshoeing opportunities for individuals with physical, cognitive and sensory challenges at Big White Ski Resort. The program consists of a team of certified volunteer instructors who are trained to be innovative and creative in adapting teaching methods for our students. Learn more, and donate to the cause, here.