Posted On: March 28, 2019 |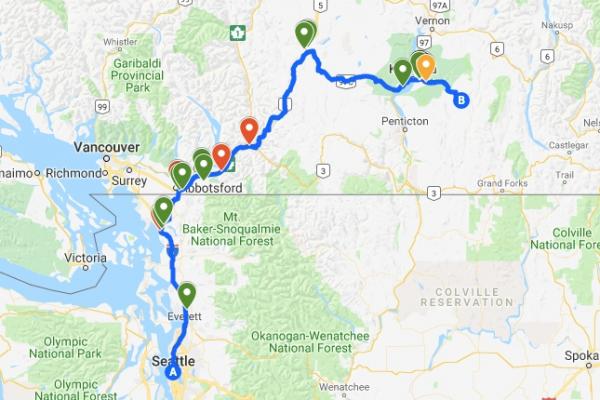 There are two rules you need to follow when driving up to Big White Ski Resort from Seattle, WA. Number one: Don't forget your passport. And number two: Take it all in! The trip across the border is a beautiful one that will take you along rivers, through forests and mountain ranges and valleys – and one that will make you "ooh" and "ahh" from departure to arrival.
The Route:
In Seattle, jump on I-5 N and follow it all the way until Bellingham, about an hour and a half. Once in Bellingham, take exit 255 onto Mt. Baker Highway. Turn left at Everson Goshen Road, and stay on that until you reach Everson, where you'll turn left on Washington Street, which becomes Van Buren Road. Turn left on WA-9 N and follow it across the Sumas border crossing on to BC-11 to Abbotsford. Be sure you have your passport with you! Once in Abbotsford, you'll drive the Trans-Canada Highway for just under an hour to Hope, BC.
After Hope, you'll drive north-east for just over an hour on the infamous Coquihalla Highway, a four to six lane highway with a posted speed limit of 120 km/h. Upon reaching Merritt, turn south-east on Highway 97 for an hour and a half to get to Kelowna. In Kelowna, follow the signs to Big White Ski Area – a half hour drive east on Highway 33, and the final leg – a 20 minute series of switchbacks up Big White Road. Be sure to fill up before you head up the mountain, however, as there are no service stations on the mountain. See the map below for the nearest Esso station. The total journey is about six and a half hours.
There are multiple nonstop Alaska Airlines flights a day between Seattle and Kelowna, and they're only about an hour and 10 minutes long. Big White is less than an hour away from the Kelowna International Airport (YLW) meaning you'll be on the slopes in no time.
Plus, with our Alaska Airlines Ski FREE deal, you can ski for free on the same day of your arrival by simply showing your Alaska Airlines Boarding Pass at the ticket office! Take a morning flight and you'll ski free all day and also includes night skiing if night skiing available. Note some date restrictions apply on this offer.
Contact our team at Big White Central Reservations and they can package your airfare with WestJet and Air Canada with a custom accommodation and lift package perfect for your needs and budget. They can also book you onto one of our Airport Shuttles which meet all flights arriving and takes you right to the front door of our on mountain accommodation. As the largest ski-in, ski-out resort village in Canada – there's no need for a vehicle once you're on mountain.
Staying Safe:
As mentioned earlier, the Coquihalla Highway is considered infamous to Canadian drivers. As one of the most dangerous stretches of road in the country, albeit lined with stunning scenery, it's important to be prepared for any delay. Before you leave Seattle, check the road conditions at DriveBC.ca. There are webcams all along the Coquihalla, giving you the most up-to-date look at highway conditions.
In BC, passenger vehicles are required be equipped with winter tires between October 1 and March 31. Ensure you have snow rated winter tires, mountain snowflake tires, or chains before making the journey. We would also recommend checking your taillights and headlights, and filling your vehicle up with gas prior to heading out. Dress warmly, or at least pack winter jackets, pants, boots and gloves in your trunk in case of emergencies. And, finally, charge up your cell phone – there's nothing worse than being stranded without a way to reach help!
Places to Eat:
Pizza'zza
1501 12th St, Bellingham, WA
TripAdvisor: 4.5/5
www.pizzazza.com
Grab a slice of New York style thin crust pizza, made with locally sourced ingredients, before heading across the border. And, if you love pizza, but have dietary restrictions, not to worry! There are plenty of vegetarian and vegan options, and gluten-free crusts available!
Ann Marie's Cafe
33771 George Ferguson Way, Abbotsford, BC
TripAdvisor: 4.5/5
www.annmariescafe.ca
Get nostalgic at this rock n' roll themed diner, right in Abbotsford's historic downtown. Get the classic burger, fries and a milkshake – or, if you're in need of a good, hearty breakfast, choose from an extensive list of omelettes, skillets and egg benedict. Closed on Sundays.
Brambles Bakery
2151 Quilchena Avenue, Merritt, BC
TripAdvisor: 4.5/5
www.bramblesbakery.com
With plenty of gluten-free and vegan options, Brambles Bakery in Merritt is the perfect pitstop for travellers with dietary restrictions. But, don't worry if that's not you! There's plenty of other delicious options, such as the pear and brie sandwich and the sour cherry chocolate cake. Open Monday through Saturday.
Home Cafe
665 Old Hope Princeton Way, Hope, BC
TripAdvisor: 4/5
www.homerestaurants.ca
Think mom's cooking. Think warm, friendly, and, appropriately, home-y. Home Cafe is known for its quick and friendly service, its comfy booths, and of course, its delicious menu – one praised by Big White's very own Senior VP. "They have Incredible lemon meringue pie," Michael J. Ballingall says."And their Liver and onions with bacon – it's the only other place in the world I eat that other than when my mom made it when I was a child"
Tim Horton's
3340 River Ranch Rd, Merritt, BC
Google: 3.8/5
Looking for a quick stop? Check out the Tim Horton's in Merritt, right before you jump onto Highway 97. The Canadian favourite is open 24 hours, meaning you can get your caffeine fix as early as you need on your way to Big White.

Check out the interactive map below for restaurants, grocery stores, electric vehicle charging stations and gas stations. Do you cross the border regularly to visit Big White? Send us a note with your suggestions for best restaurants, gas stations and scenic stops along the way!