Posted On: March 26, 2019 |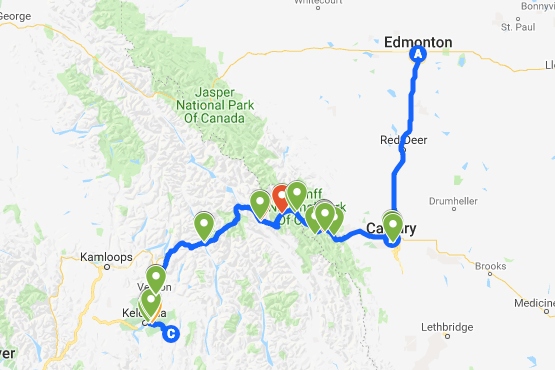 The journey from Alberta to Big White Ski Resort will take you through not one, not two, not three, but FOUR national parks – Banff National Park, Yoho National Park, Glacier National Park and Mt. Revelstoke National Park. Plus, the Rocky Mountains are truly staggering to witness from the view of your car!
The Route:
If you're starting in the Edmonton-area, jump on the Queen Elizabeth II Highway. The two-to-four-lane highway has a speed limit of 110 km/h, and will take you straight to Calgary in under three hours. Exit off onto the ring road, also known as Stoney Trail NW, and head all the way to the Trans-Canada Highway. From there, it'll be another eight hour journey to Big White, but not before passing through the scenic tourist destinations of Canmore, Banff, Golden and Revelstoke, to name a few.
Once you hit Sicamous, you'll take the exit onto Highway 97, through Vernon and Lake Country, until you reach Highway 33 in Kelowna. Follow the signs to Big White Ski Area – a half hour drive east on Highway 33, and the final leg – a 20 minute series of switchbacks up Big White Road. Be sure to fill up before you head up the mountain, however, as there are no service stations on the mountain. See the map below for the nearest Esso station.
With over 20 nonstop flights a day from Calgary and Edmonton to Kelowna, getting to Big White is easy. It's leaving that you'll find hard. Flights are just over an hour and Big White is less than an hour away from the Kelowna International Airport (YLW) so you'll be on the slopes in no time.
Plus, with our WestJet Ski FREE deal, you can ski for free on the same day of your arrival by simply showing your WestJet Boarding Pass at the ticket office! Take a morning flight and you'll ski free all day and also includes night skiing if night skiing available. Note some date restrictions apply on this offer.
Contact our team at Big White Central Reservations and they can package your airfare with WestJet and Air Canada with a custom accommodation and lift package perfect for your needs and budget. They can also book you onto one of our Airport Shuttles which meet all flights arriving and takes you right to the front door of our on mountain accommodation. As the largest ski-in, ski-out resort village in Canada – there's no need for a vehicle once you're on mountain.
Staying Safe:
Be sure to check both 511.Alberta.ca and DriveBC.ca for road conditions before beginning the trek. Also check for construction and road closures, as in the winter, there's quite often delays through that stretch of the Rocky Mountains.
In BC, passenger vehicles are required be equipped with winter tires between October 1 and March 31. Ensure you have snow rated winter tires, mountain snowflake tires, or chains before making the journey. We would also recommend checking your taillights and headlights, and filling your vehicle up with gas prior to heading out. Dress warmly, or at least pack winter jackets, pants, boots and gloves in your trunk in case of emergencies. And, finally, charge up your cell phone – there's nothing worse than being stranded without a way to reach help!
Places to Stay:
Banff
Why not make it a trip and spend a night or two in the picturesque mountain town of Banff? With plenty of hotels, delicious restaurants and scenic adventures, Banff is the perfect pit-stop before you head on through to BC.
Golden
Situated in the heart of the Rocky Mountains, Golden will give you a well-deserved break halfway between Alberta and Big White. Summer or winter, there are loads of things to do, from hiking to rafting to snowmobiling to ice climbing.
Three Valley Gap
If you're travelling through in the summer, spring and fall months, make sure to stop at Three Valley Gap – a beautiful oasis of fun just 20 kilometres west of Revelstoke. Make sure you tour through the Three Valley Gap Heritage Ghost Town, where you'll find yourself back in a typical 1800s British Columbia western town.
Places to Eat:
Sky Bistro
Mountain Ave, Banff, AB
TripAdvisor: 4.5/5
www.banffjaspercollection.com/dining/sky-bistro
The ultimate stop if you're looking for a breathtaking view of the Rockies. Sky Bistro is located at the summit of Sulphur Mountain – nearly 2,300 metres above sea level and a gondola ride up from Banff. The menu is distinctly Canadian, with locally sourced ingredients.
The Bear Street Tavern
211 Bear Street, Banff, AB
TripAdvisor: 4.5/5
www.bearstreettavern.ca
"Ridiculously Good Pizza" is this restaurant's tagline, with the reviews to back it up. The Bear Street Tavern has pizza for every taste, including ones for people with dietary restrictions, as well as a line-up locally made beers to cleanse the palate.
Truffle Pigs Bistro
100 Center Street, Field
TripAdvisor: 4/5
www.trufflepigs.com
Located in the quiet and quaint mountain town of Field, Truffle Pigs Bistro offers up an eclectic menu complete with everything from scallops to lamb, and pub favourites like wings and mac n' cheese.
The Wolf Den
1105 9th Street South, Golden, BC
TripAdvisor: 4.5/5
www.thewolfsdengolden.ca
Like mom used to make it. The Wolf's Den in Golden serves up hearty portion sizes of meals made from scratch daily in a large and historic log building right next to the Kicking Horse River.
Bacchus Books & Cafe
409 9th Ave North, Golden, BC
TripAdvisor: 4.5/5
www.bacchusbooks.ca
Fancy a read during your coffee break? Bacchus Books & Cafe has a wide selection of new and used books, as well as an extensive menu of cafe favourites, including gluten-free, vegan and vegetarian options. Nourish your mind and body at the same time!
Check out the interactive map below for restaurants, grocery stores, electric vehicle charging stations and gas stations. Do you regularly visit Big White from Alberta? Send us a note with your suggestions for best restaurants, gas stations and scenic stops along the way!