Spectator's Guide to the Big White Invitational Slopestyle
Posted On: June 21, 2018 |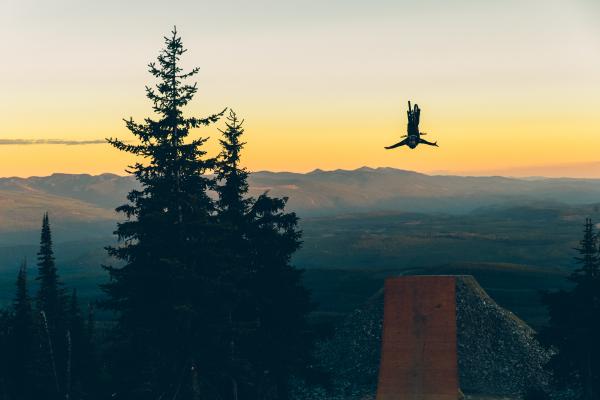 Want to know more about the Big White Invitational Slopestyle? Here's your guide to the weekend. 
What's the Big White Invitational Slopestyle? 

In short: It's one of the most epic events to ever come to the Okanagan. And it's FREE to attend! 
In long: It's one of the stops on the FMB World Tour. FMB stands for Freeride Mountain Biking, and the World Tour is the official international circuit of both amateur and professional riders. Slopestyle athletes collect points at various events on the FMB World Tour, such as the worldwide Crankworx series, with the aim of becoming the Slopestyle World Champion.
What's special about the Big White Invitational is that it's the only FMB World Tour Gold Event in North America, giving our Canadian and British Columbian athletes a chance to compete on home ground for the first time. We're also hosting a Bronze Event which allows incredible up-and-coming local talent to join the scene and earn a chance to ride with the pros. 
This is also the last chance the riders have to qualify, or earn a wildcard spot, for Joyride at Crankworx Whistler - so you can expect them to throw down their best tricks. 
 
The riders

The Gold Event will feature 25 of the top-ranked FMB riders from North America and Europe. In recent weeks, these riders have been competing at Crankworx Innsbruck in Austria, and Crankworx Les Gets in France. The top four riders from the Bronze Event will also move on to compete in the Gold Event. 
You can expect to see some of mountain biking's most insane tricks, including supermans, 1080s, tail whips, backflips, frontflips and plenty of variations of all of the above. For a beginner's dictionary of the most common mountain biking tricks, check out this link.
For a glimpse at some of the riders that are coming to join us at the Big White Invitational, take a look at the recap from Crankworx Les Gets from June 20 to June 24.
 
The Invitational is hosted by pro rider Tom van Steenbergen, who started mountain biking in Kelowna as a teenager. Other Canadians to look out for are Logan Peat from Owen Sound, Anthony Messere from Surrey, Brayden Barrett-Hay from Uxbridge, Simon Karrer from Prince George, Griffin Paulson from Prince George, Max Langille from Calgary and Paul Genovese from Fernie, alongside riders from France, the USA, Germany, Italy, Switzerland and the Czech Republic. 
The schedule 

Wednesday July 4 & Thursday July 5: Practice & Bronze Event

Head to Happy Valley on Wednesday or Thursday and check out the action as the Gold and Bronze athletes practice and familiarize themselves with the courses. From 3:30pm on Thursday, join us for the Bronze Event as they compete for a wildcard entry to the Gold Event; then catch the Bronze Event awards ceremony from 7pm. 
Friday July 6: Qualifier & Movie Night
It's getting real for the Gold riders now, with practice running from 10am to 3pm and the Gold Qualifier Event kicking off at 3pm. Food concessions and our Event Expo will be open from 10am to 6pm down in Happy Valley, with the beer garden opening from 11am. 
When the sun goes down, join us in the Village for a free screening of North of Nightfall on our giant outdoor cinema screen. Bring your own chairs, blankets and snacks or hang out in The Woods beer garden and enjoy the story of pro riders who embark on an expedition to ride the Arctic Circle. Even the film's director, Jeremy Grant, will be in attendance. 
Saturday July 7: The Gold Event 
If you can only make it up to the mountain for one day of watching the action, make it today. Saturday's set to be huge, with riders kicking off practice at 8am in Happy Valley and going until 12pm. From 1pm, the Gold Event will start, with a winner being crowned at 4pm. 
Food concessions and the Event Expo will open from 10am on the day, with the beer garden opening at 11am. Even the kids are covered – little ones can enjoy the Shimano Kids Race in the Village at 10am, with categories to suit all ages between 2 – 12. 
For those who are keen on sharing a drink with the riders, the official After Party action begins at Sessions Taphouse from 7pm.    
The Gold Event is weather-dependent, and will be rescheduled to Sunday, July 8 from 1-4pm if need be due to rain. 
For the full schedule, check out the event page here. 

What to bring 

There's plenty of room for spectators to catch all the action over the weekend. To ensure your comfort on the day, be sure to bring along a lawn chair, bug spray and a picnic blanket.
Weather can change quickly on the mountain, so be prepared with layers of clothing, along with plenty of water, sunscreen and a hat. Please note that the ground of the spectator areas can be grassy or uneven, with patches of dirt and rocks, so wear a sturdy pair of shoes and plan accordingly if bringing young children in strollers or the elderly. 
Regular summer operations will be running on the mountain, so if you'd like to go for a hike or a scenic chairlift ride while visiting, be sure to pack the right gear. You can even take a lap through the bike park if you're feeling inspired by all the riders – the Bullet Chair will run from 10am – 5pm on Thursday, Friday and Saturday for hiking, biking and scenic chairlift rides, with bike retail and rentals available in the Village, and Extended Play in the bike park running until 7:30pm on Friday night. The Bullet Chair will not run on Wednesday, July 4.  
For your convenience, parking will be available in Happy Valley, with Lara's Gondola running from 9:45am – 7pm, Wednesday through to Saturday for pedestrian traffic between Happy Valley and the Village. If you need to transport your bike between Happy Valley and the Village, there will be a bike shuttle available. 
Don't worry if you forget your sunscreen, your favourite bike jersey or your Bike Big White hat - with plenty of fun bike paraphernalia on sale at the Event Expo, and our on-mountain retail stores open, the essentials are all available for purchase throughout the weekend. Exhibitors will include Kelowna Cycle, Cyclepath, Dakine, Fresh Air Kelowna, Adventure Smart, Black Tusk Jerky and LYDA Collective – you can even take part in an eBike demo on Friday and Saturday. 
Your furry friends are also welcome for the weekend, just be sure to keep them on a leash to protect our alpine environment – and protect them from flying bicycles on the course! 
What to eat & drink 

You'll be well-fed and hydrated at the Big White Invitational, with a variety of food options for the weekend – including Beavertails, Tug 6 Coffee, Okanagan Springs, Elevation 57 Brewery and Okapops Frozen Treats. 
You can also try some delicious items from on-mountain food and beverage outlets, including Globe Café and The Woods. Keep an eye out for the brand new Howler Burger, featuring a flame-grilled, Applewood-spiced beef patty, piled mountain-high with smoky briskets, bacon, mushrooms, provolone & our famous Kicker sauce, all on an artisan-seeded bun.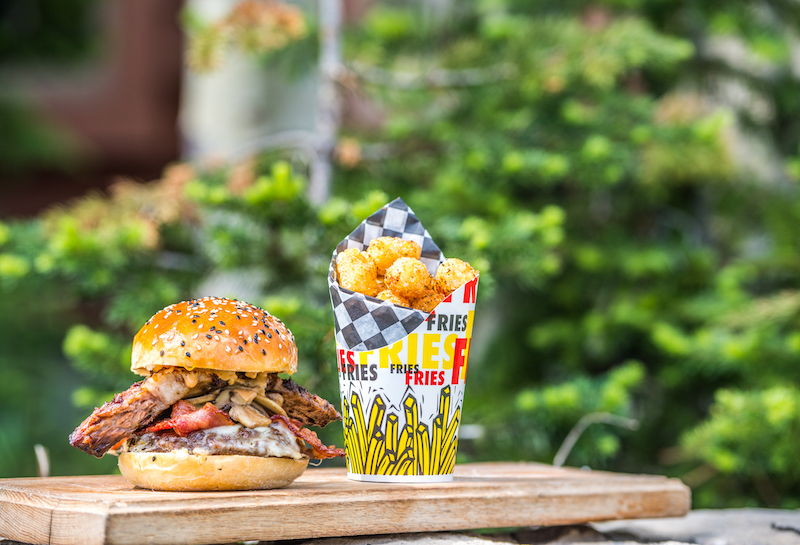 With the beer garden open from 11am on Friday and Saturday, you can relax with a burger in one hand and a beer in the other while cheering on the riders. 
Where to stay

With such a huge line-up of action and activities, why not make it a getaway weekend? For the first time ever, Big White has opened a range of summer accommodation available to book with Central Reservations. With accommodation options starting from just $68 per night, and everything from hotel rooms to townhouses and condos available, there's something to suit everyone, regardless of your budget. Bike valet is also available for secure storage of any mountain bikes.
Click here to check out the range of accommodation available to book through Central Reservations. 
Prefer to camp on our beautiful mountain? Whether you have a tent or an RV, you're welcome at the new Big White Campgrounds this summer. Located at Black Forest, this campground includes all essential amenities, including washrooms, running water and picnic tables. 
Other summer mountain accommodators include Rent Chalets, Chalets at Big White and Crescendo.
 
Need more information about the Big White Slopestyle? Contact us on Concierge on 250-491-6111 or email us – concierge@bigwhite.com.