10th Annual Big Reds at Big White breaks attendance records
Posted On: December 10, 2017 |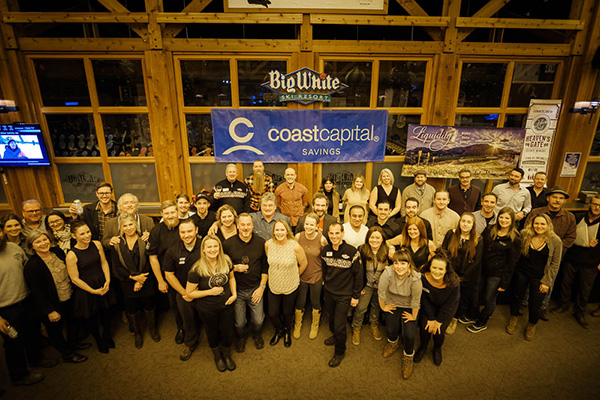 The 10th Annual Big Reds Wine Festival took place at Big White Ski Resort this weekend breaking multiple attendance records.
10th Annual Big Reds at Big White vendors with Michael J. Ballingall and Trevor Hanna.
The two night event saw over 600 guests flow through the Village Centre Mall sampling the handcrafted wines making it the best attended Big Reds to date.
Big Reds offers a unique opportunity connecting consumers with local wineries in an intimate environment while enjoying great snow, delicious food and world-class hospitality.
"The popularity of Big Reds mirrors the growth of the wine industry in BC. When we first started Big Reds there was less than 150 wineries in BC and now there is well over 300," says Trevor Hanna, vice president of hospitality at Big White Ski Resort. "Without the continued support from our family of generous winery and restaurant partners, this event would not have made it through 10 wonderful years."
This year's event featured 136 wines from 31 different Okanagan wineries and food from eight local restaurants, which is the most vendors in the event's history. Sessions Taphouse & Grill was also sampling beer from Canada's highest elevation craft brewery, Elevation 57 Brewing Company.
Guests were asked to choose their favourite winery and restaurant during both nights of the event and Big White Ski Resort is excited to announce the Globe Café and Tapas Bar won the People's Choice Award for Top Restaurant and The View Winery won Top Winery.