Date, Start Time
January 26, 2020 11:00 AM
Date, End Time
January 26, 2020 05:00 PM
Whether you're Australian or not, we invite you to come and celebrate everything that's great about 'Down Under'! Every year, the whole mountain gets involved in Australia Day celebrations.
Aussie! Aussie! Aussie!
Shred with Boomer down Kangaroo
Here at Big White we have an annual tradition of sending Boomer the Kangaroo to shred down the blue run, "Kangaroo". If you would like to shred with Boomer, meet at the top of Kangaroo at 11am for a group photo.
Sausage Sizzle at The Woods
The Woods will be celebrating Australia Day with a Sausage Sizzle and some great Aussie tunes from 11am. It's only $5 for a snag in bread – so get it while it lasts! All proceeds from food sales of the sausage sizzle at The Wood's on Australia Day will be donated to support the Country Fire Authority's bushfire relief efforts in Australia.
Enjoy a beer and parmie for a great cause at The BullWheel!
The Bullwheel will be working in conjunction with Vice & Virtue Brewing for a $20 beer and parmie special from 9am -9pm on January 26th. $5 dollars from each beer & parmie special purchased will be donated to support the Country Fire Authority's bushfire relief efforts in Australia.
Tube with Boomer
After Boomer has finished shredding the mountain for the day, he will be head to Happy Valley Tube Park from 4pm-5pm for some fun in the lanes. Invite him to ride with your group or challenge him to a race!
Don't forget to show us your Aussie spirit! Come decked out in your best Australian gear and you might even score yourself a couple of Tim Tams!
Little Creatures on sale!
For any Aussie missing home this Australia Day, the Big White Beer and Wine Store is excited to feature Little Creatures Pale Ale on sale from now until Jan 26th. Purchase a 6-pack for just $16.09 (plus tax & deposit).
Other Australia Day parties can be found at various venues around the resort. 
---
---
Enjoy the fresh air.  Big White Ski Resort is a smoke-free environment.
To keep our alpine air clean and to protect our natural environment from dangerous forest fires, smoking of any kind (including tobacco, marijuana, e-cigarettes and vaporizers) is strictly prohibited anywhere on Big White Ski Resort property outside of designated smoking areas. Our policy applies to both the summer and winter seasons.
For more information on our smoke-free policy please visit our Mountain Safety page.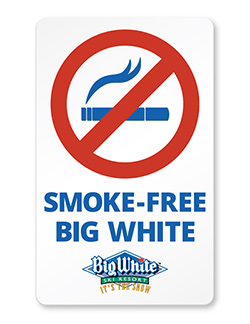 ---