Date, Start Time
Date, End Time
The sun is shining, the snow is clearing and Big White is opening for the summer! Get ready to explore the incredible landscapes that Big White has to offer, and all the adventurous activities we have planned for the season.
Join us for our biggest Opening Weekend yet - from a party at the Bullet Chair to Dunbar racing and an outdoor movie on the big screen there is something for everyone to enjoy. Don't forget about FREE pancakes for Canada Day in the Village from 9am. Check out the full schedule of events.
Thursday June 27, 2019
Bullet Chair Lift Party
Free snow cones and summer swag
9:30am - 11:30am
Live Music: Jeff Piattelli
7:00pm - 9:00pm @ The Blarney Stone
 
Friday June 28, 2019
Dunbar Cycle Summer Series
Event registration and plate pickup
4:30pm - 6:00pm
 
Saturday June 29, 2019
Shimano Kids Race
Registration: 12pm, Race: 1:00pm
Dunbar Cycle Summer Series
Event registration and plate pickup
9:00am - 2:00pm
Dunbar Cycle Summer Series
Racers Special Event Competition
5:30pm
Outdoor Movie
How To Train Your Dragon: Hidden World
9:00pm (approx)
 
Sunday June 30, 2019
Dunbar Cycle Summer Series
Race, with awards and podium to follow final race
12:30pm
 
Monday July 1, 2019
FREE Pancake Breakfast
9:00am - 11:00am in Village Centre
FREE Canada Day Cake
1:00pm in Village Centre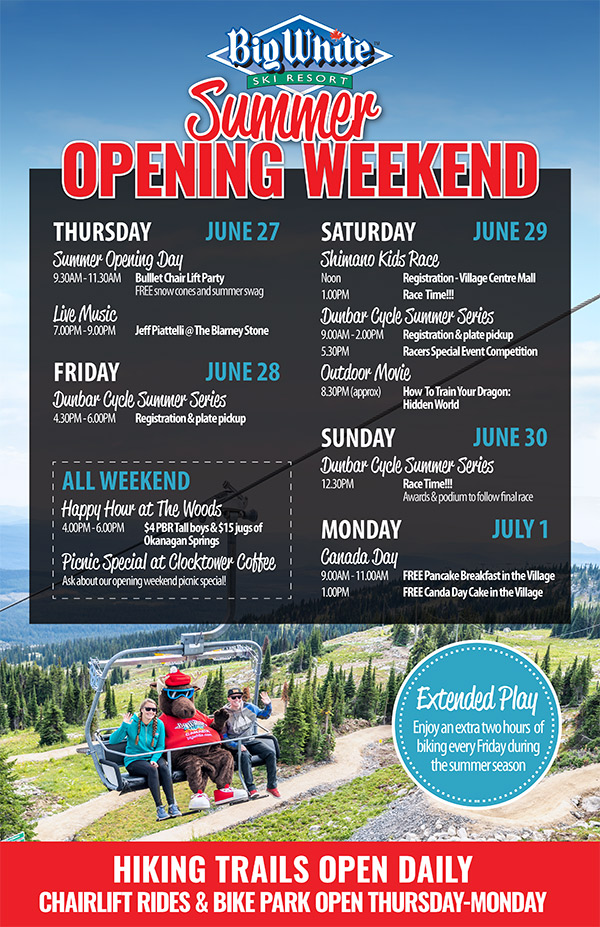 ---
There's so much to see and do at Big White over the summer months. Discover what's under the snow on a scenic chairlift ride, or go for a hike to explore the on-mountain trails. Either way, you'll be able to tour of our beautiful alpine, and catch stunning views of Rhonda Lake, the Monashee Mountain Range and a bird's eye view of Big White itself.
If you're looking for something a little more exhilarating, why not give Big White's bike park a try? This lift-assisted mountain bike trail network continues to grow after its initial opening in 2017. Whether you're a beginner or an avid mountain biker, riding down Big White Mountain is sure to be a thrilling experience. Big White offers rentals and lessons for all riding levels - more info>>
Looking for somewhere to eat? Check out our summer dining options here.
---


Any day in Boundary Country is a reason to celebrate.
Visit boundarybc.ca for a complete calendar of events in the area.