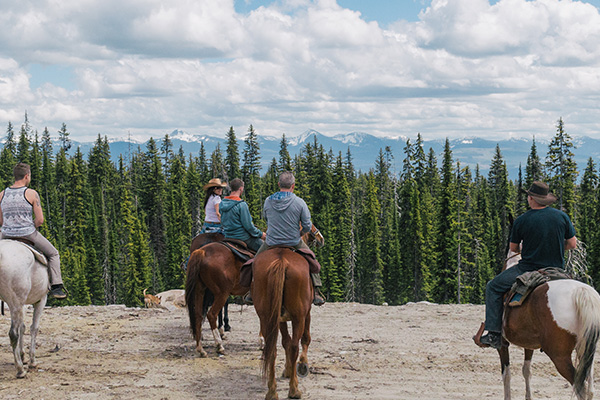 Big White Mountain Horseback Adventures, Open June 20th thru Mid-September
Imagine the relaxation of being in the saddle, at one with nature, and enjoying unique vistas of beautiful Big White Mountain in summertime. Or cantering along a forest trail, in the fresh mountain air, enjoying the stories and entertainment of our experienced local guides! Imagine indulging in a delicious pre or post ride meal, or a wine & cheese tasting on our patio, or simply a cold local beer with the locals to celebrate your new found horsemanship.
We are very excited to partner with local ranchers Christine & Troy McDonald & their team, to bring this experience to Big White Mountain.
Daily Rides
1 Hour Guided Trail Ride
Price
$75
Departure Time
Departures from 10:00am
 
2 Hour Guided Trail Ride
Price
$105
Departure Time
Departures from 10:00am
 
Half Day Guided Trail Ride:
Price
$175
Departure Time
10:00am & 1:00pm
3 hr ride with pre or post ride hearty lunch @Globe including local wine or beer
All prices exclude tax & gratuities
Book your Mountain Horseback Adventure ride:
For more information please visit https://www.facebook.com/horsebackadventuresbigwhitemountain/
Important information:
All guests will be required to sign a waiver
All horseback adventures include return transportation to and from the trailheads
All dietary needs can be catered for with advance notice
Please wear long pants and closed shoes - no shorts or sandals/flip flops
Children must be a minimum of 6 years old and children under 16 must wear a helmet (provided)
Weight limit is 250lbs
All prices exclude tax & gratuities
Where to go:
Corral located at Happy Valley Adventure Park by the Day Lodge