X Suspended services 2023/2024
Unfortunately, this service will not be available this winter.
Elevation Spa is permanently closed. We apologize for this inconvenience and hope to bring back this spa experience in the future.
---
Elevation Spa at 2,318 metres where your spa experience is our top priority.
Elevation Spa at Big White is proudly working with Eminence Organics to be recognized as a Green Certified Organic Spa. We are excited to offer the healing beauty of Eminence Organics facial and bodywork products in all of our in-house treatments. As an authorized Eminence partner we are committed to protecting the future of our planet through our green practices and help to plant a tree for every product sold.
"Spas are places devoted to enhancing overall well-being through a variety of professional services that encourage the renewal of the mind, body and spirit."…..The International Spa Association (ISPA)

How to Get Here
Located in Village Centre Mall.
Now closed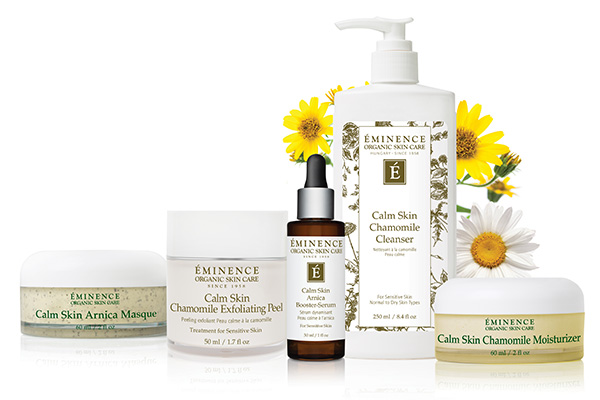 For more information or to book your escape contact:
Direct: 250.491.7799
Toll Free: 1.877.491.7799
MASSAGE
AROMATIC RELAXATION MASSAGE
60 minutes - $130 | 90 minutes - $190
Pure organic essential oils are tailored to your bodies needs and blended on the spot to enhance your personal massage experience. Our traditional aromatic Swedish massage will leave your entire body feeling loose, reduce muscle tension and lull you into a soothing state of total relaxation.
HOT STONE MASSAGE
60 minutes - $130 | 90 minutes - $190
Our Hot Basalt Stone Massage is a soothing specialty massage using smooth, heated stones gently placed on the body in targeted areas. Penetrating heat increases blood flow and leads to deep relaxation and release of muscle tension. A perfect treatment for deep relaxation and to pair with one of our invigorating Wraps or Scrubs
DEEP TISSUE MASSAGE
60 minutes - $130 | 90 minutes - $190
Using technique, sustained pressure and slow, deep strokes to target the inner layers of your muscles and connective tissues, our deep tissue massages aids in breaking up scar tissue that forms following an injury. This massage reduces tension in muscle tissue resulting in the ultimate relief of sore, achey muscles.
---
MOUNTAIN MOBILITY *NEW*
60 minutes - $140
Assessment and treatment in one appointment. Have your stance, gate and alignment checked in a 15 min assessment consultation with our specialized sports massage therapist, then enjoy getting all those kinks worked through and stretched out in a 45 minute treatment. Must book in advance if bringing equipment.
CLASSIC HEAD, NECK & BACK MASSAGE
45 minutes - $95
This is the perfect treatment if you are in need of some upper back tension relief. Starting with traction and stretching assessments, this massage then targets the upper back, shoulders, neck and adjoining muscles to the head to release tightness. Sink into relaxation with hot towel hydrotherapy applied.
APRÈS SKI MASSAGE
60 minutes - $120
This invigorating athletic massage uses rhythmic strokes to stimulate muscles and flush metabolic waste from the tissues. Add your choice of aromatic essential oils to your massage to heighten your relaxation.
PRENATAL MASSAGE *NEW*
60 minutes - $130 | 90 minutes with facial - $170
This one hour treatment administered by a specially trained Pre-Natal Massage Therapist will allow you to feel tension relief in your back, hips and legs. As your baby floats in a coccoon of comfort you will be lulled into the ultimate relaxation. Available in 2nd and 3rd Trimester only. Combine this treatment with a luxurious Mini 4 step Facial for a much deserved time out for you.
TREATMENT
ELEVATE - your Body Treatment with a Signature Eminence Body Scrub
45 minutes - $105
When winter weather has left your skin dry and flaky, revive your body with Eminence Organics sugar scrubs. Choose from a selection of invigorating treatments that exfoliate the skin, replenish natural oils and balance while whisking away dry patches, dark spots and uneven skin tone.
BODY WRAPS
60 minutes - $130
Indulge in one of our pampering Body Wraps. This treatment is the ultimate in nourishing care for mind and body. All of our Eminence Body Wraps use Organic products to cleanse, nourish and tighten your skin leaving a healthy, fresh glow and softness. We use organic brushed cotton sheets in all or our body wrap treatments.
EMINENCE ORGANICS POWERFUL FACIAL TREATMENTS
60 minutes - $140
Our highest quality and most popular Eminence facial products are available in a number of treatment formats customized to your skin care needs. Cleansing, exfoliants, moisturizers, powerful organic healing serums and masques all combined with Hungarian facial massage techniques gives you the ultimate facial experience. Feel the difference Eminence and Elevation makes for yourself.
EMINENCE STONE CROP CONTOURING BODY TREATMENT *NEW*
90 minutes - $195
Impart the benefits of Eminence Organics signature stone crop ingredient in a relaxing spa treatment. Start with a Stone Crop invigorating and detoxifying body scrub followed by a luxurious body wrap. This restorative wrap contains stone crop, aloe and powerful actives to hydrate, rejuvenate and brighten the look of skin from head to toe. End your treatment with firming Stone Crop body contouring cream massage.
Eminence Earth friendly Organic Alternatives to Plastic Micro-bead Body Scrubs. Get clear, smooth looking skin. Our natural, botanical Exfoliant refines your complexion's appearance by removing dehydrated skin and uncovering your skin's youthful radiance. Choose from 3 of our most popular Scrub treatments: Coconut Sugar Scrub, Cranberry Pomegranate Scrub, Blueberry Soy Scrub.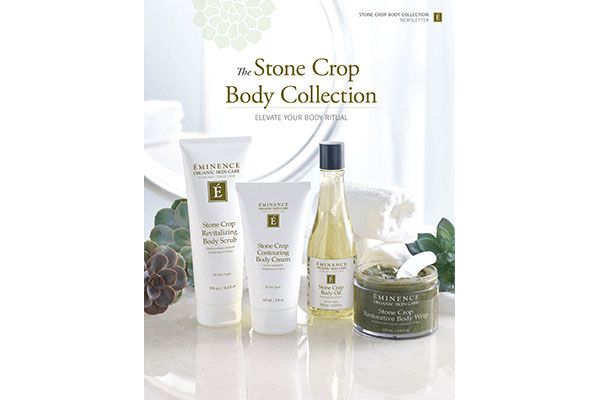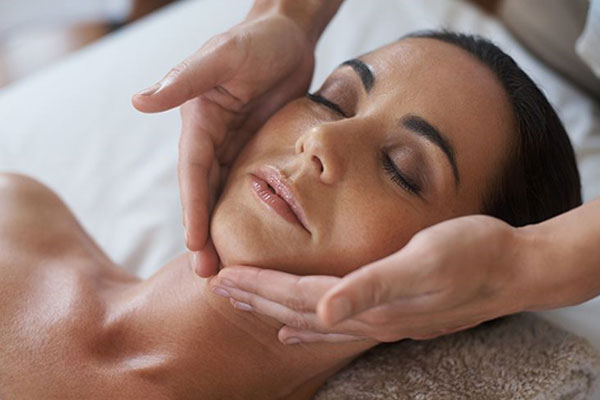 Waxing and Tinting services available by appointment
BEAUTY BY BELLA *NEW*
"Elevate" your look this season with Lash Extensions
CLASSIC LASHES
$130
Classic Refills - $90
This is the most basic form of eyelash extensions. Classic eyelash extensions offer a soft look while still adding length and volume. The outcome is very natural with individual silk extensions being applied to a single natural lash.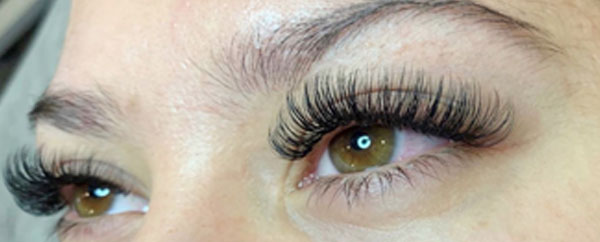 RUSSIAN VOLUME LASHES
$155
Russian Volume Lashes Refills - $120
At Elevation Spa Bella uses the world renowned Russian volume technique which creates 2D-8D bouquets to be applied to one natural eyelash. By using extremely light weight fans, the technique allows us to sustain healthy eyelashes and further retention. The term 2D, 6D and so on, in the volume is used to describe how many eyelashes are in the fan or bouquet.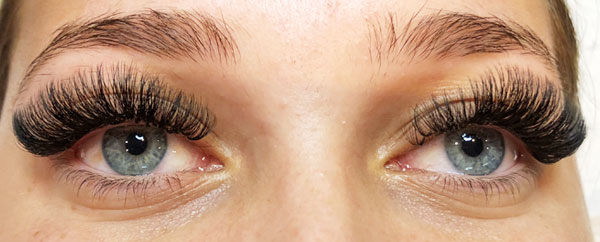 HANDS & FEET
CLASSIC MANICURE
40 minutes - $55
Whether you need a quick fix or just some attention to your hands and nails. It includes a mineral nail soak, luxurious arm and hand massage, cuticle work, filing and a polish change or application of your choice.
DELUXE MANICURE
70 minutes - $85
Our very popular Deluxe Manicure includes a mineral nail soak, cuticle and filing work and an exfoliating hand and arm scrub and massage. Finish your Deluxe Manicure treatment with a warm Eminence organic wrap. Choose from Blueberry Soy, Mango Enzyme or Chocolate Truffle warming wraps. Our Deluxe manicure includes Gel polish application.
CLASSIC PEDICURE
40 minutes - $70
Our Classic Pedicure is perfect for on-the-go touch-ups, relaxing foot care or as an addition to your massage or body treatments. Our Spa Pedicure includes a relaxing essential oil and mineral salt foot soak, nail trimming, shaping and cuticle work, as well as a regular polish change or application.
DELUXE PEDICURE
70 minutes - $95
Indulge yourself in our Signature Deluxe Pedicure. This popular service includes a foot soak, nail and cuticle work and polish, as well as an invigorating lower leg and foot scrub and a hydrating massage. End your Deluxe Pedicure with a warming and soothing Blueberry Foot Wrap treatment to stimulate circulation.
GENTLEMEN'S TREATMENT
Manicures and pedicures are not just about buff and polish. Give the gift of relaxation to the men in your life and indulge them in some pampering, Elevation Spa style. Our gentlemen guests relax in a hot foot soak of essential oils and mineral salts before basic foot and nail care. Our service includes filing, buffing and a massaging scrub – minus the polish unless requested.
GENTLEMEN'S MASSAGE & FACIAL COMBO
60 minutes - $145
This one-hour treatment is tailored to our Gentlemen Guests to dig in and work on sore, aching muscles of the head, neck and back and lower leg muscles. We use a four-step facial designed to cleanse, tone and moisturize your skin and correct exposure to the elements.
MEN'S MANI
45 minutes each - $45
Indulge yourself in a manicure with our highly efficient Esthetics staff. Our Manly Manicure is comprised of a hand soak, nail buffing and cuticle work – making your hands look and feel refreshed. End your manicure with a hydrating hand and arm massage.
MEN'S PEDIS
45 minutes each - $55
Our Signature Man's Pedicure starts with a sea salt and essential oil foot soak, designed to soothe achy, boot-enclosed feet. Your foot bath is followed by hot towels, nail and cuticle care and finishes with an invigorating Sugar Scrub and Blueberry Soy heated foot wrap.
SIGNATURE SPA PACKAGES
GENTLEMEN'S RESCUE REMEDY
120 minutes - $295
The ultimate Facial and Body Rescue after a busy few days on the slopes. Relax into a 2 Hour indulgence package, includes a 60 minute deep tissue massage and a 30 minute Eminence Rescue Facial to cleanse, exfoliate, tone and moisturize your winter skin. Finish your treatment with a 30 minute Sports Pedicure.
TIME FOR TWO COUPLES PACKAGE *NEW*
180 minutes - $525 per couple
Treat you and your special someone to a few hours of serenity and relaxation in couples format. Start with an invigorating and detoxifying body scrub to revitalize your skin and open your pores to healing treatment products. Follow your scrubs with a 60 minute Aromatherapy or Deep Tissue Massage. Lastly, round out your time for two with an Eminence Organics facial tailored to your skins needs and personalized by our Eminence trained Estheticians. Time for Two truly well spent!
MOUNTAIN SPA ESCAPE PACKAGE
4 hours - $425
The Ultimate in personal indulgence. Start your escape with a 60 minute Basalt Hot Stone massage to deeply warm your muscles and lull you into relaxation followed by a customized Eminence Organic facial.Top off your Spa experience with our deluxe pedicure and manicure.
BODY BLISS
120 minutes - $255
Start with a 60-minute intoxicating Aromatherapy massage custom blended with organic essential oils. We follow your massage with your choice of a Coconut Scrub, Cranberry Sugar Scrub or Blueberry Soy Scrub. Complete your Body Bliss treatment with an Eminence 4 step Mini Facial to cleanse,exfoliate, tone and moisturize your winter ski to a smooth, healthy glow.
*Prices do not include tax and are subject to change without notice.