ORDER

DELIVERED

ENJOY
BBQ, ROAST & FRIED CHICKEN DINNERS, WINGS, TENDERS AND SIDES
CLOSED FOR THE SEASON
Phone: 250.491.6278  
Squawk Box is to chicken as Okanagan Champagne Powder is to Big White.  Our chicken meals don't fall from the sky - they are expertly crafted by our cluck masters that get it right every time. Once you get a taste, there's no comparison.
Big White's newest food concept will be available for pick up or delivery service this season. It's as easy as click 'n cluck... order online, pick your delivery time, sit back and let us bring your delicious dinner to you or take a stroll through the village and pick up at The Woods from the outside window. We've designed this experience so you can feed the clan quick and easily.
After a big day on the slopes who really wants to cook? We've got you covered, click 'n cluck a Squawk Box.
At Squawk Box, chicken is the main event – our signature wings, tenders, full dinners of BBQ, Roast, and Fried chicken. Friendly to all diners, we also offer vegetarian and vegan options along with something for all Li'l Cluckers out there.
HERE'S HOW IT WORKS:
Order what YOU like. All menu items can be ordered individually, or packaged into a meal for your group.
The heart of our menu is in the Squawk Box Chicken Dinner.
Choose between - Roast, BBQ or Fried chicken, or pick a combo of all 3
Pick your size – from individual all the way up to a party box
Go to town with any sides to complete your meal:

mashed potatoes
hand cut fries
honey glazed carrots
house baked corn bread
plus much more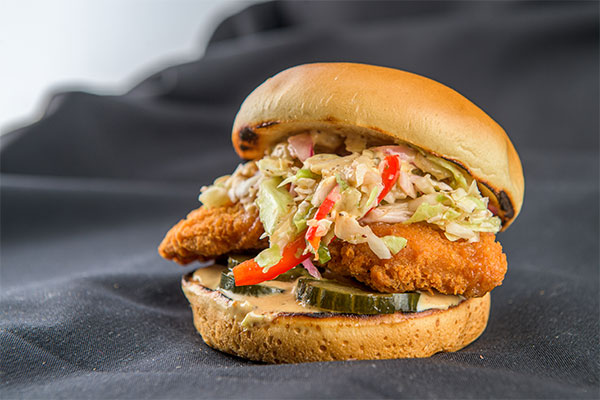 What about a fried chicken sandwich, you ask? That would be the Squawkwich, juicy chicken with crispy, seasoned breading on a fresh bun. Add a side of hand cut french fries...delicious!
If you're in the mood for great chicken and a cozy après at your condo/chalet, Squawk Box is your click 'n cluck solution.
Phone: 250.491.6278