Hometown Athlete Tess Critchlow Attributes Success to Attending Big White's Community School
Posted On: February 01, 2023 |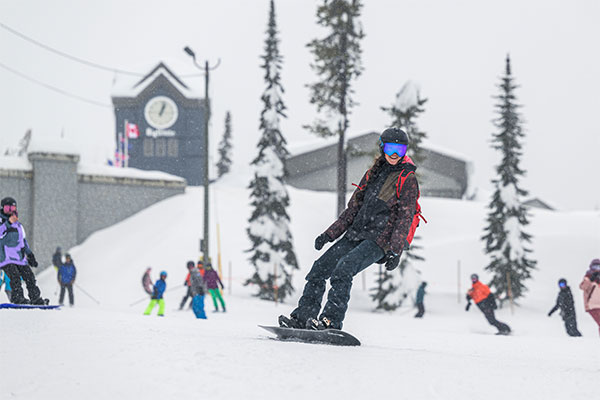 It's been well said that gaining opportunities when you're young can set you up for future success.
For students attending Big White's Community School, accessing the Ski and Board School program, which operates in partnership with Big White Ski Resort, the skills that they are developing today could realistically lead them to reach the world's highest podium.
One of Big White Community School's student alums is five-time Canadian Champion and former Olympian Tess Critchlow. Crichlow says the new generation at Big White should also take advantage of all the opportunities she had growing up, including attending the Ski and Board School program every Thursday, which still continues today.
"I believe having the opportunities when I was young… really propelled my snowboarding career," says Critchlow. "Being able to go to school up here at Big White put me on track to become an athlete."

"I was really lucky to have had the opportunity. It's such a cool experience and definitely grew my love for the sport. I knew when I was young, it was a blessing. I think that really put me on track to become an athlete. It gave me the opportunities that I wouldn't have had otherwise."
According to Critchlow, growing up in a small and traditional ski community has its advantages.
"The all-year-round community up here is really amazing. I'm really blown away to see all the kids growing up here today."
Critchlow mentions if she could tell the Big White Community School students and parents of today anything, she said, "You're doing the right thing! Have fun, enjoy and utilize what Big White has to offer!"