People of Big White Ski Resort
Posted On: January 14, 2020 |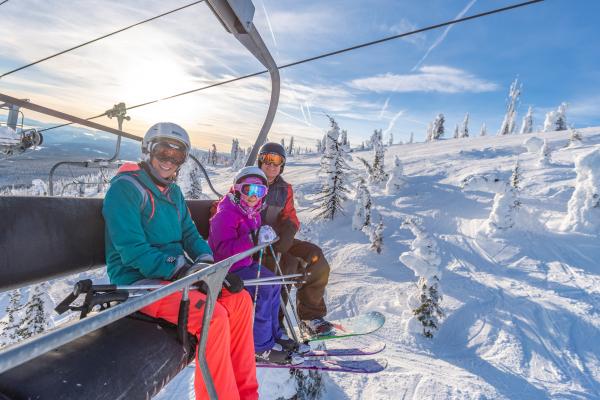 Big White is Canada's Favourite Family Resort because if you visit — you're part of our big, welcoming and warm family! Here are a few stories of the people that make Big White so special.
The Fraser Family
Summer or winter, Big White Ski Resort is the Fraser family's mountain. Tennille, Clint and their two boys, Cadel, 11, and Dash, 8, spend their summers on the mountain hiking and the winters shredding up the snow. 
Tennille, who grew up on the coast and learned to ski in wet, heavy snow, spent three years after high school skiing the Okanagan Champagne Powder at Big White – but didn't strap on a pair of skis regularly until her boys were ready to do the same. "For me, it was really like I was relearning as the kids learned," she says. "Now, of course, the whole family is faster and always seem to be waiting on me."
Tennille says the boys have taken a few lessons every season – and this year, her family has convinced her to take a lesson as well!
"We love that Biggie is a family resort," Tennille says. "We try to take advantage of as much of the family events as we can. Our absolute favourite weekends at the hill are Cruz the Blues weekends. We tell literally EVERY family we know that gets a ski pass to try this event out and have had some great multi-family days looking for clues!"
The Frasers did their first ever TELUS Kelowna Cup this year, and had a blast. "Next year we will be sporting costumes for sure!"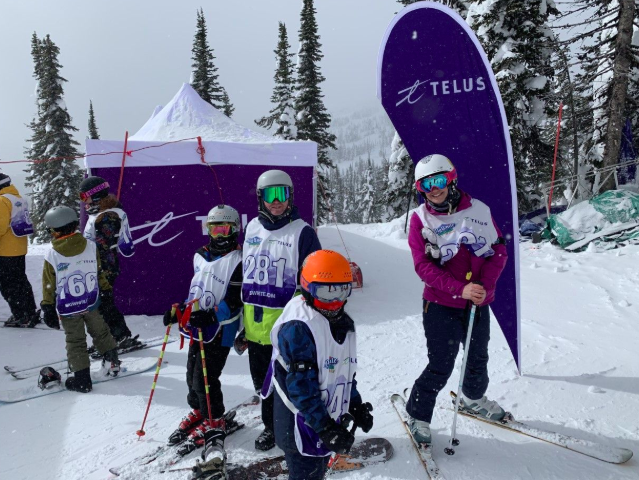 The Fiorante Family
With adventure in their hearts and a passion to show their kids a different kind of life, Nicole and Jamie Fiorante packed up their life and traveled to 23 countries over the span of one year. They chased the sun visiting Europe, Africa, Asia, Australia, and New Zealand. Once they landed back in their hometown in Saskatchewan, they decided it was time to chase the snow. Having visited Big White once 13 years ago, Nicole remembers the Village vibe: "It reminds of a European Ski Chalet because everything is accessible and close knit. We just love all of the different cultures that are here at Big White. It shows our two kids that anything is possible in life if you put your mind towards it."
Nicole loves the mountain terrain, and that their family can ride on one chairlift up and be able to ski together as a family on different runs but still meet at the bottom. "The mountain is so organized in having central locations for our family to met up at." They are now locals to Kelowna after moving a year ago and plan on exploring the mountain in the summer months!
Follow along on the Fiorante family adventures, here.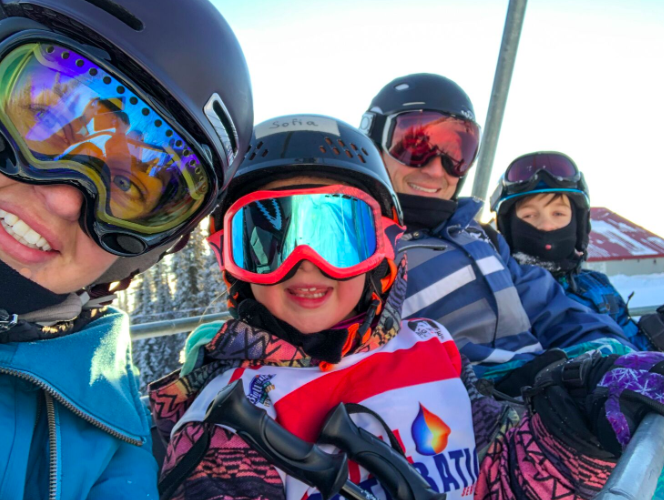 The Gibson Family
Coming in from Marysville, WA, the Gibson's were looking for a new way to spend some quality family time. Straying away from tropical destinations they decided to stay at their extended family's condo at Big White. Their two sons were both beginners to snow sports and were enrolled in a two-day group lesson with the Big White Ski & Board School. Tate, 3, is now officially a skier and can't wait to get back on the slopes! And, Grant, 7, made a lasting friendship with his snowboarding instructor Rune and was so upset that their family had to go home that parents Danna and Tripp decided to extend their stay and return for another half-day lesson.
"Rune built a lasting relationship with Grant and genuinely cared about my son succeeding in this sport," says Danna.
The Gibson's have enjoyed their time here on the mountain through rest and relaxation and enjoying some of the on-mountain activities like mini snowmobiling, the tube park, and the kid's carnival. "It was the perfect family vacation, my family all felt like the trip was tailored to what they wanted to do. The title of 'Favourite Family Resort' was confirmed by us all and we can't wait to come back every year."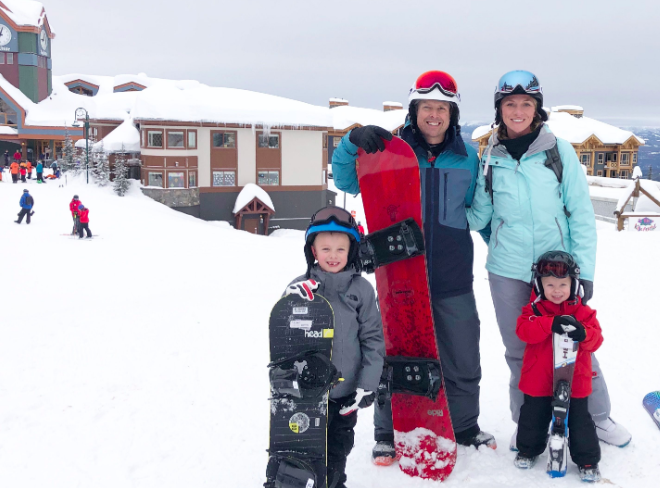 Jonathan Riesebos
"We moved here four years ago from Barrie, ON where my kids learned to ski and I learned to snowboard. I hated winter 13 years ago but there was no escaping it. So, at age 30, I decided I would learn to snowboard. Now winter is my favourite season. We always saw the Big White billboards on our way to Blue Mountain and I always thought it would be cool to visit Big White someday. Then we had the opportunity to move to Kelowna and we jumped on it. We've been season passholders ever since. We love 'The Okanagan Champagne Powder.'"
Check out the video below to see the family's experience at Big White:
Nacho & Nicole
Nacho Boveri is a native Argentinian that has found a new passion in Big White with his partner Nicole Gionet from Ontario. During the summer, they work at a fishing lodge in Ontario, on their offseason they find themselves living a nomadic lifestyle. While relaxing on a beach last year, Nacho was looking at conditions on the mountain and decided it was time to come back to Big White. Their first season was in 2014/2015 where they first fell in love with the snow. They are back now with a mission in mind to make this their winter home!
"The ski-in and ski-out is unlike anything I have experienced! I love the people on the mountain and the small community that we have up here. I am now able to combine my passion for snowboarding and audio visual content creation. I can't imagine being anywhere else!"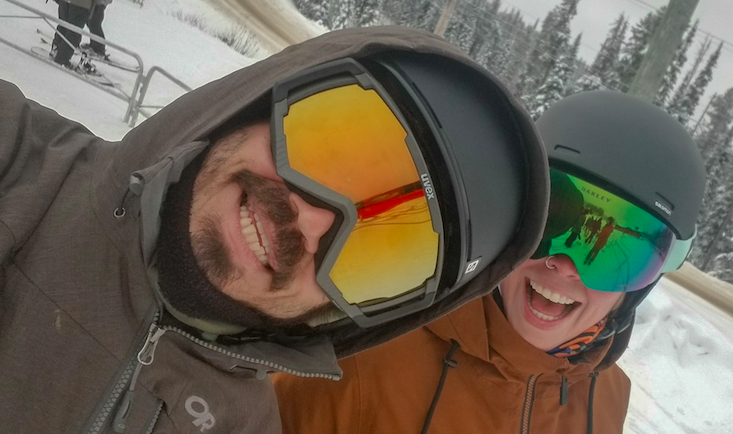 Samuel Campbell
Originally from Halifax, Nova Scotia, Sam grew up skiing on the east coast and throughout Ontario, but recently left the Maritimes and made the long 6000km trek across the continent to land here in the Okanagan. Sam graduated from Dalhousie University in the Fall of 2018 where he studied Earth Sciences. A week after his graduation he loaded up his car and made his way west, spending his first season in Revelstoke. 
From Revelstoke Sam spent a month camping around Alaska and the Yukon, where he had the privilege of doing some serious backcountry skiing near Seward, AK. After a surf season in Tofino, Sam has landed in Big White for his second ski season.
"Overall I love the diversity Big White offers. You still have your steep and deep blacks with Powder, Cliff and Easter Chutes, but also some chill groomers with wicked glades. It is so widely spread out, with Gem Lake being on the complete opposite side of the mountain. Big White seems to be a niche for consistent good quality snow, which is the best thing about it."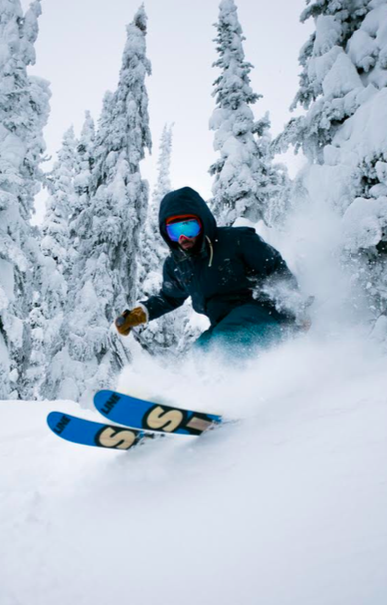 The Setchell Family
Moving from Halifax, the Setchells needed some well-deserved family time. Both active members in the Canadian Navy, Nancy, Scott and their two daughters decided to pack up, ship out to Western Canada and live a ski season at Big White. Having mostly experienced the wet, heavy snow of Nova Scotia, they say that the Okanagan Champagne Powder is unlike anything they've seen.
Their two young girls are enrolled in the Big White Community School and are immersing themselves in all the resort has to offer including the race team, snowshoeing, and getting in skating time with the Big White Fire Department. You can see them featured in the latest Hallmark film "Love in Winterland." They are truly a family of adventure and are enjoying everything Big White has to offer.