Big White Ski Resort Wins Prestigious National Tourism Award
Posted On: November 21, 2019 |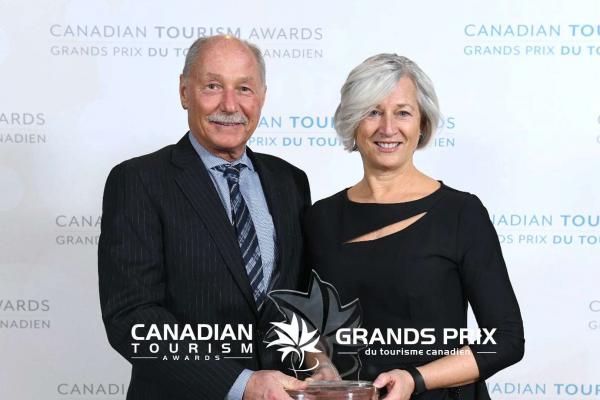 Big White Ski Resort is honoured to be chosen as winner of the Tourism Industry Association of Canada's 2019 Pursuit Attraction and Adventure Award. The award ceremony, which took place Wednesday night in Ottawa, celebrates the best in Canadian tourism.
"What a thrill to be honoured in the nation's capital in front of the best of the best in the tourism industry and to be recognized for the hard work and effort of our team members," says Michael J. Ballingall, Senior Vice President at Big White Ski Resort Ltd. "We all do our best to show off the natural features of our mountain for all to enjoy in the winter and summer. Mother Nature is the true star of the story."
Big White was named a finalist alongside Newfoundland and Labrador Tourism and Red Rock Adventure – two organizations the resort look to as exemplary in outdoor adventure. The award was accepted by long-time Big White skier, Mike Ruby.
Finalists for the Pursuit Attraction and Adventure Award were judged on how they promote visitor participation and personal challenge, how they provide outdoor experiences that showcase and promote regional tourism, contribute to or enhance of the tourism industry, their commitment to visitor/participant satisfaction and product development, and how they foster an appreciation and enjoyment of the great outdoors.
In applying for this award, Big White highlighted the resort's diverse ski terrain, long list of non-skiing adventure activities and summer schedule – as well as its commitment to teaching first-time skiers and snowboarders, promoting Okanagan-based food and wine and investing in environmentally friendly projects.
Big White wants to give a huge thank everyone who made this honour possible – the staff for their commitment to genuine Canadian hospitality; the guests for continuing to support a family-owned tourist destination, and resort President and CEO Peter Plimmer and family for their dedication to making Big White Ski Resort the best tourism experience possible.
Read more about the TIAC awards, here.