Big White Fire Department Work Experience Recruits Gifted Season Passes
Posted On: January 06, 2021 |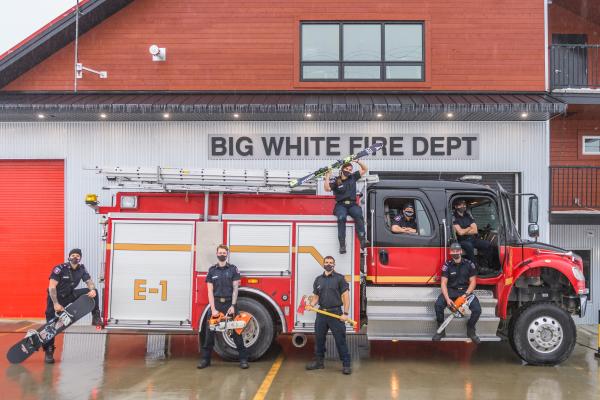 The Big White Fire Department's Work Experience Program recruits were thanked this past December with a gift only fitting for those living on-mountain – season passes! 
"This year, we have more reason than ever to be thankful for our Big White Fire Department WEP first responders who have been tirelessly providing essential services in our community and beyond," says Jacky Martin, President of BWMCOC. "On behalf of the Big White Mountain Chamber of Commerce and local business community, we wish to recognize the exceptional service you provide and risk you take every day to keep us safe. Your courage and bravery make a difference and your efforts do not go unnoticed. Thank you!"
Now in its 19th year, the Big White Fire Department's WEP is one of the best programs of its kind in North America and receives hundreds of applications from across Canada and around the world each year. The applicants are rigorously screened and only the best are accepted into the 11-month program. Over 85 per cent of members who graduate from the program have gone on to career positions in 50 plus departments across Canada.
Deputy Chief Josh Foster says the season passes the WEP participants received is a huge benefit of the program. "Living on the mountain and getting to experience everything it has to offer is one of the main reasons why this program is as popular as it is."
Due to COVID-19, this year looks a bit different for the recruits. Call volume is down, simply because there are less people on the mountain than previous years, and, during the onboarding process in June, Deputy Chief Foster says there were a lot of safety and sanitization protocols for the group to get used to.
Members of the program average 100s of hours volunteering their time to community events – including training staff on how to use fire extinguishers and helping with fretwork control and safety every week. Now that the mountain is open during the summer, WEP members also work with bike patrol.
Applications are now open for the 2021 WEP with the Big White Fire Department. Apply here: