Avoid All Non-Essential Travel – Big White Central Reservations Cancels Non-Local Bookings Until February 5
Posted On: January 08, 2021 |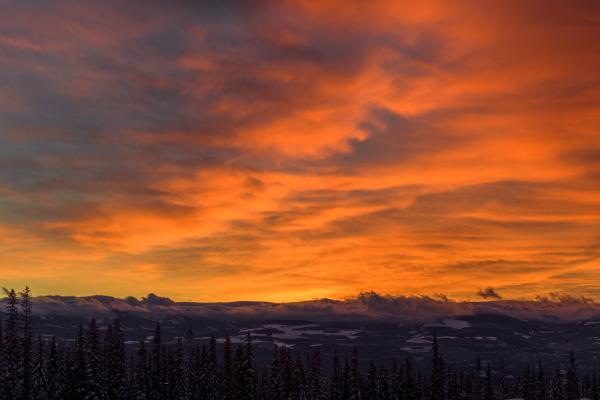 As the sun rises over the mountain, and in light of yesterday's announcement from the Provincial Health Officer, it's locals only for another month at Big White Ski Resort. Big White Central Reservations Ltd will be calling and cancelling all bookings from non-local customers until midnight February 5.
"I have instructed our reservation teams to start the onerous task of calling excited guests and ski groups from all over the country and cancel their bookings to Big White Ski Resort," said Tracy Layng, Vice President of Big White Central Reservations Ltd. "This will take a few days, as there are literally hundreds of reservations due to the pent-up demand of not being able to visit us earlier this season."
The travel advisory remains in place until February 5, and states: "At this time, all non-essential travel should be avoided. This includes travel into and out of B.C. and between regions of the province. For example: Do not travel for a vacation, do not travel to visit friends or family outside of your household or core bubble."
Provincial Health Officer, Dr. Bonnie Henry said yesterday, "I want you to know by choosing to use your layers of protection and following restrictions and orders in place, you are saving lives."
"We take Dr. Henry's orders very seriously, and we ask and expect others in our resort community to do the same," says Michael J. Ballingall, Senior Vice President of Big White Ski Resort Ltd, owner of Big White Central Reservations Ltd.
"In December, we cancelled Christmas and New Year's holidays, which unfortunately disappointed many, many guests and their families. We're not going to give up now. The Provincial Health Officer is recommending to avoid all non-essential travel, and to travel within your local area only, and so we are cancelling and encouraging visitors from all around Canada to abide by these rules. Following the rules is not about the bottom line, it's about bending the curve and staying open for our season passholders and local skiers and snowboarders."
Adrian Dix, Minister of Health also said yesterday to, "consider the importance of this moment, in January of 2021, dig in and be 100% in to reduce the transmission of COVID-19." That is what all of us at Big White Ski Resort are committed to doing.
"It's safe to ski at your local mountain," Ballingall says. "If you live in the Central Okanagan, we are your local mountain. Wear your mask, ski in your household bubble, wash your hands, and don't gather with people outside your bubble. Being outside, exploring your local area, and supporting your local businesses is how we will find our moment of normal – we're all in this together."