Freeride Days Day 2: Move over guys, it's the womens' time to shine
Posted On: July 12, 2019 |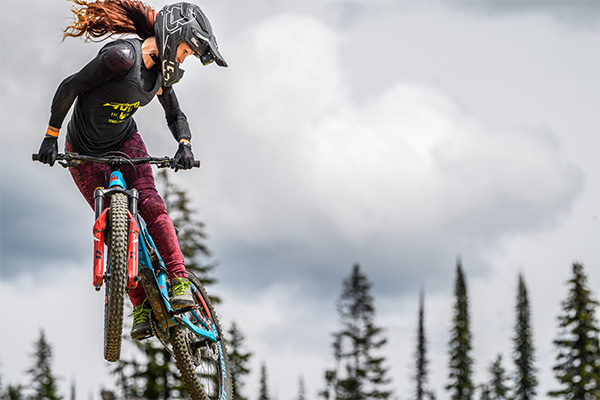 Freeride Days is in full swing as the food trucks and vendors moved in and set up in Happy Valley at 10 am.
The Handlebar beer garden was also open to supply the thirsty masses with refreshments while they watched the action from their front row seats. Thursday saw two events go down - Women's Slopestyle finals and the crowd pleasing Best Trick contest.
The world's biggest women's slopestyle contest brought out 10 female athletes from all over North America to compete against one another on the Bronze slopestyle course at Big White. With very few Bronze level courses existing in the world the athletes had never been given a stage this large to compete on and it brought out the best. It was Canadian Stephanie Nychka who topped the podium with a score of 83.33 followed by the two Americans Ming Goetz (74.00) and Jordan Scott (71.66). These women were battling it out for highly sought after FMB points which will allow them to compete in the Women's Speed and Style event at Crankworx in Whistler BC.
"This is historical that Big White is supporting this [slopestyle] for women too! To be one of the first women on the podium during our women's slopestyle tour is huge. For every girl here this event is pivotal" - Stephanie Nychka
The female athletes ranged in age from their late 30s to their mid teens showing how important this event is to the development of the next generation of female riders.
Best Trick contests are always a fan favorite and the crew of riders at this years Freeride Days did not disappoint. With the last jump counting in the Gold slopestyle course the riders did every trick imaginable to the elation of the crowds. Nicholi Rogatkin brought out his signature Twister, while Prince George local Griffin Paulson bobbled his foot on a backflip-superman to barspin. Robin 'Rambo' Davis took home the top spot with a jaw-dropping backflip-barspin-tailwhip-barspin, try saying that 5 times fast.
The action continues tomorrow with the Premier event – The Big White Invitational Slopestyle Presented by Five Ten and Hosted by Tom Van Steenbergen. Who will take the Gold? Find out tomorrow…
Don't forget that the party on two wheels – Whip Off event is immediately following the gold event. Watch the athletes celebrate the day by throwing as much style as possible over a custom built jump! Sound fun? Come join us! the Action begins at 1pm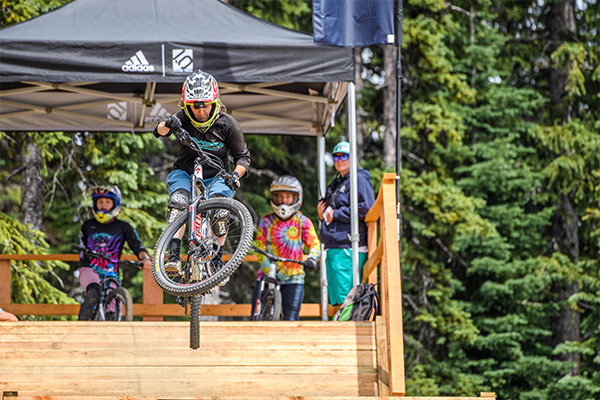 Download Photos Photos taken by Andrew Jay. For more photos of the Womens Slopestyle and Best Trick Contest follow the link