Big White Ski Resort Up For An Accessible Tourism Award With BC Tourism
Posted On: February 26, 2020 |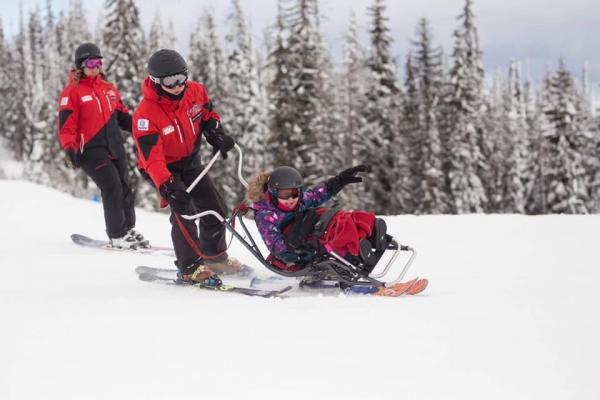 It's well known that Big White Ski Resort is an award-winning destination, recently nabbing the 2019 Pursuit Adventure & Attraction Award with the Tourism Industry Association of Canada – and now, the resort is being recognized for its commitment to ensuring everyone has the chance to fall in love with snowsports.
Big White has been named a finalist for a BC Tourism Industry Award in the category of Accessible Tourism. The awards will be given out at the 2020 BC Tourism Industry Conference on March 5 in Victoria. Big White is a finalist for this award alongside Ogopogo Tours in Kelowna and the Caledonia Nordic Ski Club near Prince George.
The award recognizes a BC-based tourism business/attraction that has made a significant contribution towards making BC an inclusive and welcoming destination for everyone – and Big White made the cut in large part to its support of the People in Motion Powderhounds Adaptive Snowsports program!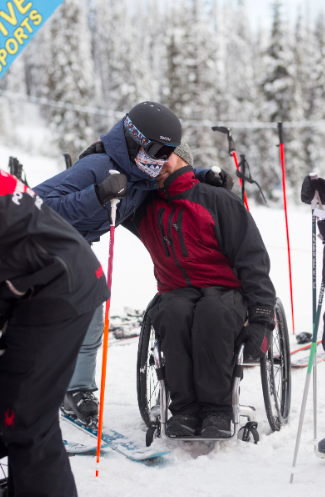 "Big White prides itself in being an all-inclusive space, from first-timers to pros, and everything in between," says Michael J. Ballingall, senior vice president at Big White Ski Resort Ltd. "It has been truly amazing to see the success of the Powderhounds program at our resort, to see the smiles of the participants out on the snow, and to see them enjoying Big White from top to bottom, as everybody should get the chance to do!"
Powderhounds offers unique skiing, snowboarding and snowshoeing opportunities for individuals with physical, cognitive and sensory challenges at Big White. For people with physical disabilities, People in Motion offers adaptive ski coaching that includes downhill Sit-Ski, Mono-Ski and Bi-Ski as well as 3-track and 4-track instruction. There are instructors who are qualified to teach children and adults with cognitive/developmental disabilities, ADD/ADHD, Autism Spectrum as well as visual/hearing impairments, and can provide multiple instructors or guides if necessary at no extra cost.
Learn more about Big White's Adaptive Ski Programs, here. 
"The participant's reaction to Big White is always excellent," says Gail Williamson director of Powderhounds. "The family atmosphere is fantastic, and Powderhounds fits right into that feeling. The ease of finding programs for ALL members of a family truly makes a difference and brings people back. That success is seen in the amazing thank yous we get every year from around the world."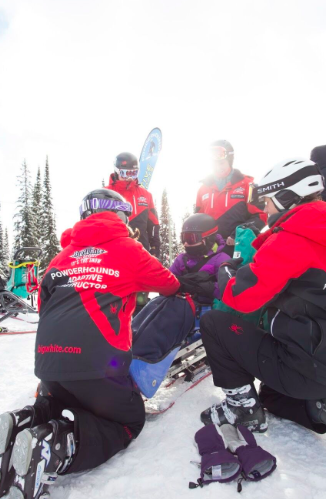 Williamson adds that families who travel normally seek out adaptive programs and choose resorts based on those opportunities – meaning there's often participants from all over the world in the program, and they return year after year because of it.
Big White provides volunteer staff passes to the Canadian Adaptive Snowsports certified instructors who volunteer with the People in Motion program. This year, Big White donated its outgoing ski school gear to those instructors to ensure the program had enough resources to buy much-needed equipment, and to help increase visibility on the slopes.
"That visibility has also helped so many people discover we are here and have a program that can help someone in their family," Williamson says. "The invisible but truly appreciated support has been the respect we see from all Big White staff for what we do on the hill and the happiness we are proud to be a part of for so many families."
The program enrols differently abled people from just 3 years old to 82 – and the majority of which are beginners when they start. Many progress to strong intermediate and even advanced levels of skiing or boarding, Williamson says, and some were black diamond skiers before an injury and are now relearning to ski in a new and different way.
Big White has a variety of wheelchair-accessible accommodation available throughout the resort, and snow wheelchairs on hand at the Village Centre Mall.