Big White Rated Best Ski Resort for Beginners in Canada
Posted On: November 01, 2022 |
'Tis the season for "best of" lists, and no surprise, Big White Ski Resort is getting noticed!
Earlier this month, we were voted second in all of Canada by Conde Nast Traveler readers, and last week, we were rated 10th on The Times UK list of "The best ski resorts for beginners." To top off the accomplishment, we were the only resort in all of North America to be included on the list!
"One of the best things about Big White Ski Resort is the fact that the village is surrounded by an amazing teaching area," says Michael J. Ballingal, Senior Vice President, Big White Ski Resort Ltd. "Happy Valley has proven to be a gentle slope and with the addition of moving sidewalk magic carpets we have been able to teach thousands of new enthusiastic people to our sport every year. An additional bonus is that moms, dads, friends and family can watch from the sidelines with a hot chocolate and stand by a warming fire."
The article named Big White "best for family-run resorts," citing the totally ski-in, ski-out resort, reliable snow cover, and the magic carpet area in Happy Valley. It also mentioned our world-renowned Tot Town Daycare, which Ski Canada magazine named as "the best place to be abandoned by your parents." Both the daycare and Kids' Centre are back for the 2022/2023 season after a two-year hiatus.
"I believe we have built the best learning area on the planet, with its own private Ski & Board School Magic Carpet!" says Alain Brunelle, Technical Director of the Big White Ski & Board School.
Need a few more reasons as to why Big White is one of the best for kids, and beginners of all ages?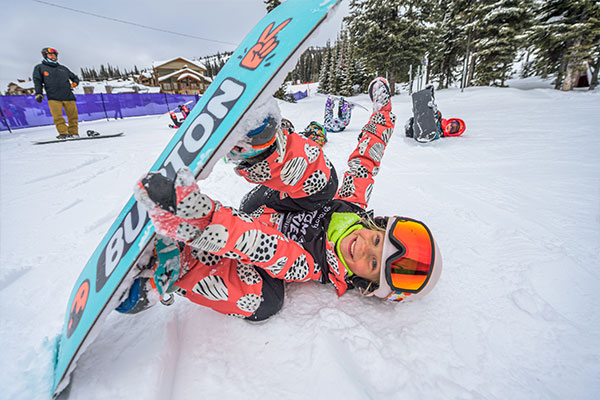 1. Terrain For Every Ability
From bunny hills to beginner greens, cruisy blues, steep blacks, moguled double blacks, powder gulches and glades, Big White Ski Resort has something for every level of skier and snowboarder. Plus, with a green run from every lift, families with different skill levels can still explore different areas of the mountain together.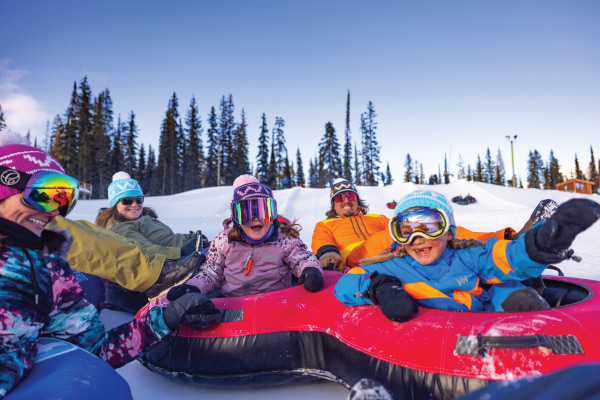 2. Events Galore
Scour the mountain as a family looking for clues with the regularly scheduled Moose Cruz; warm up by a bonfire with a steaming cup of hot chocolate and take in the fireworks display every Saturday; indulge in candy floss and popcorn at the weekly Kids' Carnival. There is no shortage of off-ski fun for the whole family at Big White. Check out BigWhite.com for events scheduled during your stay.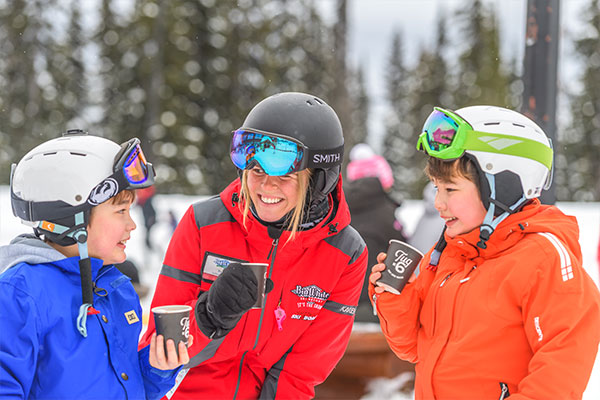 3. Learn at the Ski & Snowboard School
Whether you have young kids, are a first timer, or are looking to give those ski legs a refresh, the Big White Ski & Board School has you covered. With world-class instructors, trained staff at the Kids Centre, and FLAIK Real Time Tracking devices, you'll feel more than comfortable dropping the kids off for a day exploring the mountain on your own.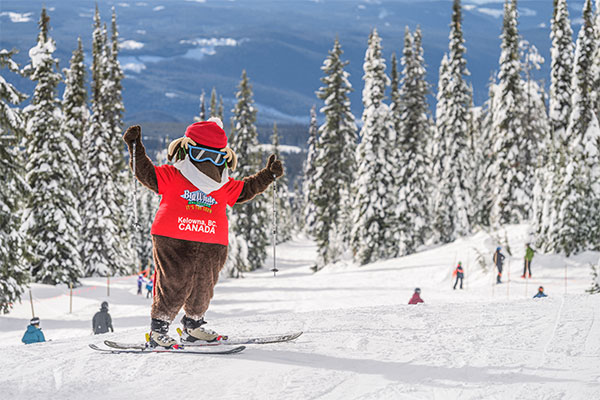 4. Ski-In, Ski-Out - Everywhere!
There's no need for a car at Big White Ski Resort! Home to Canada's largest totally ski-in, ski-out village, you can ski, snowboard or walk to nearly every restaurant, accommodation, and activity – making it super smooth to get around when you have kids in tow.