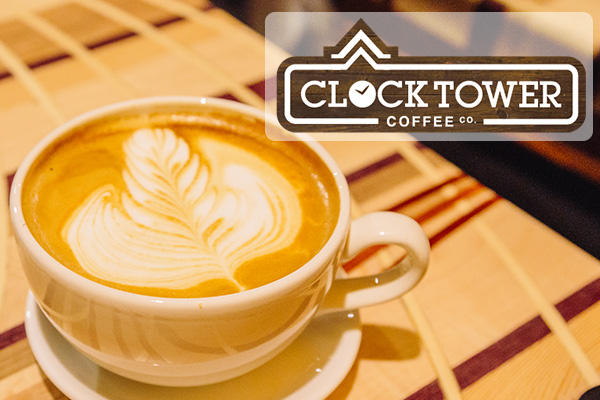 Clocktower Coffee Co.
Clocktower Coffee Co. (CTC) is Big White's only bike in / bike out coffee shop that's conveniently located in the Village Centre Mall. Serving delicately hand crafted hot and cold coffees, fresh breakfast options, hot toasted sammies for lunch and a wide selection of treats, pastries and grab and go items available all day. With everything that we have to offer, it's no wonder that CTC has become Big White's 'one stop coffee shop!'
THINK PICNIC: Borrow Our Bag, Build Your Own Picnic!
Who's up for a picnic on the mountain? Pick up a freshly prepared picnic package from Clocktower Coffee Co. Customize your lunch by choosing your favourites from our delicious CTC summer menu and get a handy picnic cooler backpack and picnic blanket to borrow! Head up the Bullet Express Chairlift and find the perfect picnic spot, spread out your blanket and relax as you feast by the lake. Options are subject to availability, deposit required for backpack and blanket - come and see the Clocktower Coffee team to grab one today!
Summer Hours
Summer season opens June 27th
Thursday - Monday: 9am - 5pm, Friday's until 7pm
Located in the Village Centre Mall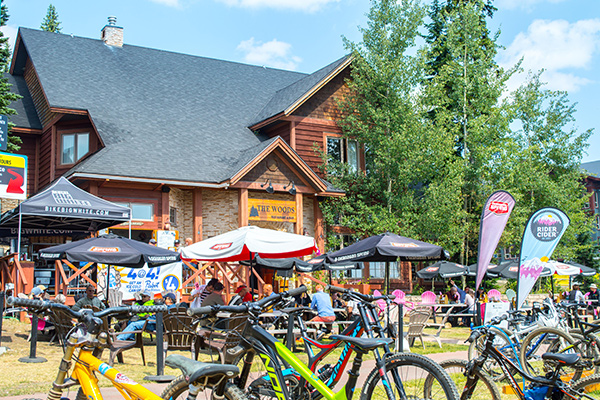 The Woods
Located in the heart of the Village, The Woods outdoor patio is the perfect place to meet up with friends or to feed the whole family. Everyone is invited to this all-ages venue! Come and try one (or two!) of our epic BBQ menu items including the Joker burger, the monster-sized beef burger piled high with all the fixings, named after Bike Big White's most epic trail. Or if you're craving a hotdog, we dare you to try the Carnage, the foot long all beef, ballpark style dog with fixings to die for. For our vegetarian guests, we offer a delicious house made Sprouted Lentil & Ancient Grain Burger that even our carnivore friends can't deny is veg-tastic! Looking for a unique dining experience? Join us on a Friday night to enjoy our weekly new and exciting fresh menu sheet. Designed weekly by our talented Chefs and inspired by fresh and seasonal local ingredients to enhance your taste buds for an experience you won't forget. Our amazing menu, coupled with a great selection of craft beers, local ciders, hand crafted cocktails and local BC wine, there's something for everyone on The Woods Patio this summer. Come and join us today!
Summer Hours
Summer season opens June 27th
Thursday to Monday 11am – 6pm, Friday 11am until late
Located in the Village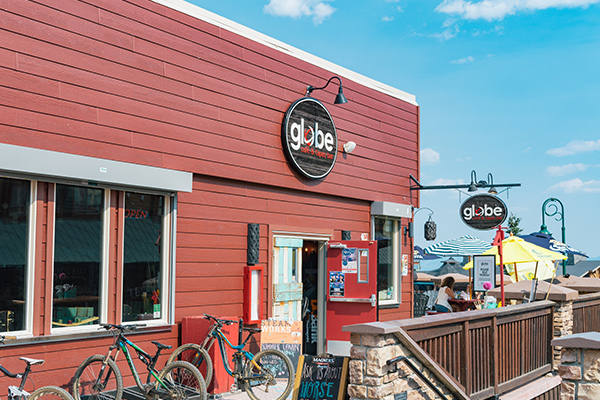 Globe Café & Tapas Bar
Start your day with a smooth rich Cafe Umbria coffee and a hearty breakfast, then fuel up for lunch daily on housemade soups, fresh salads and tasty sandwiches topped off with decadent pastries and pies to engage every sweet tooth! Frequent summer events, plenty of toys to occupy the kids, and weekend live music on the patio will round off your friendly Globe summertime experience!
View Summer menu
Summer Hours
Summer season opens June 27
Open 7 days a week 9am – 4pm
Private dinner bookings in the restaurant or in chalets available by prior arrangement.
Web: www.globedining.com Direct Line:
 250-765-1501
Email: globereservations@globedining.com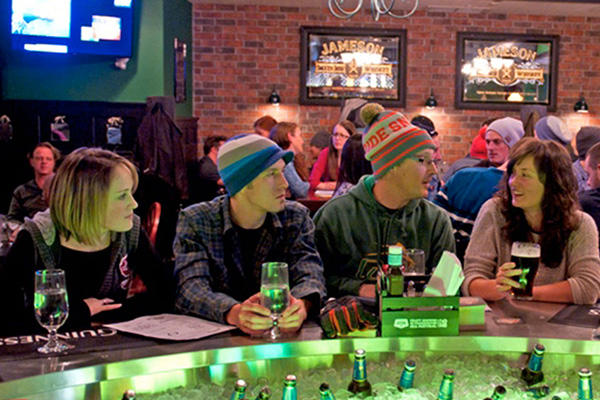 The Blarney Stone
The Blarney Stone Irish Tavern offers hearty Irish-inspired food, fine craft ales, and good times in the highest altitude Irish Pub in Canada! Finish your evening with a wee dram from the widest selection of Irish & Scottish Whiskeys on the hill, and enjoy an unobstructed mountain view or a starry sky on our huge, comfortably furnished deck.
Summer Hours 
Summer season opens June 27
Thurs – Sun, plus holiday Mondays 4pm until late
Web: www.globedining.com/blarneystone Direct Line:
 250-491-2009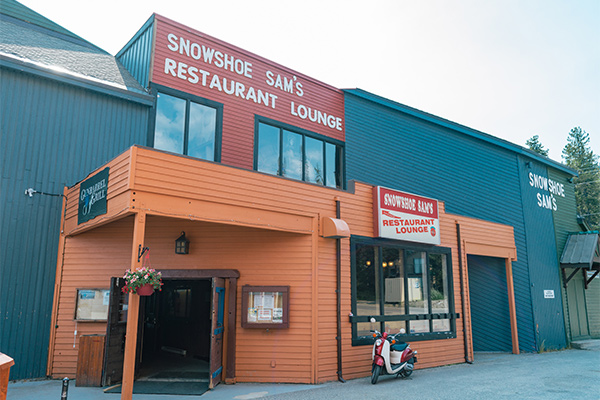 Snowshoe Sam's
No visit to Big White is complete without stopping in at the iconic Snowshoe Sam's pub, located at the heart of the Village. This famous bar serves up a delicious selection of pub favourites for the adults and a tasty kids menu for the little ones. After a busy day of hiking or biking, come in and grab a jug of beer and shoot some pool, play some video games, or just relax and watch the game on one of many TV's located around the bar.
Summer Hours 
Summer season opens June 27
Open Thurs: 11am - 4pm & Fri: 11am - 8pm | Sat, Sun & Mon: 11am - late
Closed: Tues & Weds
Located in the Village
Web: www.snowshoesams.com
Direct Line: 250-765-5959
Email: info@snowshoesams.com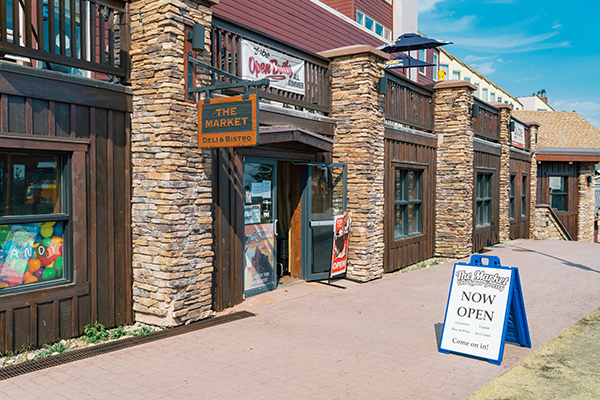 The Market
The Market at Big White is your full service, on-mountain grocery and liquor store. Open all season long, The Market will offer a full range of groceries as well as a full selection of liquor, beer and wine to stock your summer pantry. This summer, The Market will also be serving up 12 fun flavours of handmade, hard ice-cream in tasty waffle cones. Try a different scoop every weekend! 
Summer Hours
Summer season opens June 27
Thurs - Mon: 10am - 5pm
Located in the Village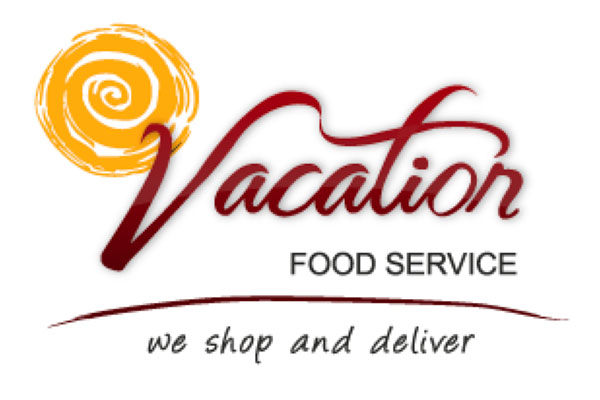 Vacation Food Service
We shop and deliver!  Online Grocery Store with full selection of quality products - convenient service, easy-to-use website.

Pre-Arrival Delivery Cold beer, morning coffee - unpacked in your kitchen prior to your arrival - no waiting or standing in line!
Fresh Vac-packed deli meats cut by our butcher; fresh breads, fruit, vegetables - selected on the day of your arrival.
Local Artisan Cheeses, Regional Wines, Homemade: Soups, Prepared Meals, Jams, Muesli, Baked Goods
Personal Shopping (Seafood, Organic, Gluten-free) If it's not on our website - just ask and we'll do our best to source it for you.
Valued Trusted service partner to Big White since 1996. Testimonials and references abound!
Order Online: www.vacationfoods.com
Toll Free: 1.866.845.8014
Direct Line: 778.363.1870
Email: info@vacationfoods.com