Watch for our blue vested resort ambassadors in the arrivals area to assist you!
To Book:
Phone: Central Reservations at 1.800.663.2772
Email: cenres@bigwhite.com
Things To See Along The Way
YLW Airport Pick up
Okanagan Lake - The lake is 135 km long, between 4 and 5 km wide, and is home to the world famous Ogopogo
Layer Cake Mountain - is a volcanic land form composed primarily of Dacite [day-site], volcanic rock with a high silica content. It shows unique layering that has not been seen anywhere else.
Joe Rich Community - The lovely fertile valley beyond Black Mountain is named after the trapper and prospector who settled there prior to 1900.  Joe Rich made his home there for many years, but is said to have been a convicted horse thief. 
Look for wildlife along the way, eagles, falcons, wolves, deer, moose, lynx, cougar, fox to name a few.
First Ski Lift – Gem Lake Express - only 10km's to go
Welcome to Big White we hope you enjoy your stay.
Big White Airport Rates
Round Trip - Rates
One Way - Rates
Adult/Youth (13 years and up)
$86.00
Adult/Youth (13 years and up)
$52.90
Child (6 to 12 years)
$60.84
Child (6 to 12 years)
$37.01
Tot (5 years and under)
$29.33
Tot (5 years and under)
$22.82
Taxes are included (5% GST).

Please note:
Shuttles must be reserved 72 hours prior to arrival. If there are no scheduled pickups, the shuttle buses do not operate. Shuttle times and rates are subject to change. Please let us know if Tots need a booster or car seat.
Big White's Airport Shuttle runs daily with numerous pick up and drop off times in the winter season (November 27th- April 19th) when booked 72 hours in advance.
The schedule will be set in November, once the winter flight schedule into Kelowna International Airport has been released.
Pick up and drop off at the Kelowna International Airport only, no other stops are permitted.
We cannot confirm the type of shuttle that you will be on until 72 hours prior to your travel dates. The type of vehicle may be the Big White Shuttle Van, a 29, 47 or 56 seat passenger bus (these buses are contracted by Big White Central Reservations Transport Department) or a Taxi. The difference in shuttles is dependent on the number of people and time that the shuttle has been booked. The Shuttle will collect passengers from Kelowna Airport.
Please also note child or booster seats will not be available if your Airport Transfer is serviced by a charter bus or coach. BC Regulations do not require buses or coaches carrying over 10 passengers to have seatbelts, therefore child or booster seats cannot be secured and are also not required by BC Regulations.
Please be advised, pets are not permitted on shuttles with the exception of registered service dogs.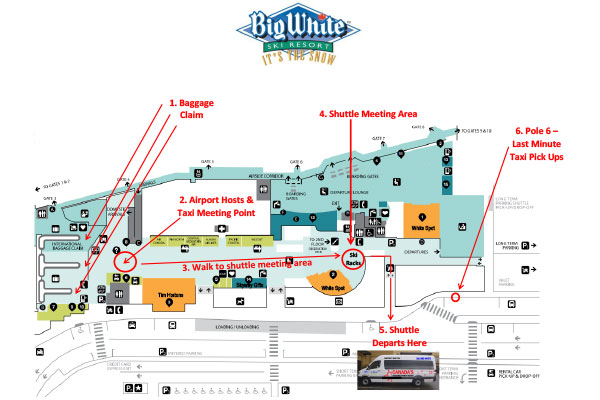 click to enlarge
For more details, contact Central Reservations at 1-800-663-2772 or email us at cenres@bigwhite.com.