Competition Heats Up In TELUS Park
Posted On: March 30, 2013 |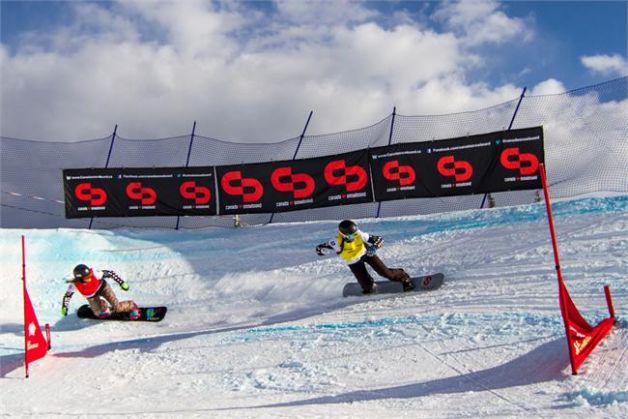 The second of two IPC Para-Snowboard World Cup went off yesterday under stellar conditions, providing the best riding available to the world-class athletes that made their way to Big White Ski Resort in Kelowna, BC.


Ian Lockey from Rossland, BC finished strong in fifth position. Unfortunately Tyler Mosher from Whistler, BC who finished fourth in Thursday's competition and is always a top contender injured himself during yesterday's World Cup and wasn't able to compete.
The organizers made IPC history giving riders the chance to  compete in a 4x4 format where four para-athletes race down the course simultaneously.  The top four women and eight men competed with great success giving the 4x4 format a real possibility for the sport.
Running after the IPC Para-Snowboard World Cup, Big White hosted the Sport Chek Junior National Championships. Local favourite, Tess Critchlow from Kelowna, BC, took first place during an exciting final where riders battled it out to the last jump. On the men's front, Thomas Pitman from Trail, BC, took his third junior championship, securing himself as the top Canadian Up-and-Comer.
Dustin Heise, Canada Snowboard Sport Development Director; "The Para event today went as expected with the great facilities that Big White Ski Resort, BC Snowboard and Sport Chek provided. The opportunity for us to have a second World Cup in Canada is huge. It's a good opportunity for athletes to get exposure to compete".
"It also allowed us to try some new things and test out a potential way for the sport to go forward with a 4x4 format where you have four riders on the course at the same time. We had the top four ladies and top eight men and we saw some really interesting racing going that way".
Thomas Pitman, on his first win, "That feels good. This is three years in a row that I've won it. This is my last year [as junior] so it's good to win. Top 10 tomorrow would be nice. I was in Switzerland for a bit and I broke my board. I'm riding Chris Robanske's board right now so thanks to Chris for his board!"
Today is the final day of competition in TELUS Park, with qualifications and finals being held from 10:30am to approximately 3:30pm. The awards ceremony will then take place in the Village following by an autograph signing session .
RESULTS March, 29, 2013:
Sport Chek Canadian Snowboard X Championships - Junior Female         
1st Critchlow Tess  CAN 
2nd Bergermann Zoe  CAN
3rd Goodwin Shayna  CAN
Sport Check Canadian Snowboard X Championships - Junior Male
1st Pitman Thomas  CAN
2nd Cohen Joshua  USA
3rd Pederson Clinton  CAN
IPC Para-Snowboard World Cup - SB-LL Women   
1st Mentel Bibian  NED
2nd Purdy Amy  USA
3rd Duce Heidi Jo  USA
IPC Para-Snowboard World Cup - SB-UL Men   
1st Moore Ben  GBR
2nd Cavicchi Roberto  ITA
3rd Chandler Joseph  USA
IPC Para-Snowboard World Cup - SB-LL Men   
1st Strong Evan  USA
2nd Murphy Carl  NZL
3rd Gabel Keith  USA (pictured below)