New snow breaks all-time Cruz the Blues attendance records
Posted On: December 30, 2017 |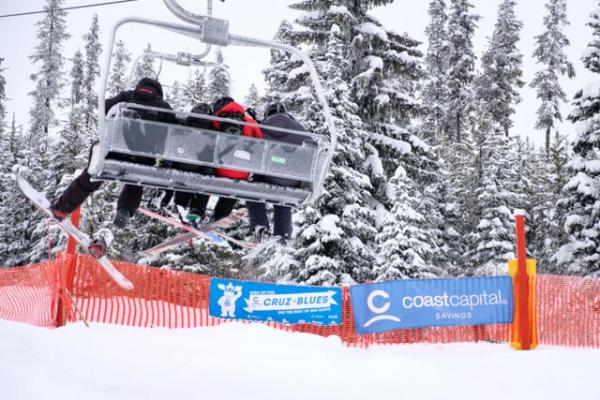 Cruz the Blues participants uncovering the secret phrase on their boarding pass. Photo couresty of Big White.
The first Coast Capital Savings Cruz the Blues event of the season wrapped up yesterday and it was by far the biggest Cruz the Blues in our history with over 1500 participants during the two-day event. With over 20cm of snow falling during the event, conditions were perfect for guests to tackle Big White's blue runs.
Cruz the Blues is an on-mountain scavenger hunt challenging participants of all ages to ski or snowboard Big White's 44 blue runs over a two-day period to unlock the secret message on their Cruz the Blues Passport. There are five Cruz the Blues events left this season taking place over various weekends in January, February and March. Thousands of skiers and snowboarders participate at every event as it's the most popular activity in the annual Big White Calendar.
"Cruz the Blues embodies the family spirit of skiing and snowboarding at Big White," says Trevor Hanna, vice president of hospitality at Big White Ski Resort. "It allows people to enjoy their time on the mountain with family and friends, gives them a reason to explore the entire mountain and win some amazing prizes from our partner Coast Capital Savings."
Coast Capital Savings is Canada's largest credit union by membership with over 52 branches serving 543,000 members in the Okanagan, Metro Vancouver, Fraser Valley and Vancouver Island. Coast Capital helps build a richer future for youth in the communities they serve.