Happy New Year from Big White!
Posted On: January 02, 2017 |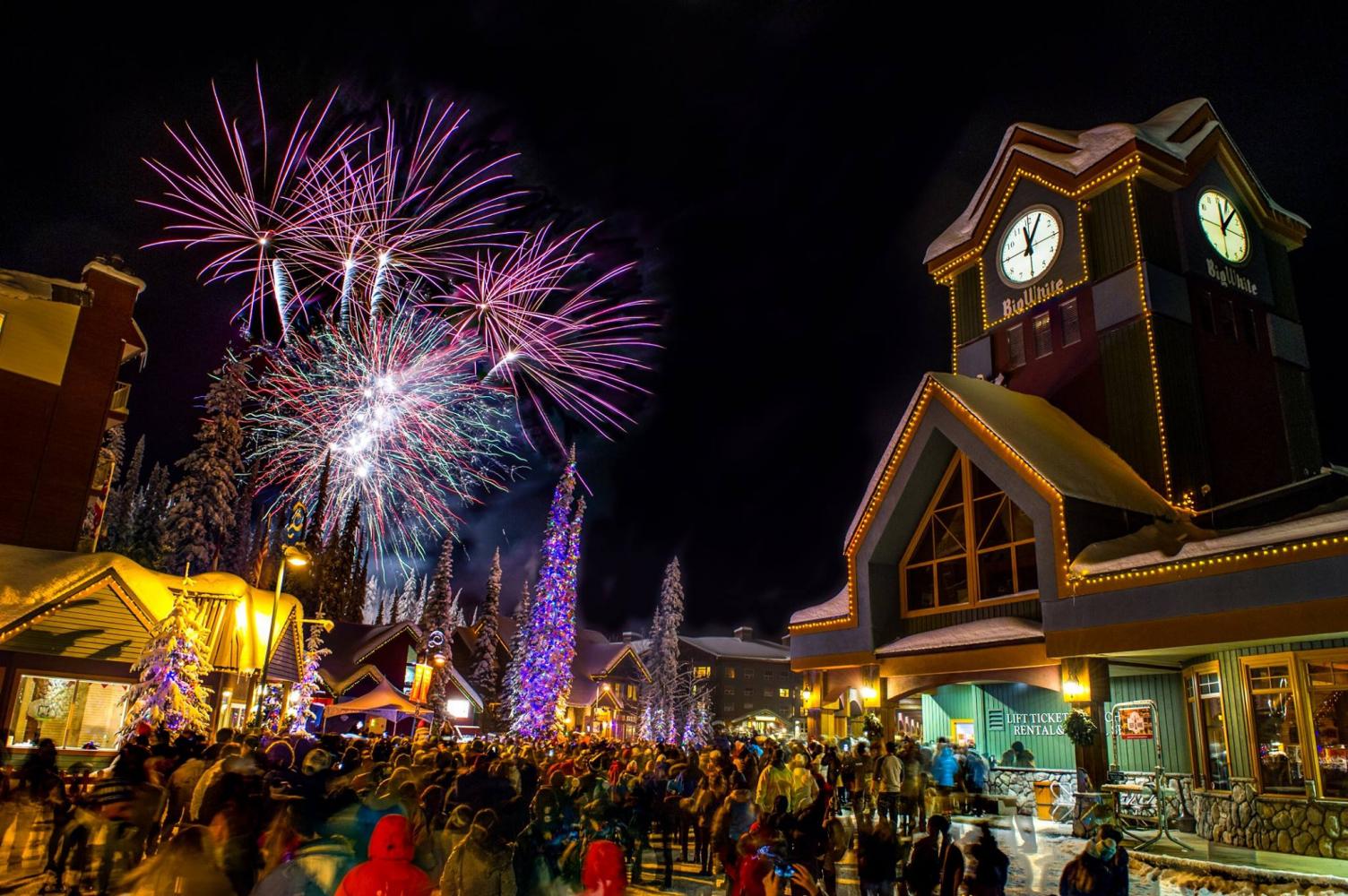 It was a full line-up of fun at Big White Ski Resort this past weekend as thousands visited the hill on New Year's Eve to help ring in the New Year.
With over 20cm of new snow since last Friday - including an exceptional 12cm in 12hrs over Saturday night - the snow gods showed their blessing to the New Year with a toast of fresh, Okanagan champagne powder.
On Saturday, December 31, Big White and TELUS partnered to host the #AllConnected Viewing Party of the Canada vs. USA Men's World Juniors hockey game. Thanks to TELUS, the game was broadcast outdoors on the big screen in the centre of Big White Village. Guests were able to ski or snowboard past the outdoor cinema to check in on the score and visit TELUS tents to grab a complimentary hot chocolate or bag of freshly popped popcorn.
Former NHL and Team Canada alumni Todd Simpson hosted the event, taking to sign autographs and greet the crowd. After the puck drop at 12:30pm, prizes were awarded throughout the game including Hockey Canada jerseys and other swag items. Free ice-skate rentals were also available to all guests down in Happy Valley from 11am-3pm.
Big White's partnership with TELUS and its #ALLCONNECTED campaign was designed to connect Canadians across the country through live viewing experiences at Big White, in Barrie, Ontario, and at the Air Canada Centre in Toronto during the much-anticipated World Juniors match up between Canada and the USA. The event was also intended to raise money for charity and did so with TELUS donating $5 towards the Hockey Canada Foundation every time fans tagged #AllConnected on Facebook, Instagram, or Twitter.
In the evening, Happy Valley hosted the New Year's Eve festivities starting with an apres ski bonfire featuring free hot chocolate and s'mores near the ice-skating rink, followed by a Family Channel mini carnival with free cotton candy and jumbo board games, and then a brilliant 8:15pm fireworks display for the little ones.
At midnight, guests gathered in the Village Centre for the big New Year's Eve countdown and watched as the sky exploded with spectacular, multi-colored fireworks. It was the perfect end to an amazing year and warm welcome to 2017.
We wish you all a safe, happy and snowy year and look forward to seeing you back in the resort in the year ahead.
For more events coming up this month, click here.