Bob Smith - Skier for 75 years
Posted On: February 23, 2016 |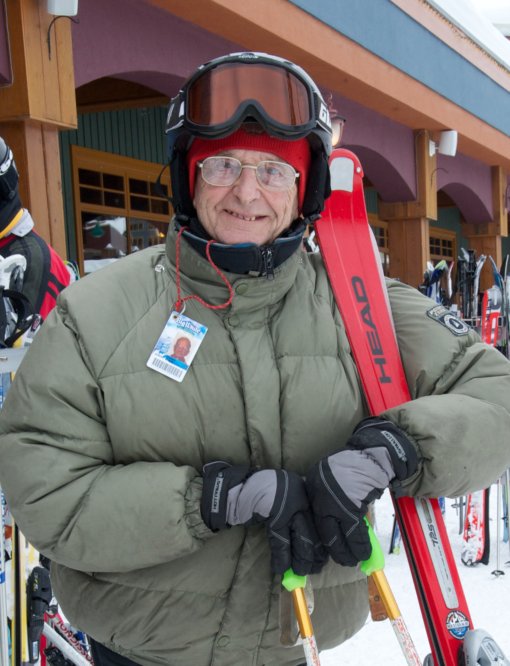 Walking through the Village Centre here at Big White Ski Resort, you never know who you're going to run into. I've seen movie celebrities, famous politicians and met people from around the world. But last week, I was stopped in my tracks when I met Bob.
Robert "Bob" Smith was just getting off the gondola and one look at his face told me I needed to talk to him.
"Excuse me, Sir, do you mind me asking, how long have you been skiing at Big White?"
It seemed a much politer question than saying, "Wow, how old are you?"
But he knew what I was asking and it turns out, Bob has been skiing for 75 years, the past 44 of them here at Big White.
Asked if he'd seen a lot of changes at the hill since he started in 1968, he laughed, "I can't even see the hill anymore with all the changes."
Bob drives up to ski here almost every day – sometimes alone, sometimes with friends and sometimes with three generations of his family. "When I ski with the grand kids, one skis in front and one skis behind so they can pick up the pieces if I fall," laughed Bob.
What's his favorite run on the hill? "Anything Green," he replied, "at my age, I stay away from anything else."
For those interested, there is a 50+ program offered through the Big White Ski School every Monday morning from 9:30 to 11:30 a.m. which features a group lesson followed by a gourmet lunch. You can register at the Ski and Board School Desk in the Village Centre Mall, call 250.491.6101, toll free at 1.866.491.9040 or email them at skischool@bigwhite.com.
Glenna Turnbull