BIg White Ski Resort and Coca-Cola sign new partnership agreement
Posted On: December 04, 2017 |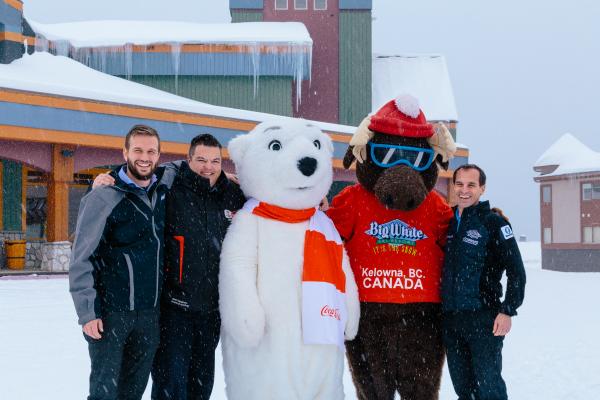 Big White Ski Resort and Coca-Cola have signed a new partnership agreement heading into the 2017-2018 winter season.
(Left to right) Matt Starkes, Ken McCaffrey, Coca-Cola Polar Bear, Loose Moose and Trevor Hanna. Photo couresty of Big White Ski Resort.
The two companies are happy to announce the five-year-extension on top of the 15-year partnership they have already enjoyed.
We are excited about the energy Coca-Cola brings to the partnership with the resort," says Trevor Hanna, vice president of hospitality at Big White Ski Resort. "They are a leading global brand that continues to service the demands of our customers through innovation."
All of Big White Ski Resort owned and operated food and beverage establishments will stock Coca-Cola products including Monster Energy, Dasani, Powerade, Vitamin Water and Core Power. The Happy Valley Day Lodge will be the first establishment on the mountain to receive a Coca-Cola Freestyle machine offering the world of Coca-Cola at your fingertips.
"We're thrilled with the opportunity to continue our strong partnership with Big White and to refresh guests of the resort with both the latest beverages and beverage technologies," says Matt Starkes, district sales manager at Coca-Cola Refreshments Kelowna.
Coca-Cola will help support upcoming events in both winter and summer as well in our North America's newest bike park. Activations this winter will include many events throughout the season such as Opening Day, Telus Kelowna Cup, BC Family Day Weekend and more.
"Together we share a commitment toward a heightened guest experience at Big White Ski Resort," says Ken McCaffrey, district sales manager at Coca-Cola Refreshments Kelowna. "We look forward to delivering the energy and unique level of excitement around the beverage category that only Coca-Cola can. Ski refreshed!"