40 000 Big White Toques Sold And Counting!
Posted On: March 14, 2017 |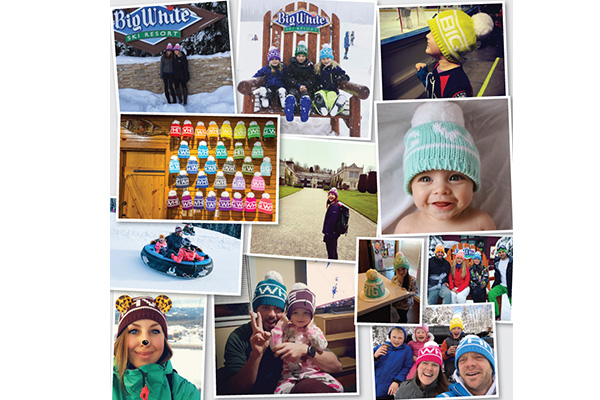 If you've walked around Big White Ski Resort, you've probably seen dozens of Big White toques – the colourful hats with their huge white pom-poms. Since they hit the shelves back in December 2013, Big White toques have become the most recognizable accessory on the resort, and this week their sales hit a remarkable milestone…
The Big White toque made its debut in December 2013. At the time, Suzy Bennett, Big White's VP of Retail & Rentals, was searching for the perfect souvenir; something the whole family could take home and enjoy. "The toque was inspired by a photo from the 60s showing a racer with an oversized pom on his toque," says Suzy, "I thought it would be fun to do an oversized piece and we spent almost three months working with our supplier to perfect the size and texture of the pom." 
It was important for Suzy and her team to deliver a top quality product with authentic Canadian style. To achieve this, they decided to work with a supplier based in Montreal, Quebec. "We're a Canadian company and, while we've had offers to manufacture the toques offshore at a lesser price, we've been happy to keep the toque as a 100% Canadian souvenir," Suzy says with a proud smile. The toques are fully fleece-lined and super comfortable. Originally offered in less than 15 colours, the Big White toque has since been produced in over 40 different colours over the past 4 seasons, meaning everyone can find a toque as unique as them.  
After months of designing, and sending samples back and forth, the toque was ready to hit the shelves. "My original order was for 850 and I thought that was a very scary number, " admits Suzy, but little did anyone know how popular this piece would become. 
This week, the Big White retail team announced that 40 000 Big White toques have officially been sold! Big White is overjoyed to see its guests represent the Big White brand all over the world. In fact, the Big White toque has been to the Arctic Circle, Federation Square in Melbourne, a Keith Urban concert in Niagara Falls, the Sochi Winter Olympics, Iceland, Japan … the list goes on and on. 
"As many marketers know, your brand extension is important to the success of any resort," explains Michael J. Ballingall, Big White Ski Resort's Senior VP of Sales & Marketing, "We were excited about this new product from day one and now we are over the moon! We see them everywhere in our travels around the world and the fact that it's a Canadian product makes us very proud".
Last week, the Big White toque was even spotted on CTV national news at the Calgary Olympic stadium, as a young boy proudly wore his Big White toque front row to watch retired British ski jumper Michael "Eddie the Eagle" Edwards soar over the crowds nearly three decades after his underdog story played out at the Calgary Olympics in 1988.
Click HERE to watch the video. (See the boy in the photo behind the news anchors, in the top left corner, with green ski pants and a red Big White toque). 
Big White toques make the perfect family souvenir. Available in L/XL, S/M, Child, and Baby sizes- there's a fit for everyone! Find your Big White toque at Altitude, located in the Village Centre Mall, or pick one up before you leave town at the Kelowna International Airport (YLW). 
Do you own a Big White toque? Don't forget to take a selfie and #skibigwhite to show us where in the world your Big white toque has travelled! 
Be sure to follow Big White Ski Resort on Instagram, Twitter, and Facebook!