'Queen of Tarts': Big White's Best Butter Tart
Posted On: January 28, 2017 |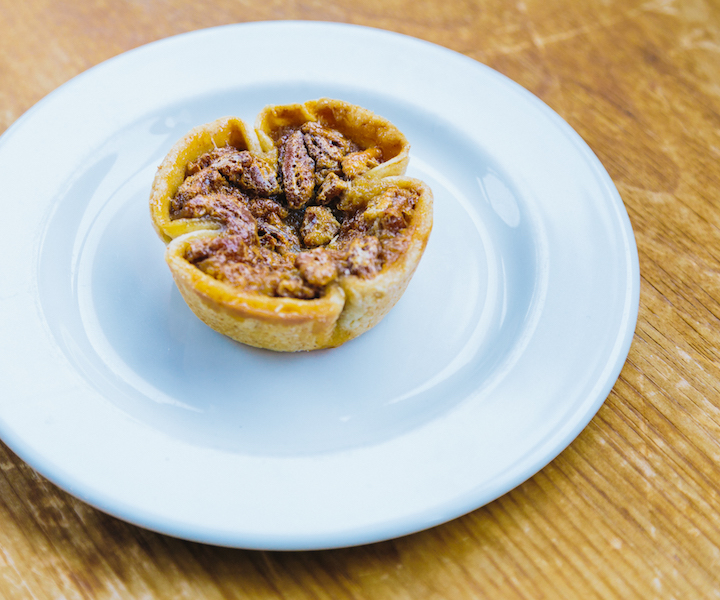 Wikipedia describes the butter tart as "one of Canada's quintessential desserts". If you've never tasted one before, you're truly in for a treat - Audrey Demers, who oversees the kitchen at Big White's Clocktower Coffee Co., has come up with what is arguably the best butter tart you'll ever eat.


What makes Audrey's butter tarts so special? It really starts with the filling. "I spent four years working on getting the filling just right," she confesses.
Audrey explains that traditionally, there are two very separate camps of Butter Tart fans: "There's the 'soft filling' people and the 'firm filling' people.  I've designed mine so it's right down the middle to please both groups, and I think that's why they've been so successful."
But Audrey's butter tarts have become Big White's most-coveted treat for more than just achieving the ultimate consistency. What really makes them spectacular is the taste. "We tempered the sugar so they're not cloyingly sweet," says Audrey, "and then the bourbon aspect came into it."
Bourbon? Ah yes, bourbon. It must be the magic ingredient. It adds just a hint of warmth and enhances the flavour with an unexpectedly joyous tinge, clearly proving that Audrey is indeed the Queen of the Butter Tart.
And then, to complete the butter tart to perfection, she adds pecans. Audrey laughs as she notes, "The guys who work in Operations will let me know if there aren't enough."
Wrapped around that scrumptious butter tart filling is a pastry Audrey makes, created using a secret her grandmother taught her when she was a child. "Back then, wheat was much coarser, and my grandmother would sprinkle that coarser flour when rolling out the dough," reveals Audrey, "and I think that's what helps make the pastry just a little bit crispier.
Currently, she is concocting a second butter tart for those who either don't like nuts or can't eat them due to allergies.
"I see the butter tart as a Canadian thing. That's one of the reasons why I thought it would be such a great showcase treat for us to serve here, because we have people coming to the mountain from all over the world," says Audrey.
Just remember, as you bite into your butter tart's pecan-packed, perfect consistency, that you are not likely to find another that compares anywhere else in the world. 
Enjoy on of Audrey's famous butter tarts at Clocktower Coffee Co., located in the Village Center Mall, open 7:00am-5:00pm Sunday to Monday and 7:00am-8:00pm Tuesday through Saturday. 
Article written by: Glenna Turnbull (Kelowna Capital News)