Big White has a long history of snowboarding rooted amongst its trees and snow-covered landscape.
Back in the late 70's when skateboarding was in its prime, an article appeared on the pages of SKATEBOARDER Magazine, page 107 to be exact. Veteran water skate and soon to be snow legend Lonnie Toft was shown carving out the most incredible compressed front-side lay back carve I have ever seen...
Deep powder, California sun, surf & style oozing all over the page...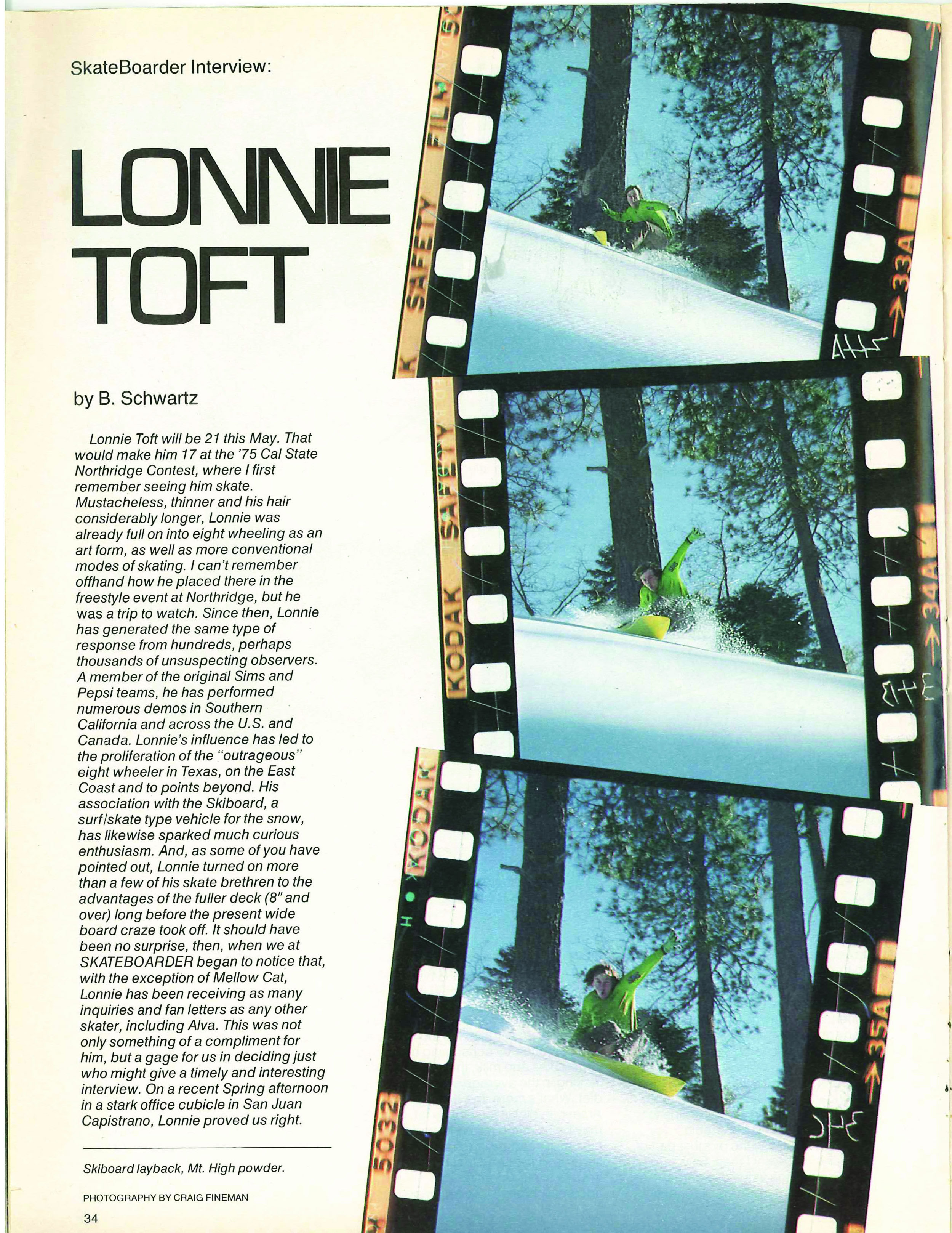 That impression was burned on my brain like a red hot brand. I could see what that moment must have been like and from then on… I was possessed to see what a snowboard was… and could be. I would see more on the pages of SKATEBOARD MAGAZINE.
This lead to visions of a mountain not as a ski hill but as a massive snow covered skateboard park… Snow instead of concrete, ever changing options in terrain, and endless possibilities. From a few attempts in the yard on a skateboard with no trucks, tail pointed forward as a nose and even an attempt to make one out of ply wood all proved useless… until that one day... In 1985 I rode skateboards on a local shop demo team. I went in and in one corner of the shop a tall skinny blonde haired hippy looking cat was standing behind a small counter with some skate board wheels, trucks and 2 SNOWBOARDS...
Bring into the scene Lester Quitzau… Lester is a snowboard pioneer who later became a Juno award winning musician and married a Canadian music artist Mae Moore. But that is later, much later…..
 
Back to 1985.
Lester brings snowboards to Kelowna from Calgar-ian Ken Achenbach who is known as the father of Canadian snowboarding. Ken has a small shop running out of his mothers' basement then Lester moves to Kelowna and starts spreading the word.
Enter Doug Lundgren, a friend of Lester's and Kens. Doug is a master mind and we decide to get some blank decks from the Legendary god father of snowboarding Chuck Barfoot. We take these blanks to Doug's dads' garage and Doug develops plastic bindings made of flat sheets of UHMW which he heats up with a torch and bends in the vice.
We trace out Lester's Pro model, and Barfoot cuts out the blanks with a router. Doug introduces the hand planner and with his scientific mind decides to hand plane a deeper side cut into the heel edge of the board thus in my mind inventing the very first asymmetrical snowboard on the planet.
Off we go to the golf course to get things started… that soon becomes way lame for our intense enthusiasm Doug's Family is deep rooted in skiing so the next logical step is to head up to Big White to really get on the scene and try some serious powder shredding.

The very first Big White adventure started out with a very keen crew of; Lester Quitzau, Doug Lundgren, James Thiessen and myself.

We started out hiking up from the Ridge Day Lodge and headed up Dragons Tongue, after the first stretch we look over towards the old Loose Moose Lodge which was basically located at the bottom of TELUS park. We quickly realized we could have saved a 40 minute hike by driving up there instead of walking from the Ridge parking lot…Oh well in this story… this was but only one of the very few things we were about to learn…
Two hours later after summit-ting the Ridge chair walking traverse to the top of Powder Chair then down the Whitefoot bowl and up to Falcon bowl and we arrive at the very spot where the Falcon Chair unloads today. We continue over the edge and end up finding heaven, otherwise known as the back side of Big White Ski Resort and this serves as our own private powder resort for the next 2 years. Mind you we did walk all over the cliff and east peak as well many sessions on the saddle and the ridge of the cliff down towards east peak and down towards the cliff lake bowl.
After 2 years of hiking and a few attempts to convince Big White management to let us on the lift along comes Peter Glockner from of all places… Medicine Hat, Alberta.
Peter moves into my hood where I am constructing a huge vert-ramp...
Peter is a skater and quickly joins in on our crew. Peter is also a pioneer snowboarder, even building his own boards in 1982 called Snowhawk Designs. Having been through the resort dilemma Peter quickly calls the department of transportation and railways who decides who and what can ride a ski lift. Peter puts together a meeting with the Ministry and Big White and after a demonstration on how we can get on and off the lifts, we were accepted. Snowboarding was officially allowed on the resort the winter of 1987.
The rest is history…