Big White Christmas Eve Festival
Date, Start Time
December 24, 2019 04:30 PM
Date, End Time
December 24, 2019 06:30 PM
Calling all Christmas lovers! We invite you to join us for a magical night full of festive wonder at our second annual Big White Christmas Eve Festival. 
Christmas is our favourite time of year at Big White, and the Christmas Eve Festival is the perfect way to celebrate with your family and friends. Big White's newest tradition sees the Village come alive with holiday-inspired activities and – of course – Christmas lights!
You might even spot Santa before he heads off on a trip around the world. 
Come join us in the village from 4:30pm - 6:30pm for all the fun, including our annual Christmas Eve Service, live music from Jeff Piattelli, festivities, stories with Santa's elves, fireworks and more!
Getting too cold outside? Come inside the Village Centre Mall and enjoy a warm hot chocolate or a Christmas treat from Clocktower Coffee Co. 
For further inquiries, please contact concierge@bigwhite.com.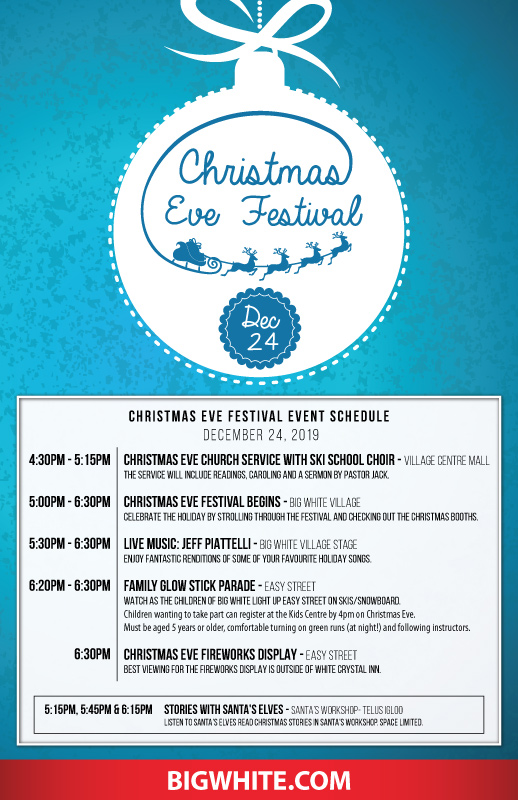 Christmas Eve Service, 4:30pm - 5:00pm
The festivities begin at 4:30pm with the annual Christmas Eve Service in the Village Centre Mall, led by Pastor Jack and accompanied by the Ski School Rookie Choir.
Christmas Eve Festival, 5:00pm - 6:30pm
Bundle up and celebrate the holidays by strolling through the village centre enjoying the festival and checking out the Christmas booths. 
Keep an eye out for elves, Loose Moose and Lucy Moose  – they might just have candy canes to give away! – but watch out for that pesky Grinch, who tends to turn up at Big White on Christmas Eve and spoil all our fun… 
Photo Booth
Gather your friends and family and pose in our Photo Booth, then send the photo to your friends near and far.
Wheel of Mayhem
Be sure to check out the 'Wheel of Mayhem' booth and find out if you are on Santa's naughty or nice list.
Decoration Station
You're going to need a memento from your time at Big White, so head over to our Decoration Station to create your very own Christmas ornament that you can take home. 
Letters to Home Station
Fill out and Send a postcard to your loved ones at our Letters to Home station.
Live Music - Jeff Piattelli
Enjoy live music by Jeff Piattelli throughout the village between 5:30pm and 6:30pm
Stories with Santa's Elves
Join Santa's Elves for readings of classic Christmas stories in Santa's Workshop in the Telus Igloo in the Village Centre.
Readings start at 5:15pm, 5:45pm and 6:15pm. Space is limited.
Glow Stick Parade, 6:20pm - 6:30pm
Watch as the children of Big White light up Easy Street on skis and snowboards.
Hey kids! Want to take part in the Glow Stick Parade?
Children wanting to take part in the parade can register at the Kids Centre in the Village BEFORE 4PM on Christmas Eve. 
Please Note:
Children must be aged 5 years or older, must be comfortable turning on green runs (at night!) and following instructors
Register at the Kids Centre in the Village BEFORE 4PM on Christmas Eve
Registered children should meet the Ski School team outside the White Crystal Inn between 5.15pm - 5.30pm. Please be punctual. No late registration.
Parents should collect their children from the fenced area at the bottom of Easy Stree at the end of the fireworks display. 
Christmas Eve Fireworks, 6:30pm
The festival fun concludes with our famous Christmas Eve Fireworks display.
Best viewing is from the Village between The Woods and Stonebridge.
There are plenty more surprises in store, so join us on the evening for a night full of fun, inspiration and Christmas magic. 
For further inquiries, please contact concierge@bigwhite.com.
---
Enjoy the fresh air.  Big White Ski Resort is a smoke-free environment.
To keep our alpine air clean and to protect our natural environment from dangerous forest fires, smoking of any kind (including tobacco, marijuana, e-cigarettes and vaporizers) is strictly prohibited anywhere on Big White Ski Resort property outside of designated smoking areas. Our policy applies to both the summer and winter seasons.
For more information on our smoke-free policy please visit our Mountain Safety page.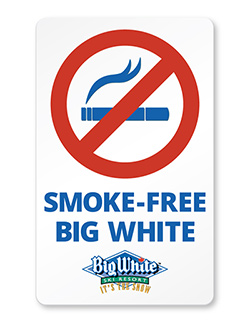 ---