23rd Annual Neil Edgeworth Memorial Banked Slalom
Date, Start Time
Date, End Time
Big White is proud to host & celebrate the 23rd year of the Neil Edgeworth Memorial Banked Slalom Event! Every year this Memorial event gets bigger and bigger! Join us this Easter weekend as we get set to host a record number of riders. Make sure that you register early to get a spot in this year's event. 
Although there are many prizes to be awarded (worth well over $20,000!), taking part in this historical snowboard event is more about fun and friendship than winning.
This is the best weekend to be a snowboarder at Big White! Join our community on Facebook.
The Inland Snowboard Big White Banked slalom first began in 1987. When Neil passed away in an avalanche in France in 1997, we started this memorial event. We have lost other good friends along the way, like Greg Todds and Craig Kelly.  This event is a gathering of all riders, young and young at heart, old friends and new friends to remember the true soul of the sport!
Age groups for Men & Women are:
14yrs & under
15yrs to 18yrs
19yrs to 24yrs
25yrs to 34yrs
35yrs to 44yrs
45yrs to 49yrs
50yrs +
Snow Skates M/F combined
*Helmets are Mandatory for ALL Competitors.
 
A single run format gets you one timed run on Saturday and one timed run on Sunday. Your best run counts as your time for the weekend. We like to run the event in this format, so everyone gets the same amount of runs, and everyone is around for the whole weekend to have fun and enjoy all Big White Ski Resort has to offer.
There is more to the Neil Edgeworth Memorial Banked Slalom than just the competition, make sure you join in all the festivities. Friday we will be kicking things off with a Check-In Party in Happy Valley Day Lodge from 7PM- 10PM. Then on Saturday night, we will host all competitors for a banquet dinner in Happy Valley Day Lodge from 6PM. After a day on the slopes on Sunday, join us from 4PM for the official awards ceremony in Happy Valley.  
Limited spots are available. Registration opening soon. 

Please contact terrianparkevents@bigwhite.com for more information.  
---
Enjoy the fresh air.  Big White Ski Resort is a smoke-free environment.
To keep our alpine air clean and to protect our natural environment from dangerous forest fires, smoking of any kind (including tobacco, marijuana, e-cigarettes and vaporizers) is strictly prohibited anywhere on Big White Ski Resort property outside of designated smoking areas. Our policy applies to both the summer and winter seasons.
For more information on our smoke-free policy please visit our Mountain Safety page.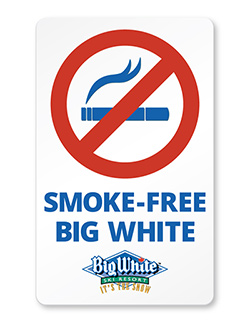 ---
40 is the new 25! 
We take pride in keeping our community at Big White safe. We do not sell to minors and in this effort we will ID anyone who looks under 40 years of age.
Must be 19 or older to purchase alcohol. Please bring 2 valid forms of ID to purchase.

---