Ricker & Minghini Crowned Champions At Big White Ski Resort
Posted On: March 31, 2013 |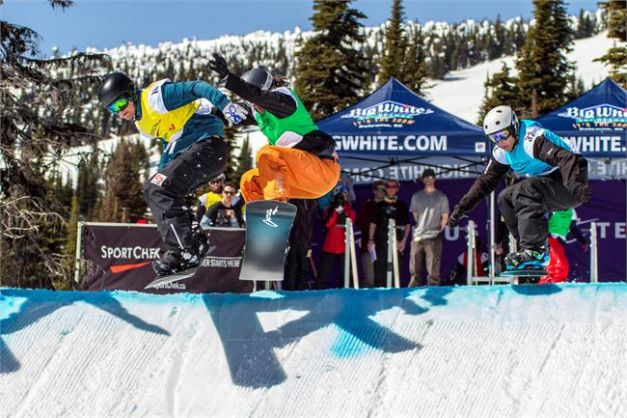 It was an incredible week at Big White Ski Resort, where the Sport Chek Canadian Snowboard Cross Championships took place. This year's Canadian Championships held a strong contingent of competitors with some excellent racing by the next generation of Canadian Snowboardcross riders.


The local's favourite, Tess Critchlow from Kelowna, BC took home the Junior National title. At only 17 years of age, she showed great potential to become one of Canada's future stars. Joining Critchlow on the podium, Zoe Bergermann from Acton, ON, took home the silver medal followed by Shayna Goodwin from Surrey, BC with the Bronze medal.
"I've been here for a long time. It's my twelth season riding here [at Big White]. I won yesterday's junior nationals. It was really fun. Out of all of the Canadian juniors riders, I managed to squeeze out on top," said Critchlow.
Third time was a charm for Thomas Pitman from Trail, BC who ended up finishing his junior-age eligibility years with another win. Pitman who relied on Chris Robanske's board because he broke his own, showed that his technique was more important than the equipment and climbed to a third consecutive year on top of the junior podium.
Joining him on the podium was American, Joshua Cohen, followed by local rider Clinton Pederson from Kelowna winning the bronze medal on home soil.
Maëlle Ricker from Squamish, BC was the favourite going in to the competition and didn't disappoint. Riding with a comfortable lead all day, the current world and Olympic champion found her way to first place without any problem.
"The best parts of the Nationals this past week was watching the Para World Cups and seeing the juniors battle it out on Friday. I was so impressed by the level of the younger riders and the knowledge they have already in making quick decisions in race situations. I'm really looking forward to next year. Thanks for the great event, " said Ricker.
Critchlow, the newly crowned Canadian Junior Champion, showed she could race among the seniors winning the silver medal. Bergermann showed the same resilience with a third place and the bronze medal.
On the men's front, the Americans swept the podium with Robert Minghini in first place and Chris Mahaney and Mike Dierdorff in second and third respectively. Chris Robanske from North Vanvouver, BC was the best Canadian finishing just shy of the podium in fourth place.
It was a fantastic week of competition in TELUS Park and Big White Ski Resort was honoured to host such elite athletes and outstanding competitions.
RESULTS:
Sport Chek Canadian Snowboard Cross Championships
Women, Juniors:
1st Tess Critchlow – Kelowna, BC
2nd Zoe Bergermann – Acton, ON
3rd Shayna Goodwin – Surrey, BC
Men, Juniors:
1st Thomas Pitman – Trail, BC
2nd Joshua Cohen – USA
3rd Clinton Pederson – Kelowna, BC
Women, Seniors:
1st Maëlle Ricker – Squamish, BC
2nd Tess Critchlow – Kelowna, BC
3rd Zoe Bergermann – Acton, ON
Men, Seniors:
1st Robert Minghini – USA
2nd Chris Mahaney – USA
3rd Mick Dierdorff - USA