We have invested in a state of the art Radio Frequency Identification Device system that offers a hands-free, streamlined and efficient lift access. Once you pick up your 2021-2022 Season Pass or Lift Ticket; you can reload it online and go direct to lift.
All Day Tickets available for purchase online must be purchased in advance.
To Purchase an online day ticket:
Head to Lift Tickets
Select the date you plan to ski or board. Save 25% when booked up until 2 days prior or 15% within 48hours.
Each person must setup an individual profile so that every ticket is assigned to a guest.
Enter your payment details and automatically receive your discount off retail ticket window pricing.
Upon purchase, you'll receive a barcode on your mobile device (or print out, if you prefer!).
When it is time to head to the mountain, proceed directly to one of our new Big White Ticket Pick-Up Boxes located around the resort.
Scan your digital barcode at the pick-up boxes to receive your physical ticket.
Head direct to lift and enjoy your day on the mountain.
Please ski and ride with care and abide by the alpine responsibility code.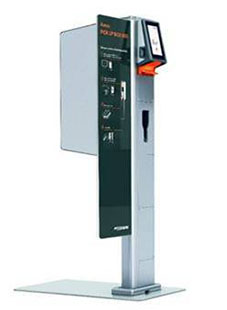 Once you have purchased on online day ticket, you can reload the physical card up to 9 days at a time, using the WTP number found on the front of the card. Due to possible limited capacity, there may be limited number of tickets available every day so we recommend that you purchase well in advance to avoid disappointment. Tickets MUST be purchased online as ticket windows will not be open (Tot tickets are excluded, these can only be collected from the Ticket Office located at the Administration Building).
---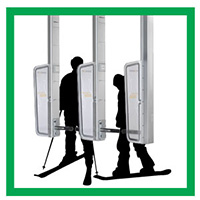 What is RFID?
RFID stands for Radio Frequency Identification Device and consists of a small circuit integrated into your Season pass or ticket.
When you pass through the lift line, this circuit will register and open an access gate automatically for a totally hands free, streamlined lift access.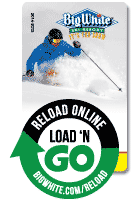 Your RFID lift ticket
Your lift ticket is also equipped with an RFID antenna.  For easy direct to lift access your lift ticket is Reloadable online.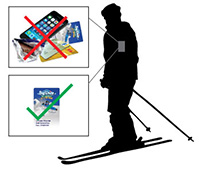 Where should I keep my pass?
Any securely zipped jacket pocket will do as long as your pass is kept on its own. 
Your RFID pass must be kept separately from your cell phone, credit cards and any foil wrapped items like gum wrappers, cold medicine, etc.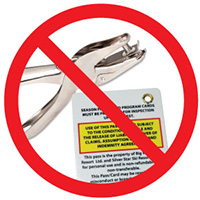 Things to Avoid
DO NOT punch a hole in your season pass as this could damage to the RFID antenna.
Avoid carrying more than one season pass or ticket when going through the gate as the system is unable to read multiple signals at once.
The loss or damage of a Season Pass will result in a replacement fee of $25.00.

Contact Us:
Direct: 250-491-6262
Toll Free: 1-888-663-6882