Flexible Booking Policies and Best Practices
Our Commitment to You
Big White Central Reservations is now taking bookings for the 2021/2022 winter season at Big White. We will continue to put our best practices and procedures in place for the health and safety of our guests and our team members.  Add our Peace of Mind Policy with flexible deposit and cancellation policies and we've got you covered!
Booking Flexibility with Big White Central Reservations
We've got you covered with our Flexible Cancellation Policies! Providing you with Peace of Mind when booking with Big White Central Reservations
Flexible Cancellation Policies for your Peace of Mind:
Up to August 1, 2021, your deposit is refundable for any reason.
From August 1, 2021 until 30 days prior to arrival, your deposit is refundable should government restrictions be in place and prevent you from traveling.
*Service fees may apply
Big White Central Reservations Booking & Cancellation Policies
Keeping Up with the Changes: As the world situation evolves, we will evolve too, all policies are constantly being reviewed and will be updated and extended if and when needed, we've got you covered!
Big White Central Reservations Best Practices
BC's Commitment to Bring Us Back Together
BC's restart plan is great news for us all, now is the time to be positive, look forward and plan your winter vacation with family and friends. Book now with confidence, secure your winter accommodation at the best rates now!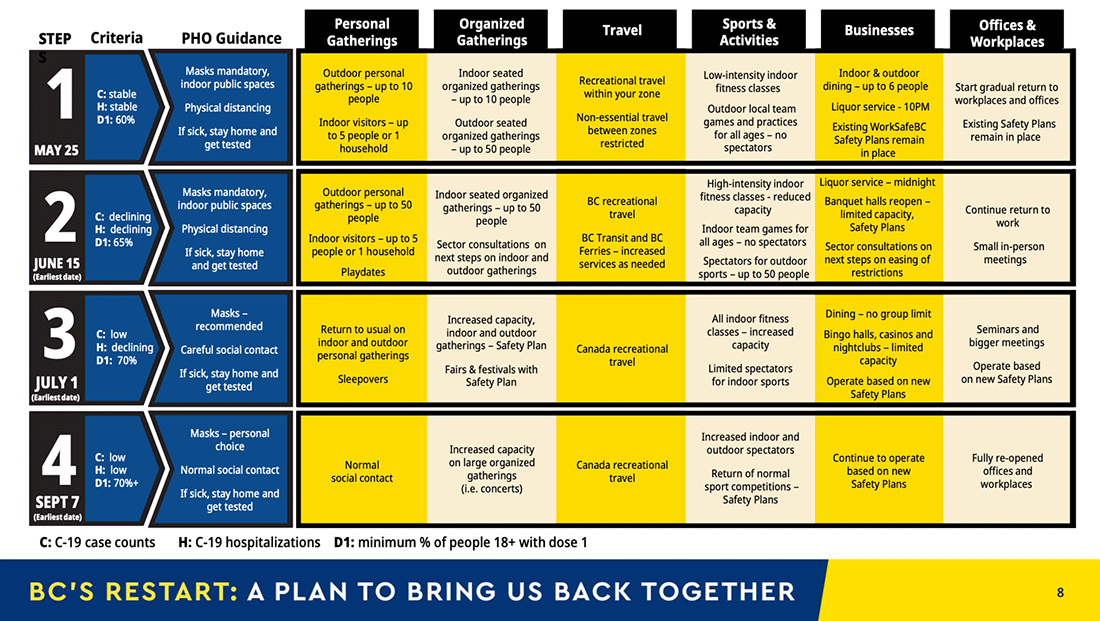 Our Commitment to Cleanliness
As more people are vaccinated, the latest modelling data shows we can look forward to a gradual return to normal society by September. Our resort is committed to maintaining our high standards of cleanliness and will continue to monitor hygiene and cleaning guidelines as the 4 step restart plan progresses. The information below will be continually updated and adjusted according to the official government guidance for hotels and resorts in BC.
Staff Health, Safety and Knowledge
Resort staff and their own health, safety and knowledge are essential to an effective cleaning program. Here are some ways we're supporting them:
Hand Hygiene: Proper and frequent handwashing is vital to help combat the spread of viruses. In our daily meetings, our teams are reminded that cleanliness starts with this simple act. It's important for their health and that of our guests.
Masks: Our team members will be wearing masks, at Big White Ski Resort masks are mandatory in all public spaces, buildings, lift lines, and in the Village Centre. 
Ongoing Training: In addition to training on housekeeping and hygiene protocols, staff are also completing enhanced COVID-19 awareness training.
Stay Home: Staff are instructed to stay home if they have any signs of illness, no matter how mild.
Cleaning Products and Protocols
Our resort uses cleaning products and protocols which are effective against viruses, including:
Guest Rooms: Hotels use cleaning and disinfecting protocols to clean rooms after guests depart and before the next guest arrives, with particular attention paid to high-touch items.
Public Spaces: The resort has increased the frequency of cleaning and disinfecting in public spaces, with a focus on the counter at the front desk, elevators and elevator buttons, door handles, public bathrooms and even room keys.
Back of House: In the spaces "behind the scenes," we are increasing the frequency of cleaning and focusing on high-touch areas like entrances, locker rooms, laundry rooms and offices.
Our Care Commitment
Big White Central Reservations hopes our enhanced policies, protocols and procedures will show our commitment to you, our valued guests.  We care and we will be here for you, providing an escape to the great outdoors, a safe and clean environment, and a holiday to look forward to.  The snow will fly, and Okanagan Champagne Powder will be waiting for you when it's safe to return to the mountains.
We are open 715am to 515pm, Monday to Friday, please do not hesitate to reach out to us with any questions or concerns or just to say hi, we are here for you.