Located upstairs at Snowshoe Sam's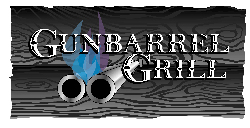 The Gunbarrel Grill serves up great mouth-watering food for the whole family with exceptional service from friendly, knowledgeable staff. Our true mountain-feel rooms provide the perfect setting to relax, while enjoying a fantastic family lunch, that won't break the bank.
Our dining menu starts at 5pm and offers a wonderful selection of locally produced food and wine, with carefully selected imported wines, and delicious homemade desserts.
A must before leaving Big White is our famous Gunbarrel Coffee! It's a show and a drink all in one, featuring a double barrel Montgomery Ward & Co. shot gun from the early 1900's and flames!!
Hours: Nov 22 - Dec 23 open Wednesday - Sunday from 5pm to 10pm
Phone: (250) 765-1416
gunbarrelgrill.com
Take a Tour