Walking Directions: Village center, the restaurant above Snowshoe Sam's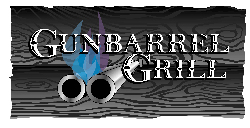 Savour a night at the rustic Gunbarrel Grill, a Canadian flavoured Steakhouse set in the ambiance of a rustic mountain lodge, where your experience and satisfaction are our priority. Our wholesome, locally sourced menu will tantalize your taste-buds. Try our world famous Gunbarrel Coffee and Cherries Jubilees dessert - which not only warms the soul after a day of adventure on the mountain but also provides an exciting fire show for the whole family.. Located above Snowshoe Sam's.
Reservations recommended.

Hours:
Open Wednesday - Sunday from 12pm - 8pm 
Take a Tour