The Blarney Stone Irish Tavern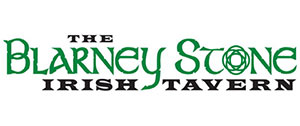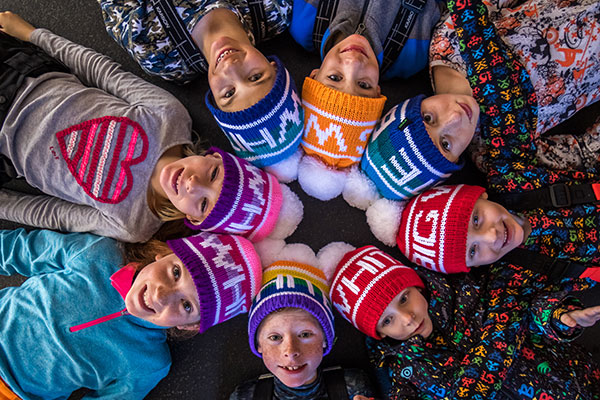 Date Nights at the Globe and the Blarney Stone. Feb 2 -7 and Feb 24 -28
Grown Ups! Take a time out from the kids with FREE babysitting while you enjoy a special Date Night dinner at Globe or The Blarney Stone. Even more reason to book your winter getaway to our winter wonderland!
From Feb 2-7 and Feb 24-28, Globe and The Blarney Stone are offering you a FREE in-home sitter for up to 2 children courtesy of www.bigwhitesitters.com so you can enjoy a beautiful Tapas dinner at the Globe or delicious Irish Pub fare at The Blarney Stone. Would you like your friends to join you? Great! Additional children can be added to your booking for $5 per child. And, if you want your time-out to last all evening, your sitter is happy to stay at the regular sitter rate. So go have some fun, it's your vacation too!
To book: Go to www.bigwhitesitters.com and select Date Night Deal link, fill out your details to complete your booking.
If you've haven't booked accommodation yet, view our latest offers here>>
*Offer is valid with a $25 minimum purchase per dining guest, anytime after 6 pm, for up to 5 children. Only one Date Night deal per table, subject to sitter availability. Big White Sitters' cancellation policy applies, see website for details.
Located at the Inn at Big White, down the steps at the back of Snowshoe Sams, 2 minutes from the village.
The Blarney Stone Irish Tavern offers hearty Irish-inspired food, fine craft ales, and good times in the highest altitude Irish Pub in Canada! Family friendly with famous Irish hospitality, you can start your day with a filling plate of traditional Irish breakfast and other tasty breakfast items from 8am Monday to Friday or a full buffet breakfast on Saturday and Sunday. If you require an earlier continental breakfast in your room, let us know and we can accommodate. Warm up after a day on the slopes with a lunch or dinner of delicious Anglo-Irish Gastro Pub Fare paired with one of our fine Irish Ales or a selection from our local BC craft breweries.
Finish your evening with a wee dram from our 35+ bottle selection of Irish, Scotch & World Whiskeys , and enjoy a an unobstructed mountain view or a starry sky from the popular patio facing the beautiful Monashee Mountains. There are plenty of events to keep you entertained with weekly trivia on Monday nights, every Tuesday is Bluesday with Poppa Dawg & Friends and our delicious Whiskey BBQ Ribs features, Whiskey Club Wednesday and Live Music Fridays … not to mention a March 17th St Paddy`s Day you will never forget!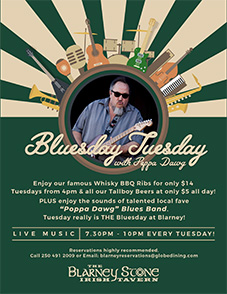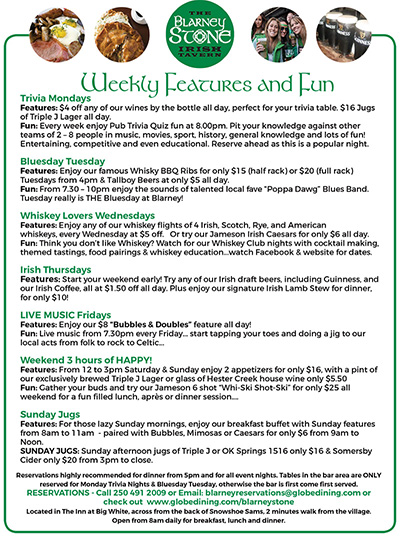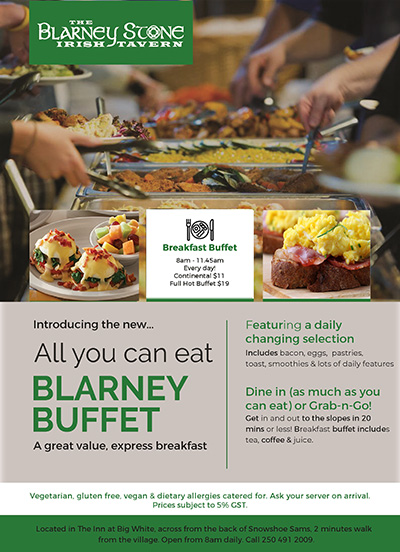 Weekly Features & Fun
A proud member of the Big White Mountain Chamber of Commerce
Take a Tour