From Check-In to Check-Out – Staying (Safe) with Big White Central Reservations
Posted On: October 07, 2020 |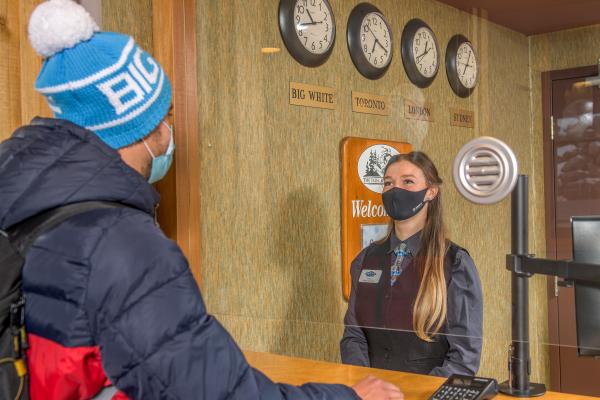 Big White Ski Resort and Big White Central Reservations is committed to making our guests feel safe and comfortable from the moment they arrive at the resort, to when they lay their heads down at night to catch some Z's after a long day on the slopes – and for those flying in from out of town, from the moment they are picked up by our airport shuttle!
Guests arriving by plane will be greeted at Kelowna International Airport by our friendly shuttle bus driver. Masks are mandatory on all shuttle buses, including for the driver. We are taking extra precautions and adding a plexi-glass divider to separate the driver and our guests.
Upon check-in, we are requesting that only one member of your party enters the front desk area. We have decals placed on the floor for ease of social distancing and be aware that we are staggering our check-ins beginning at noon to reduce crowding. Plexi-glass dividers are in place at our counters, and all pens, keys, credit terminals, and other touch points will be sanitized with each use.
"Our team has spent a lot of time educating ourselves on the guidelines and recommendations outlined by the province as well as Interior Health," says Lori Garrett, Hotels Division Manager at Big White Ski Resort. "We are confident in our commitment to cleanliness for all guests and staff."
While we are unable to offer stay-over cleans within units, guests are welcome to request clean towels, sheets and new toiletries throughout their stay. Each room will undergo a rigorous cleaning protocol between guests.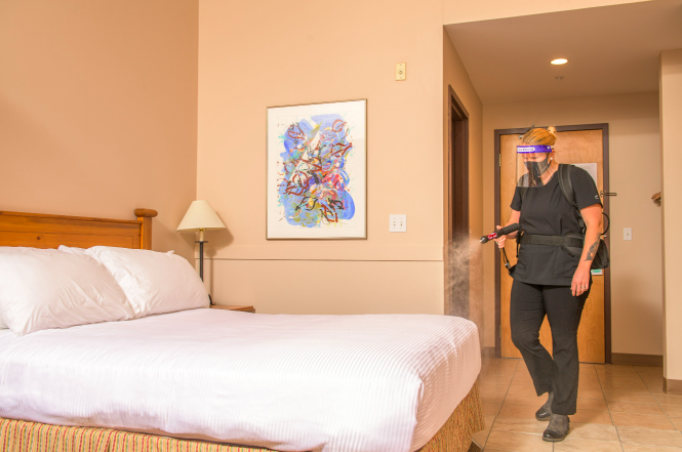 After each room has been cleaned, a Housekeeping Supervisor will further disinfect using a product called Storm Ballistic Virus Killer – an electrostatic sprayer. Once the deep clean is complete, staff will place a seal on the door (see below), and no one will be allowed access until the next guest arrives. 
"Our cleaning, sanitizing and disinfecting procedures are very thorough and precise," Garrett explains. "A guest can be reassured knowing that our commitment to cleanliness has been achieved in each and every room with our assurance seal that is placed on each door after it's been thoroughly disinfected."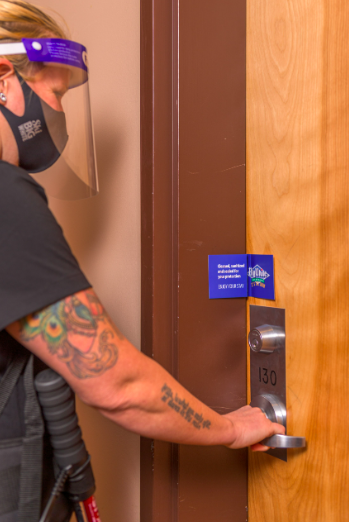 STEP BY STEP – Deep Departure Clean
Kitchen & Utility Area Deep Clean
Both sides of entry door, cupboard doors, walls & shelves, drawers, handles, sink & faucets, garage & recycle containers
Oven, extractor hood, fridge & freezer, microwave, dishwasher, coffee machine, kettle, toaster, washer, dryer and any other appliances; inside and out, all knobs, door seals, under & behind fridge & freezer
Counters, tables, chairs & surfaces
Dishes & cutlery; removed from cupboards and drawers and washed
Kitchen linens in professional grade machines
Living & Dining Room Deep Clean
Both sides of entry doors, cupboard doors, walls & shelves, and handles
Fireplace, tables, chairs, coffee tables & chests, TVs & associated products, stereos, and remotes
Bedroom Deep Clean
Both sides or entry doors, cupboard doors, walls & shelves, and handles
Fireplaces, bedside tables, chairs, dressers, TVs & associated products, and remotes
Linens in professional grade machines
Bathroom Deep Clean
Both sides of entry doors, cupboard doors, walls & shelves, handles, towel racks, toilet paper holders, garbage containers, toilet brush and holder
Bathtub, shower, sink & faucets, toilet, vanity
Towel linens in professional grade machines
General Deep Clean
Windows, patio doors, tracks & ledges
Picture frames & glass
Light fittings, lamps, shades, switches & power points
Baseboard heaters, telephone, TVs & Optik boxes
Wash walls
BBQ & Hot Tub
Vacuum, move furniture and disinfect, move rugs & vacuum underneath plus vacuum rugs
Questions? Contact Central Reservations today at cenres@bigwhite.com or 250.765.8888 (Toll Free: 1-800-663-2772)