North Face Dirty Feet Snowshoe Night Run/Walk #3
Date, Start Time
February 08, 2020 04:30 PM
Date, End Time
February 08, 2020 08:00 PM
This will be a Saturday night fun run at the Happy Valley Day Lodge. At this lodge parking, washrooms, food and drinks are available. The building will be open until 10:00pm for the Snowshoe Run/Walk.
Drive to the Happy Valley Day Lodge Parking Lot. Awards and draw prizes will be inside the day lodge. The course will be similar to past years so make sure to bring your headlamp. Snowshoes are mandatory. 
The Dirty Feet Snowshoe 'Night' Fun Run will be a fun running and walking event for all ages.
This event will consist of 2 distances – Approximately 5km and 10km in distance. The course will be marked with Dirty Feet orange flags, glow sticks and directional marker arrows.
Lots of prizes from our sponsors, snacks for everybody, come on out and enjoy the resort! More information about the North Face Dirty Feet Snowshoe Night Run/Walk can be found here.
Snowshoe Fun Run and Walk Distances:
5km, 10km distances are available. Snowshoe Walkers are welcome and encouraged to register for the 5 km.
Race Package Pick-up:
Race pick up will be held on Saturday, February 8th from 1pm-2pm in the Village Centre Mall. If you are unable to attend race pick up you will be able to collect your race package at the start area at 4:30pm at Happy Valley Day Lodge.
Participant Check In:
Begins February 8th at 5:00pm at Start/Finish
Start Time:
5km and 10 km start at 5:30pm
---
Enjoy the fresh air.  Big White Ski Resort is a smoke-free environment.
To keep our alpine air clean and to protect our natural environment from dangerous forest fires, smoking of any kind (including tobacco, marijuana, e-cigarettes and vaporizers) is strictly prohibited anywhere on Big White Ski Resort property outside of designated smoking areas. Our policy applies to both the summer and winter seasons.
For more information on our smoke-free policy please visit our Mountain Safety page.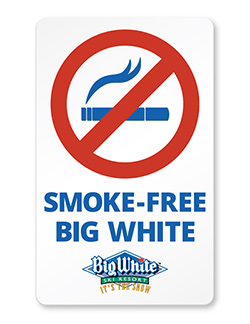 ---