Big White Pond Hockey Tournament
Date, Start Time
December 14, 2018 04:00 PM
Date, End Time
December 16, 2018 02:00 PM
Location
Happy Valley Ice Skating Rink
This December will see the first ever Pond Hockey Tournament take place at 1,700m! 
Registration is now closed. See you on the ice!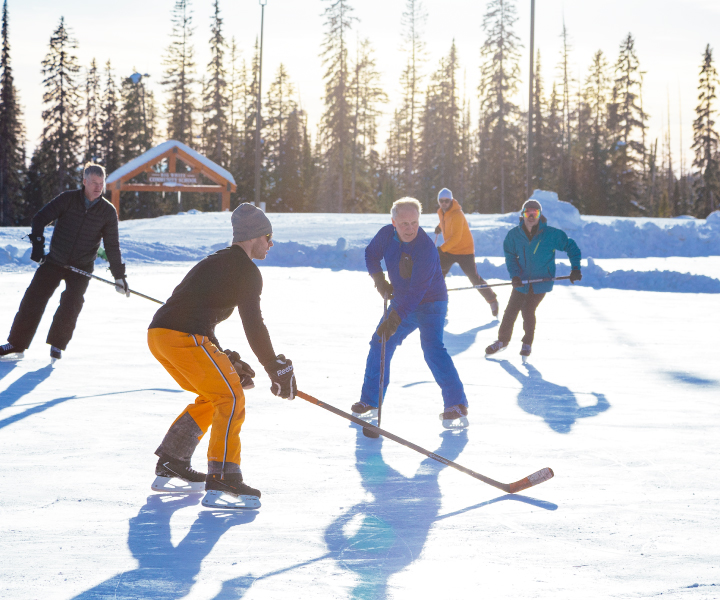 We invite you to participate in our first annual Big White Pond Hockey Tournament. Get a team of your friends and family together today and see if you have what it takes to become tournament champions. 
The tournament will consist of 12 teams competing in 5-on-5 pond hockey. Each team is guaranteed three games with the winning teams moving forward into the playoffs. The tournament is open to anyone over the age of 19. Teams can have a maximum of 6 players and must have at least one male and one female player on the ice at all times (no goal tending/goalies).
The fun doesn't stop when you get off of the ice though, join us for our opening banquet in Happy Valley on Friday night! This is a great opportunity to start sizing up the competition. The banquet and a beer are included in the registration fee. Friends and family are also welcome at the banquet at an additional cost.
Come and play hockey in Big White's backyard!
We are looking for hockey enthusiasts to help both on and off the ice. Sign up as a volunteer here!
Please note, each player must provide their own sticks, skates, gloves and helmets. We do have rental sticks and skates in Happy Valley but supplies will be limited. Helmets are required for all players. 
Looking for something for young hockey players to do whilst you compete in the Pond Hockey Tournament? The AK Hockey Skills Camp is a FREE hockey workshop that is great for kids and kids at heart. The program is designed to develop skills for both beginners and intermediate players. For more information click here.
Friday - 4:00pm
Team Check In - Happy Valley Day Lodge 
Pick up your registration package and have a skate with your team 
Friday - 5:30pm 
•    Welcome Banquet (included in registration fee) 

Saturday - 9:00am-2:00pm
•    Check the schedule to see when your team is taking the ice. Games will be two fifteen-minute periods scheduled throughout the day. 

Sunday - 9:00am-2:00pm
•    Last round of preliminary games. 
•    The playoffs will begin once the final results are tabulated
•    Awards ceremony at 3:00pm in Happy Valley Day Lodge.

Registration
Each team is required to pay a $300 registration fee (max 6 players): 
•    Welcome Banquet
•    Games on Saturday and Sunday (guaranteed 3 games) 
 
For more information about this event, please email events@bigwhite.com
---