Date, Start Time
Date, End Time
Take a break from the daily grind, take some time to focus on your wellbeing whilst we salute the sun at 6627ft.
Big White Ski Resort is once again hosting our Wellness Weekend this summer, featuring two days of yoga classes at Rhonda Lake and the Black Forest Day Lodge, as well as meditation seminars, guided hikes and nutritious cooking classes - all inspired by the beauty and serenity of the mountains that surround us. This years Wellness Weekend is FLOW theme - How to tap into FLOW on your yoga mat and experience that same FLOW in life.
Our Wellness Weekend blends yoga and meditation, hiking and good nutrition- the perfect combination to have you feeling revitalized and rejuvenated.
An ideal weekend getaway including lift tickets, yoga classes and one on one time with our wellness guru.
| | |
| --- | --- |
| Single Day | $70 |
| Both Days | $125 |
Saturday
9:30am - 11:30am - Welcome + Master Class on Flow. Master class incorporates meditation, breath work, inquiry, workshop and yoga practice all following and teaching to the theme of FUN + FLOW on your mat and in your life. This will set the tone for the entire weekend.
11:15am - 12:30pm - Lunch, Social Mingles, Hangs + Chats
12:30pm - 1:30pm - Hike to Bullet for Chairlift Ride to Alpine + Hike to Rhonda Lake
1:30pm - 2:30pm - All Levels Vinyasa Practice at Rhonda Lake
2:30pm - 3:00pm - Hang + Chats by Rhonda Lake option for Glacier Lake Dip+Dunk
3:00pm - 3:30pm -  Hike back to Black Forest Day Lodge
3:30pm - 4:00pm - Smoothie + Refreshment Energy Ball
4:00pm - 5:00pm - Gentle Yoga Flow + Stretch Practice
5:00pm - 5:30pm - Glass of Wine + Open Discussion Q+A
5:30pm - Dive home or return to on hill accommodation (For on mountain booking inquires contact cenres@bigwhite.com)
Sunday
9:30am - 11:00am - Morning Medtation + Vinyasa Practice
11:00am-12:00pm - Lunch, Social Mingles, Hangs + Chats
12:00pm - 2:30pm - Free time, relax, hike, sunbathe, option to attend a 60 minute workshop at MNTN Yoga Studio at 1pm or add on Downhill Mountain Biking - Information on lift tickets and rentals.
2:30pm - 3:00pm - Meet back at Black Forest for Smoothie + Refresh Energy Ball or other light snack
3:00pm - 4:00pm -  Closing FLOW + Stretch it all out to bring it all together Yoga Practice
4:00pm - Send Off, Words for Wellness, Open Discussion Q+A
For more information on Mountain Yoga check out their website, click here.
To register for this event please email  events@bigwhite.com . 
---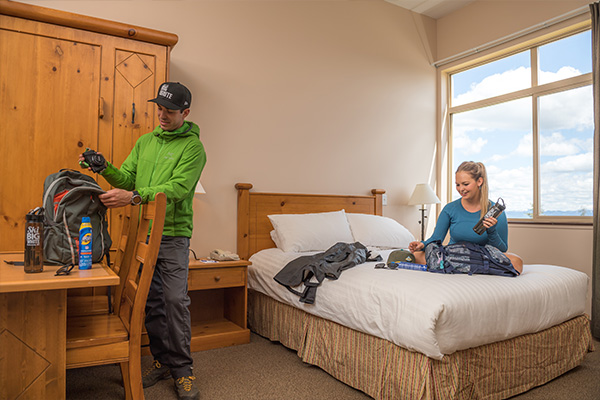 Hike or Bike Free
The best things in life are free... Simply book your Big White getaway with Big White Central Reservations from July 18 until September 4, 2018 and your lift tickets are on us – absolutely free!
Hotel Rooms from $134.40/night + includes 2 FREE lift tickets
Condo with Private Hot Tub from $233.75/night + includes 2 FREE lift tickets
---


Any day in Boundary Country is a reason to celebrate.
Visit boundarybc.ca for a complete calendar of events in the area.