IPC Para Snowboard World Cup 2013 at Big White
Posted On: March 29, 2013 |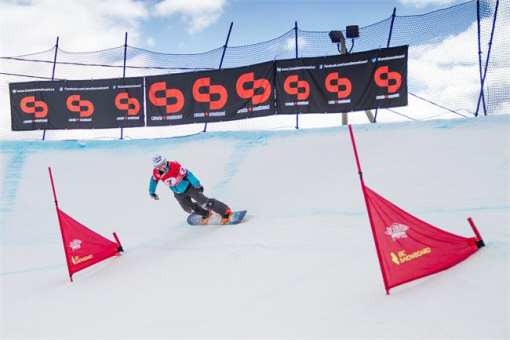 IPC Para Snowboarding World Cup
March 29th, 2013
It was an exciting day in Big White's TELUS Park yesterday with the IPC Para-Snowboarding World Cup and the Sport Chek Under 14 Snowboardcross National Championships. The course started fast until a small snow shower rolled in dropping some sticky snow on the course, then the sun came out and provided great visibility for the riders and spectators.
The riders were extremely happy with the course that Big White has built and commented on how it really suited the Para-Snowboard World Cup athletes, and it showed, with some awesome racing yesterday. The athletes showed grit and determination while enjoying every moment of the competition.
Michelle Salt said, "From the second I found out about my leg, the Paralympics was on my mind. I will be a Paralympics snowboarder. I contacted Candice Drouin the National Para-Snowboard coach and told her that I would be on her team", on her drive of being a Paralympian. When asked about the IPC World Cup, Salt replied, "It's great. Everyone is so inspiring. Everyone has a fantastic story and to be around inspirational and amazing people is great. We're like one big family".
Tyler Mosher who placed fourth today, commented on the introduction of Para-Snowboard in the Paralympics, "I am totally excited. I had to put myself back together and say hey, you know what, I'm not done yet I'm still young enough to get out there and do my best. It's important that children of all abilities have the opportunity to snowboard. When I learned to walk again after my spinal cord injury, snowboarding wasn't offered for people living with disabilities. Now that it's in the Paralympics, it will be founded at a grass root level throughout the world and that's a huge success story in itself. Canada has been a huge leader in this. Canada Snowboard, Sport Canada and Own the Podium have really been pushing for this. We've helped develop the sport and we're going to see huge success over the next several years".
Mosher reflected on the day saying, "It's good here in Big White. The course is perfect. I really have no excuses, if I gave it my all I should end up on the podium. I'm happy with my racing today. As long as I'm having fun in the process, it's always a winning day".
"I'm pretty excited right now. Honestly I didn't think I would win". Said Austin White on his win today in the under 14 category. "I guess luck was on my side today. I feel like I had a good start and went from there".
The action continues in TELUS Park today with the Snowboard Cross timed runs and the Junior Nationals finals.
 
RESULTS from March 28th, 2013:
2013 IPC Para-Snowboard World Cup at Big White Ski Resort
Women: Lower Limb 
1st Bibian Mentel NED
2nd Amy Purdy USA
3rd Heidi Jo Duce USA
Men: Upper Limb 
1st Ben Moore GBR
2nd Roberto Cavicchi ITA
3rd David Preziosi ITA
Men: Lower Limb 
1st Carl Murphy NZL
2nd Evan Strong USA
3rd Keith Gabel USA
2013 Sport Chek Canadian Snowboard Cross Championships
Female: Under 14 
1st Kayla Shepard BC Kelowna
2nd Megan Walbauer BC Mackenzie
Male: Under 14 
1st Austin White BC Oyama
2nd Harrison Faulkner ON Toronto
3rd Evan Bichon BC Mackenzie
Pictured below: Ben Moore GBR, Roberto Cavicchi ITA, David Preziosi ITA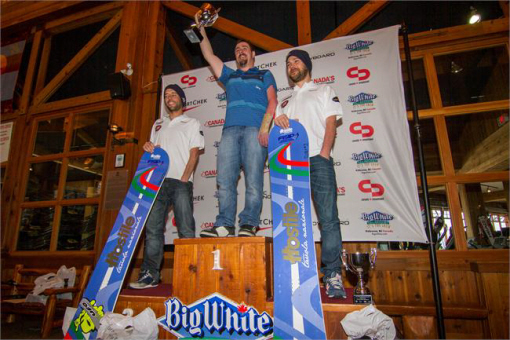 Contact Big White Central Reservations
Toll Free (North America): 1.800.663.2772
Direct Line: 250.765.8888
Email: cenres@bigwhite.com